Things to do in San Francisco this weekend
Parades, food festivals, art exhibits and more of the best things to do in San Francisco this weekend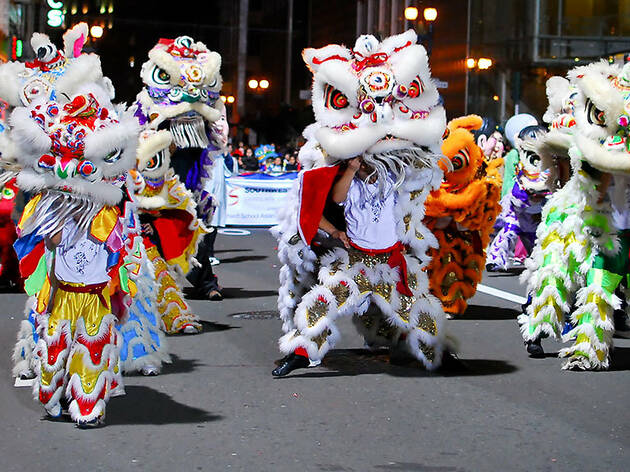 This weekend, San Francisco's best events run the gamut from Chinatown's spectacular Lunar New Year's celebrations to the Hollywood awards show everyone's been waiting for. Let the February festivities begin (Feb 22-24)!
We always have plenty of recommendations for the best things to do in San Francisco. If you're organizing a night out on the town, you'll want to check out the best bars in San Francisco. After a crazy night, nurse a hangover at one of San Francisco's top brunch restaurants. Just make sure to have some fun before it's Monday morning (again).
Things to do in San Francisco this weekend
It's Chinatown's turn to shine in a weekend full of Chinese New Year celebrations that culminates in the largest Chinese New Year Parade outside of Asia. A tradition since the 1860s, San Francisco's Chinese New Year parade lights up the neighborhood with firecrackers, floats, and the brand new 288-ft long Golden Dragon ("Gum Lung"), which will require a team of 180 martial artists to move through the streets. The festivities in honor of the Year of the Pig begin at 5:15pm at the corner of Second and Market streets. Watch for free among the crowds or advance purchase a seat in the bleachers for the best view in town ($35/ticket).
When: Feb 23 2019 at 5pm
2
Photograph: Pixabay
2019 Chinese New Year Community Fair
Even before dragons take to the streets of Chinatown in Saturday evening's New Year Parade, the neighborhood will be in full celebration mode. Traditional and modern entertainment including Asian folk dancing, acrobats and lion dancing will take place on the main stage on Washington St. below Grant Ave. Bring the family and get up close and personal with giant puppets and dragons, and explore more than 120 booths and concessions throughout the two-day event. Free.
When: Feb 23 & 24 2019 at 10am
Get a taste of the Bay's best vegan mac n' cheese in this annual cook-off put on by the Factory Farming Awareness Coalition. Sample plant-based pastas created by local chefs as they vye to become this year's Vegan Mac champion. Tickets are $15 at the door (advance tix sold out).
When: Feb 23 2019 at 11am
The monthly Treasure Island festival is in Mardi Gras mode this weekend with New Orleans style cocktails and food trucks, live jazz and Mardi Gras beads for the first 500 visitors each day. Peruse the stalls of hundreds of curated vendors selling everything from original designs to antiques in this modernized, urban flea market. Tickets are $7 at the gate or buy online in advance for $4 plus up to half off on drinks.
When: Feb 23 & 24 2019 at 10am
This Sunday evening, SoMa StrEat Food Park puts on an Oscar event worthy of bringing Hollywood's Award Season to a close. The festivities, which include $28 bottomless champagne and champagne cocktails begin with red carpet coverage at 4pm and go until the final statuette is awarded. If you don't want to miss a thing, the Food Park will have its TVs set to the pre-show beginning at 2pm and will be handing out Oscar ballots and bingo cards all night. The event is free with (required) RSVP.
When: Feb 24 2019 at 2pm
Celebrate the past, present and future of the African American experience at the 2nd annual downtown Oakland festival, the Black Joy Parade. The family-friendly event will feature unique flavors of positive black creativity including floats, marching bands, costumes and more. Stick around after the parade for a street fair chock full of crafts, food and wine vendors, and two stages for local poets, musicians and dancers and a performance by Grammy award winner T-Pain.
When: Feb 24 2019 at 12:30pm
Get your Lunar New Year's fill of delicious dim sum at SPARK Social SF on Sunday afternoon. Dumpling makers from all over the Bay Area will be serving up steamed, fried, baked and boiled favorites filled with everything from shrimp and chives to pork and cabbage. Hydrate with a single Chinese beer or kumquat mimosa, or go bottomless for $28. Just $5 gets you in to a feast fit for the Year of the Pig.
When: Feb 24 2019 at 11am
Love the Academy Awards but can't stand the commercials? Head to the Roxie where the resident curator of film, Stev Sechovec, will be replacing the ads with strange and spectacular shorts, clips and music videos. Beer, snacks and ballots are available to all awards goers and the $16 ticket price goes directly towards keeping this historic indie theater up and running.
When: Feb 24 2019 at 3:30pm
Looking for more great things to do in San Francisco
There are tons of amazing things to do in San Francisco, but we took on the seemingly impossible task of narrowing down the city's endless offerings to a tidy list of essentials.
More to explore