Heads up! We're working hard to be accurate – but these are unusual times, so please always check before heading out.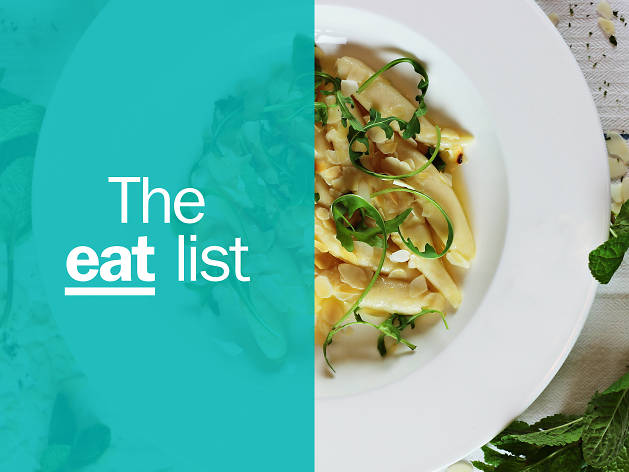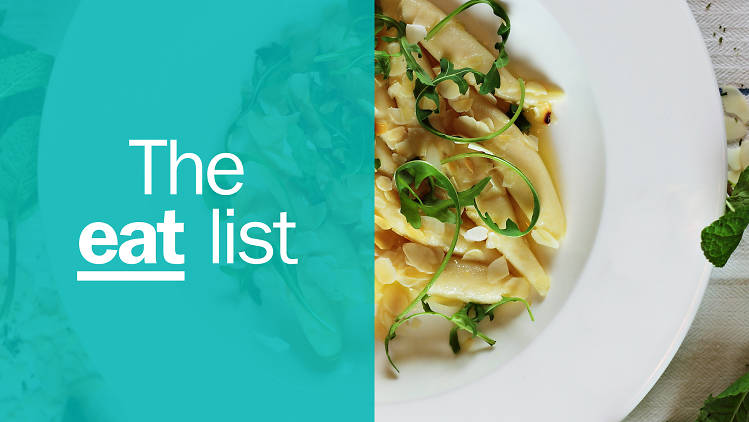 The 11 best restaurants in Scottsdale
Dining at the best restaurants in Scottsdale, from brewpubs to fancy eateries, is an experience. Are you ready for it?
Long gone are the days Arizona's restaurant scene was defined by cowboy steaks and Southwestern fare. Scottsdale now boasts over 400 restaurants and those looking for the best things to do in town perennially seek out world-class cuisine to devour during meals that really turn into more of an experience. Surrounded by award-winning wineries, ranches and farms, Scottsdale is home to a variety of restaurants helmed by gifted chefs that share their signature takes on local bounty preparations, family traditions and cosmopolitan cuisine. From craft brew pubs sourcing local farmers, from markets to spots specializing in paella and sangria (to be enjoyed with a backdrop of Sonoran desert vistas), here are some of the best restaurants in Scottsdale.
Best restaurants in Scottsdale
Photograph: Courtesy Yelp/Talavera
1. Talavera at Four Seasons Resort Scottsdale
What is it: Helmed by executive chef Chuck Kazmer, this picturesque restaurant serves creative Spanish-rooted dishes and then some.
Why go: Dine al fresco on the beautiful patio in view of Pinnacle Peak or gather inside at convivial community tables for paella de mariscos, charred octopus with mojo picón and guajillo chile, or global specials like duck prosciutto with toasted sesame crema, strawberry-rhubarb mostarda and pistachios. For the full experience, plan pre-dinner tapas and gin tonics (served in goblets as they are in Spain) in the Gin Bar tucked away inside the restaurant.
Price: Pricey
Photograph: Courtesy Yelp/Michele R.
What is it: Pride for local bounty takes center stage at this acclaimed establishment with an all-Arizona wine list.
Why go: It's the home of four-time James Beard award nominee Charleen Badman, aka the "veggie whisperer." A lovely patio and dining room are the perfect setting for savoring seasonal plates such as soft shell crab perched on sweet corn, peach and almond salad gilded with basil aioli, or roasted carrots transformed with North African accents of harissa and dukkah spice. If you're lucky, you'll snag one of the eight seats at the adjacent FnB Bar for a pre- or post-dinner drink.
Price: Average
Photograph: Courtesy Yelp/Kelsey B.
What is it: This sleek eatery draws its name from Fiera del Bue Grasso (Fair of the Fat Ox), a Piedmont cattle festival. Naturally, that means juicy steaks such as a hefty 40oz. prime porterhouse anchor the menu, along with seafood grilled over mesquite wood and chicken under a brick—but that's not all. Order fantastic pastas such as cresto di gallo with huckleberry, duck sausage and dandelion greens, or agnolotti stuffed with an impossibly silky parsnip and taleggio cheese filling.
Why go: Taking Italian classics and bringing them into the 21st century, the Fat Ox has a wonderfully playful attitude to food. Chef-driven and exciting, the menu is full of handmade pastas and wood-grilled meats and seafood. As you may have guessed from it's name, Fat Ox has a fantastic selection of animal offerings – so those longing for vegan fayre are better off searching elsewhere.
Price: Pricey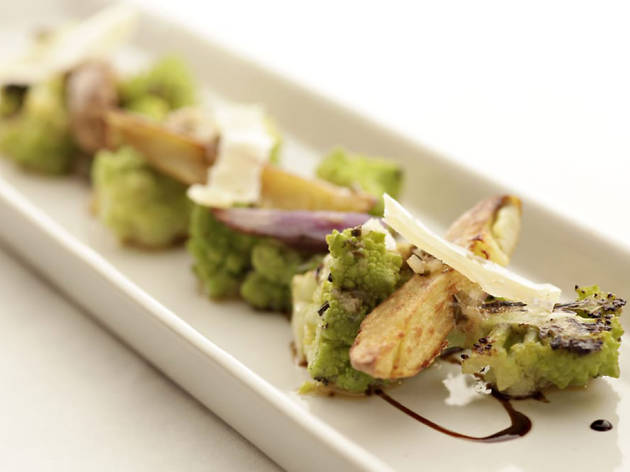 Photograph: Courtesy Yelp/todd s.
What is it: This is one of the city's rare BYOB restaurants. The best part? They serve fine dining cuisine.
Why go: Gather your wine-loving friends and reserve the six-top formal dining table in the adjacent wine shop with full service from the restaurant. If you're dining at the eatery, choose between three to four dishes for each course from a prix-fixe menu of beautifully composed and delicious plates, perhaps a ragout of locally-foraged mushrooms with poached egg and brown butter hollandaise, or butter-poached lobster with parsnip risotto and lobster bisque. Corkage fee is $15 and wine can be conveniently purchased at AZ Wine Store next door.
Price: Pricey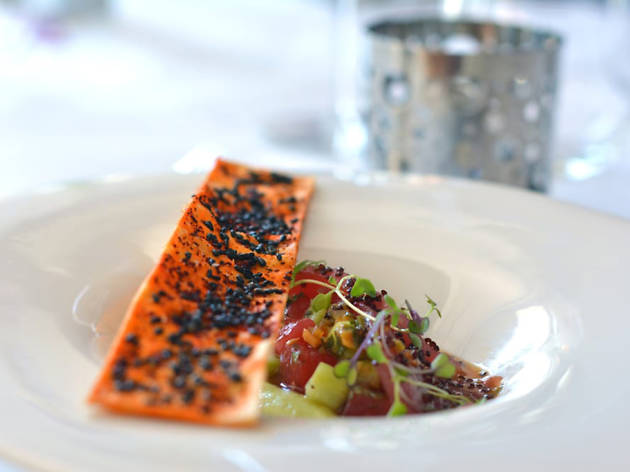 Photograph: Courtesy Yelp/Sel
What is it: This chef-owned gem is located in a former art gallery on Main Street with a patio perfect for people watching. Chef Brandon Levine showcases his contemporary, finessed dishes with a prix-fixe menu that changes every three weeks.
Why go: The creative prix-fixe menu is something you should experience at the changing of each season. Fall may bring rabbit confit ravioli with smoked ginger butter and yuzu vinaigrette, while summer may offer crispy squash blossoms stuffed with smoked lobster on a bed of roasted corn puree. Excellent cocktails and a well-curated wine list add to the experience.
Price: Pricey
6. Franco's Italian Caffe
What is it: Step in the door and you'll be warmly greeted by Florence native Franco Fazzuoli. With an acclaimed restaurant history that stretches back 50 years from New York City to Scottsdale, Franco's is a well-loved favorite serving traditional dishes such as bistecca Fiorentina and pappardelle with wild boar ragu.
Why go: There's been a long history of delicious Italian food in the US and at this comfy spot, Tuscany meets Scottsdale. Don't let the relaxed vibe fool you, the food is elegant and served with care, making Francos a great choice for family dinners. Besides, like so many restaurants with a family legacy, there's a developed menu that you just don't get at a chain. Our advice? Don't leave without ordering a dessert that, thanks to Franco's grandmother, you won't find anywhere else: merenghata, a heavenly layered cake of crispy meringue and amaretto semifreddo.
Price: Pricey
Photograph: Courtesy Yelp/Gary T.
What is it: Long before farm-to-table was trendy, chef-owner Chrysa Robertson (who founded the Phoenix chapter of Slow Food) introduced Scottsdale to her seasonally-focused cuisine. Soon to celebrate 25 years, Rancho Pinot stands the test of time, drawing in both loyal regulars and new fans with a menu that changes daily.
Why go: A passionate chef helms a beloved Scottsdale institution and you should be supporting her. It's no surprise that the chef of another top restaurant in town—Charleen Badman of FnB—counts her as a mentor. What to order here? Everything.
Price: Average
Photograph: Courtesy Yelp/Craft 64
What is it: Set in a 1930s-era bungalow, Craft 64 isn't your average brew pub. You'll find hand-pulled mozzarella daily farmers' market specials here. Bonus: almost 90% of the ingredients are sourced locally.
Why go? Expect over 30 Arizona beers on draft, 200 wines, artisanal pizzas from a 900-degree wood-burning oven and a made-from-scratch menu. Order a Craft 64 beer flight to taste four of the eight brews (Smoove Operator is their flagship IPA) and pair it with the Aji pizza layering spicy jalapeno sauce, ricotta, mozzarella, fresh spinach and fennel sausage, made by a local butcher per chef Josh's recipe and smoked in-house over hickory wood.
Price: Average
Photograph: Courtesy Yelp/Matet B.
9. Andreoli's Italian Grocer
What is it: This is more than a well-stocked Italian shop and deli. Bread, pastries and salumi are made in-house and the order-at-the-counter menu includes porchetta sandwiches, beef carpaccio and pillowy gnocchi.
Why go: Embark on an authentic trip to Italy via Scottsdale strip mall. Take a seat on the grapevine-framed patio or inside where one of the tables might be filled by chef-owner Giovanni Scorzo and his Italian-speaking friends sipping espresso or watching soccer. Grab a bottle of wine and splurge on one of the white board specials such as pasta with Ligurian octopus flown in from Italy.
Price: Average
Photograph: Courtesy Yelp/Asuka M.
What is it: A modern Latin restaurant right in the heart of Scottsdale's Old Town.
Why go: Enjoy Scottsdale's beautiful weather on the patios or take a seat in a sultry dining room lit by a glowing salt rock wall. Modern Latin means your pork tacos will come on hand-pressed corn tortillas folded around confit pork shoulder with a pineapple-habanero-chipotle glaze and your empanadas will be stuffed with duck confit and foie gras.
Price: Pricey
Photograph: Courtesy Yelp/Andrea A.
What is it: Open seven days a week for breakfast and brunch, expect a wait on weekends at this hip gathering spot where a DJ adds to the lively atmosphere.
Why go: Scottsdale's largest Bloody Mary bar, mimosa flights and playful breakfast dishes are all draws. Drink up with boozy cereal cocktails or the scour the impressive Bloody Mary bar, lined with 30 different garnishes (fried ravioli anyone?). But, of course, it's not all about the beverages. A large menu entices with Italian-inspired specialties such as prosciutto eggs Benedict on crispy ciabatta and decadent cannoli pancakes stacked with chocolate chip-studded sweet ricotta cream.
Price: Average
Discover Time Out Market: the best of the city under one roof
Planning a trip to Scottsdale?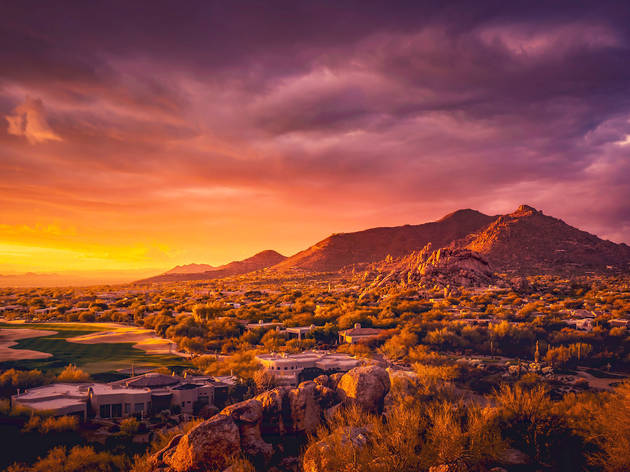 Scottsdale is home to world-class museums, a thriving art scene and miles of trails winding through the Sonoran desert beauty.