Sleep, touch and love
Stylish and reasonably priced boutique hotels for lovers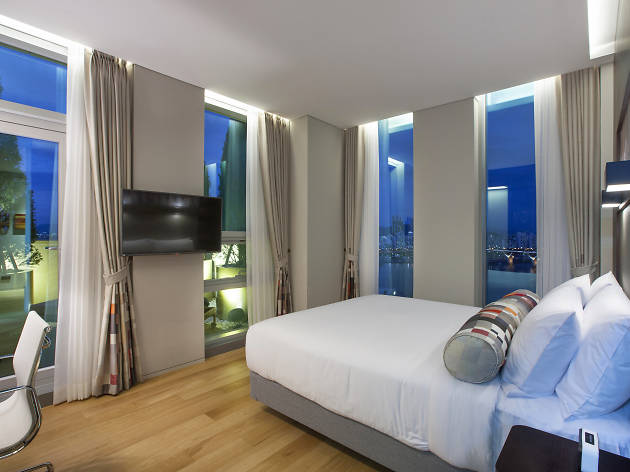 Entering the Hotel 28 Myeongdong, you won't see a lobby. Instead, the concierge will kindly let you know that you need to take the elevator to the 6th floor (guest rooms are on the 4th and 5th floors). The guest rooms are quite large, especially for a hotel that is located in Myeongdong. The Deluxe King rooms are equipped with bathtubs and have beautiful marble floors. However, the very best room that you should experience here is the Director's Suite, in which every piece of furniture, fabric and tableware are made by Hermès. The restaurant, Three Birds Trattoria, which is located on the 6th floor and is co-owned by the hotel management and YG Entertainment, offers casual Italian dishes. Every guest staying at the hotel receives a 10% discount at all the stores in the building, including K-Pub and Boons Apothecary.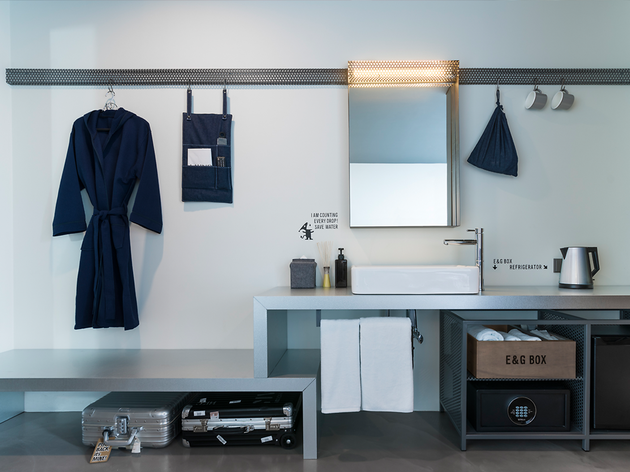 Officially launched in December, Hotel Cappuccino is very similar to the Ace Hotel in many ways. They both have a vintage vibe that flows throughout the café, restaurant and rooms. They even have pet-friendly rooms and they both have a section where you can buy souvenirs at the check-in desk. Hotel Cappuccino makes a stronger impression with its modern and simple interior design, but what makes this place particularly special is that they are the first hotel in Korea to incorporate a share value system program. If you use the elevator with the image of an angel on it, 500 won will be added to your hotel fee every time you use it. When you check out of the hotel, that money can go to charity. Each room has a E&G (Earn & Giveaway) box, and if you don't use any products in that box, the price it cost to put that box together is also donated (unless you exchange that for a free coffee coupon, but would your conscience allow that?) Ordering an "angel menu" from the restaurant, café or bar will allow you to donate a certain amount of money to water.org, founded by Gary White and Matt Damon.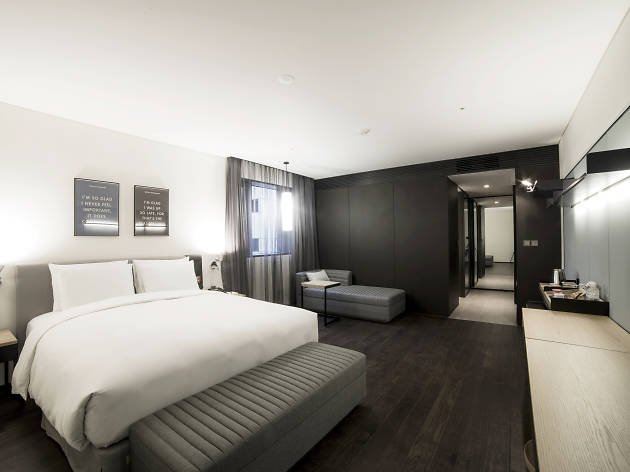 With its no-nonsense, minimal décor, GLAD Hotel is a business hotel, but upon opening it was appointed a member of the Design Hotels, the first to do so in Korea. The second hotel to be designed by JOH Agency after Nest Hotel, GLAD is famous for its careful architecture and design. From outside, the hotel looks as if somebody poked holes into it with its unique look that uses red bricks to create a dotted pattern. This pattern can also be seen from inside the rooms where at night the light that seeps in gives the room a whole different feeling. GLAD Hotel is equipped with all the necessities to spend the night through which you can feel the considerate service of the hotel. For instance, the bed's mattress and linen are made of the best material and you can choose from six different types of pillows. GLAD will be appreciated by couples who like modern and minimalistic styles. For couples, we recommend the corner Deluxe Room that has a great view. In addition, the Mark T bar located on the 1st floor has a romantic atmosphere that can strengthen your love.
Show more