100% pure buckwheat
The 5 best makguksu restaurants in Seoul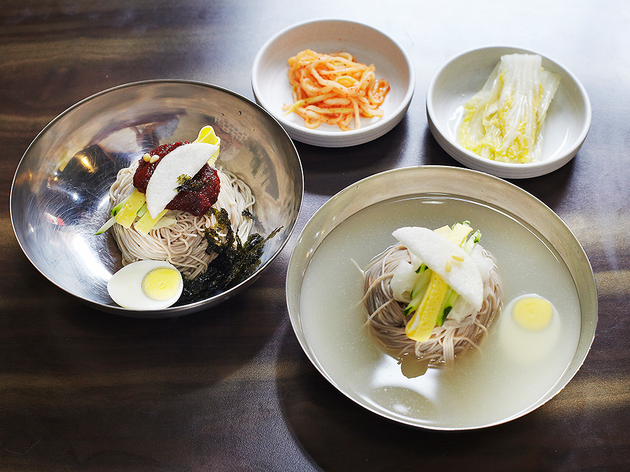 To make makguksu, people normally use different ingredients that they already have at home for the broth (e.g., kimchi juice, leftover meat broth, dongchimi [radish water kimchi]) and pour them over buckwheat noodles. Compared to Pyongyang cold noodles, makguksu buckwheat noodles are definitely not as popular and that's one of the reasons why a lot of restaurants started using starch or flour to make their buckwheat noodles. While great dishes can be made with noodles that are not 100% buckwheat and different people prefer different things, 100% buckwheat noodles are rich in essential amino acids, vitamins and dietary fiber and have a soft texture that resembles cooked rice. It's good dish to cool down your body during the hot summer.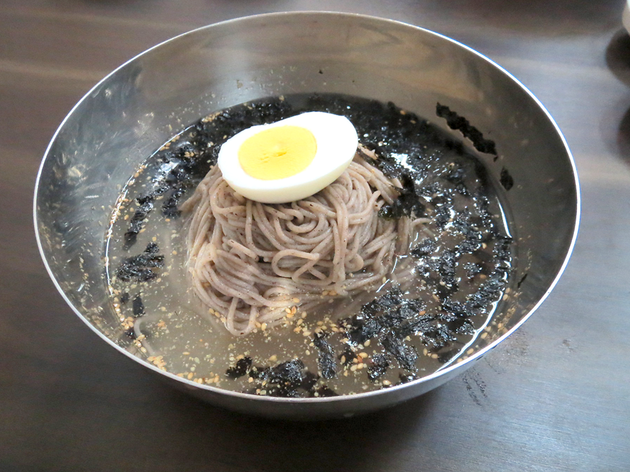 This restaurant only has nine tables. In their half-open kitchen, the owner kneads noodle dough in a bowl as orders come in. They use 90% milled buckwheat, 10% whole buckwheat and purified water to make the dough. When asked why they use whole buckwheat for their noodles, they said it's because that's how it's done in the countryside. Using whole buckwheat makes the texture of the noodles chewier and its smell stronger. As the dish, which is made of brisket broth, buckwheat noodles, dried seaweed garnish, whole sesame seeds and sesame oil, arrives at your table, your mouth begins to water. Before you mix it with some red sauce, try some of the soft buckwheat noodles on their own. You can also try their hoe makguksu buckwheat noodles topped with pollak sikhae (salted, fermented fish).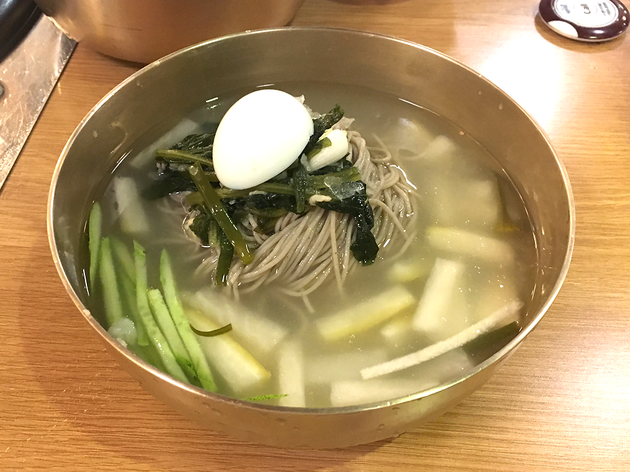 This is actually one of the few makguksu restaurants in Seoul that uses 100% buckwheat for their noodles. They mill their buckwheat themselves every morning using a hand mill and make their noodle dough to order. They have spicy bibim makguksu noodles that are both spicy and sweet, and the classic iced dongchimi makguksu that's served with cold homemade dongchimi water, crunchy radish and young radish. If you want a stronger flavor of buckwheat and sesame seed oil their makguksu noodles served with perilla oil and traditional Korean soy sauce is another great choice. This particular dish is topped with thin slices of radish, cucumber and half a boiled egg. If you're still hungry, pay 4,000 won extra to make it a full meal and add five thick slices of bossam (boiled pork), kimchi and buckwheat crepes.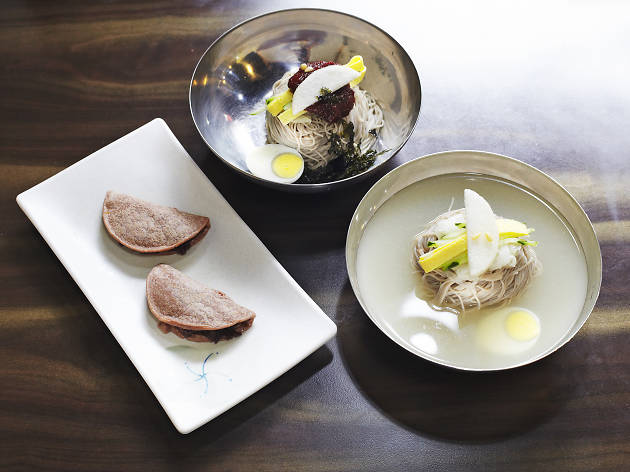 The noodles at this restaurant are soft, in spite of the fact that they are only made of buckwheat. Buckwheat noodles topped with sliced radishes, cucumber and thin slices of fried egg will arrive at your table. They serve broth on the side if you order "soon" (pure) buckwheat makguksu noodles. You can add more sauce and broth to your liking. Their broth has a rather strong taste of meat so those who like this taste are especially fond of it, compared to those who like the simple taste of dongchimi water. If you want to order a side dish, I recommend their moist and soft millet pancake because they use millet flour without any sweet rice flour, which would make the pancake more glutinous.
Show more