The best tteokbokki in Seoul
Though this sweet and spicy food is perhaps more of an acquired taste, those who love it are crazy for it.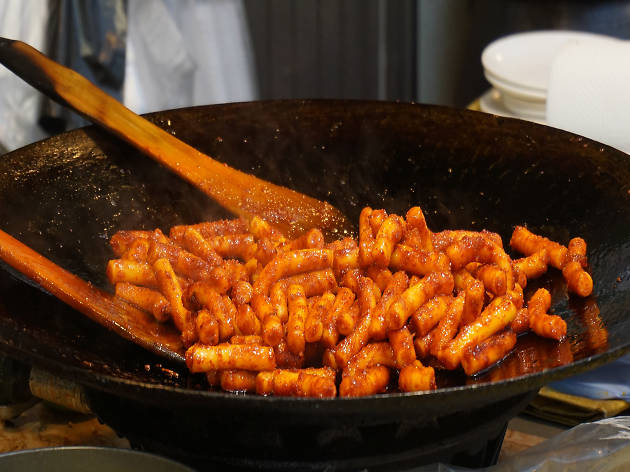 Shopping, Markets and fairs
Tongin Market is the real reason outsiders envy Seochon residents. The vegetables and fruit are widely acknowledged to be very fresh, and the side dishes on sale are toothsome and diverse. There is also a wide selection of side dishes that appeal to children in particular, which are difficult to find at other places: sausage fried in eggs, rolled egg omelettes, and stir-fried ham. Along with the established and well-known locations for pan-fried cakes and ddeokboggi stir-fried in oil, following the rise of Seochon's popularity there has also been a rise in new eateries. The choices are so plentiful that it's enough to lose track of time as you walk along the arcade, easily over 100 meters long, agonizing over what to eat. But once you do decide, you can take care of your entire meal in the market, from starters to desserts, thanks to the sheer variety of foods available—temple food, fried chicken, noodles, pan-fried cakes, flour-based foods, sikhae (traditional sweet rice beverage), sujeonggwa (traditional fruit punch), rice cakes and more. One of their most popular activities is the daily lunchtime dosirak (lunchbox): For 5,000 won, you receive a small tray and a handful of "gold" coins that you can use to buy servings of various side dishes around the market, then head upstairs for rice and soup to round out your meal.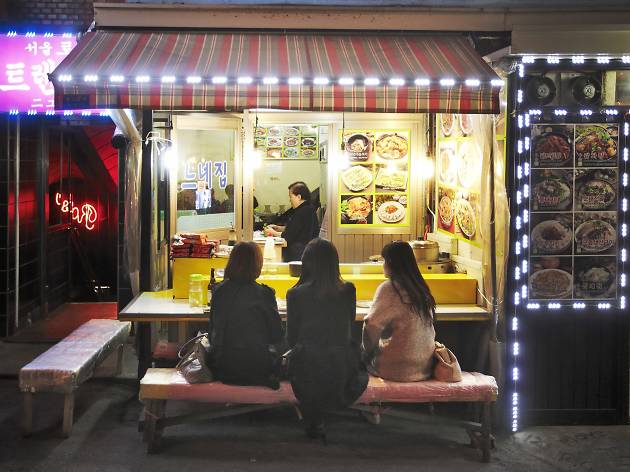 Nuenejip (Korean for "your place") is always the last stop during a night out in Itaewon. No matter how tired or drunk you are, once you step into the shabby nest of Nuenejip, you will mysteriously find a second wind. This new-found energy is most likely from the excitement of trying Nuenejip's famed soy sauce ddeokbokki (everyone literally comes here just for this), known amongst the Itaewon regulars as notoriously tasty. The catch is that you can only order this popular dish if you are ordering at least two more dishes. This place lives up to its name, and supposedly even attracts the occasional secret celebrity couple.