Where to eat the best Pyongyang Naengmyeon in Seoul
Cold noodles are great for winter, too.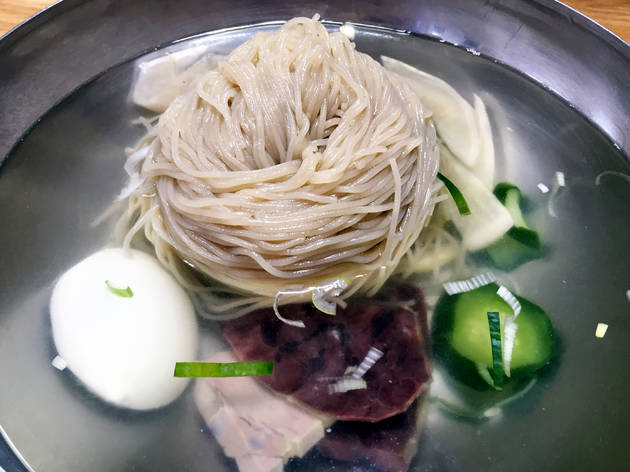 Selected by those in search of the best restaurants in town, Jin Mi Pyongyang Naengmyeon (cold noodles) has been on the rise to fame starting this past summer. Although you wouldn't really think of combining soju with Naengmyeon, with the added boiled meat slices, it made the perfect recipe for friends to gather together. Hidden in the back alleys of Gangnam's main streets, it might be a little difficult to locate even with the help of Google Maps. Yet, come dinner time, the venue (lit with its white fluorescent lights) will be serving customers ranging from families, groups of white collar workers, and even Gangnam's fashionistas. Don't be surprised to catch a glimps of the 'Asian Glow' on those enthusiastically eating, drinking, and talking the night away. Jin Mi Pyongyang Naengmyeon has a trustable history. With over 20 years of experience at the Uijeongbu Myeon-ok and Nonhyeon Myeon-ok, the founder of Jin Mi Pyongyang opened the restaurant's doors this past March. To compare the Jin Mi's noodles to Myeon-ok's, it is a little bit more savory and flavorful. For those who favor the blander Myeon-ok's noodles might find Jin Mi's to be slightly saltier. The meat broth, made from beef brisket, beef shank and pork, is almost as clear as water, while the noodles get as chewy as it can be. The broth's light yet savory taste and meat scent make it a clean dish to surrender to. From experience, 3 women will easily finish 2 bowls of Naengmyeon, 1 plate of boiled meat and 2 bottles o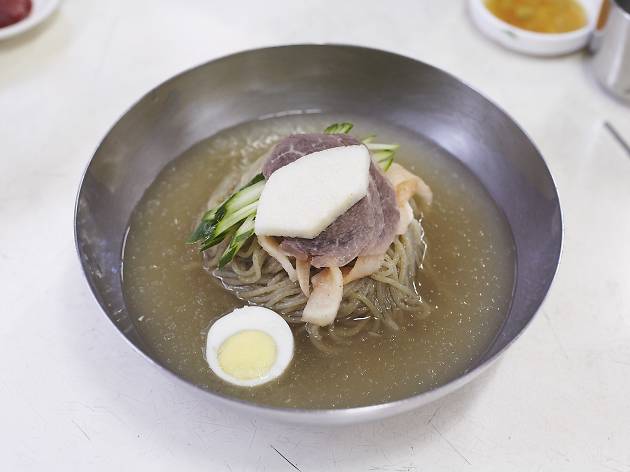 Eulmildae boasts a 40-year tradition in Pyongyang-style naengmyeon. They have another branch in Gangnam, but Yeomri-dong is where it all started. The white paint is neat, though aged, and the furniture is distinctively retro. When it comes to Pyongyang-style naengmyeon, their variation is clean and light. The naengmyeon has thicker noodles and comes with the usual icy broth. Extra servings are 4,000 won but for the sizeable portions you're getting, it's quite the deal. Take note: the stewed brisket served on a bed of tossed chives is as much of a delicacy as the naengmyeon is.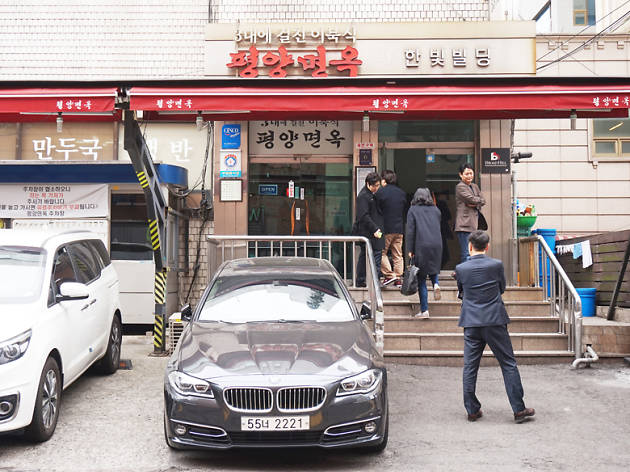 Restaurants, Traditional Korean
Pyongyang Myeonok is a restaurant that spans three generations of North Korean style naengmyeon (cold noodles). It is a branch of Pyongyang Myeonok in Jangcheong-dong, but the skills used to make noodles and broth here are said to be better than the original store. As the restaurant has been around for quite a while, famous clientele like politicians and celebrities have become regulars. Unlike its neighboring restaurants, a unique characteristic is that the clientele base is of a more mature age. North Korean style naengmyeon is an unfamiliar taste to young Koreans, who are used to the overly-flavored post-BBQ cold noodles, but Pyongyang Myeonok's mellow broth is quite addictive, especially on hot summer days when you're looking for something light and refreshing. To be fair, there are some who say that these noodles have lost something of their original taste, but we think the fact that it is one of a very few places with decent and original-style North Korean naengmyeon in Gangnam is a blessing in and of itself. Not a fan of noodles? Opt for the dumpling soup, or order a platter of eobok jaengban (pressed beef served on a brass plate) for a large group.
Show more