Eat, drink and breathe hallyu
These are the places to visit and items to buy if you're crazy about hallyu(or if you're just curious about the hype).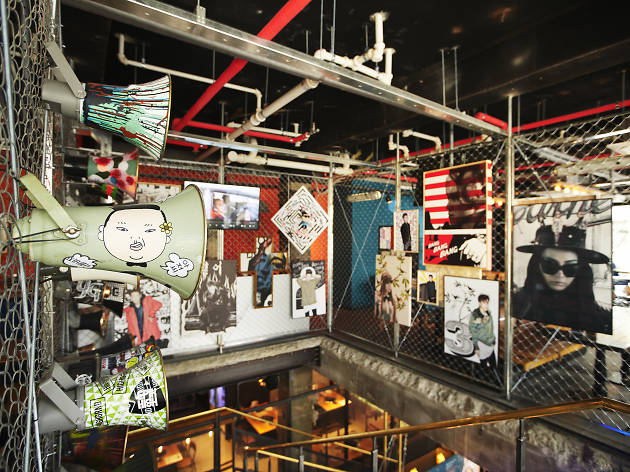 Own the bragging rights to being GD's biggest fan? Ever secretly sneak away from your tour group to buy EXO socks in Myeongdong? These are the places to visit and items to buy if you're crazy about hallyu(or if you're just curious about the hype).
Where better to put a food complex totally dedicated to YG than in Myeongdong, where thousands of hallyu tourists travel to every year. Noh Hee-young, the mastermind behind the snacks of Market-O and other food franchise enterprises, is the head of YG Food. Located in this complex is a café, pub and grill restaurant. YG Republique also opened up a second branch in Yeouido Mall IFC Mall and is expected to open it first branch overseas in Bangkok's Show DC mall this coming August and expand later on to China, Japan, Los Angeles and other international locations.

3 Birds
3 Birds is a café where you can enjoy healthy and hearty meals, such as the avocado and shrimp sandwich, kale and quinoa salad and more. The coffee menu is also impressive, and signature items are the short black served with cream and the flat white, an Australian-style coffee with velvety milk foam on top. All That YG, a YG goods store, is located within this café and sells cups, towels and other items with stars' faces on them.

3 Geori Butchers Blue
The 3 Geori Butchers in Hongdae is where YG Food (a food company started by the music corporation) all started. Soon after it opened, the restaurant was featured as the place YG celebrities go for casual afterwork gatherings, making it a must-visit for all local and international fans. This second branch, 3 Geori Butchers Blue, is an upgraded version of the original, serving only first-class meat in a classy setting.

K Pub
Big Bang, Psy, 2NE1 and other YG artist' works and videos are displayed at this pub. There are a variety of beers to be tasted, including YG beer. The barbeque platter with various kinds of meats, fried shrimp and squid are some of the delicious snacks served at K Pub.
SMT Seoul, a food complex in Cheongdam run by SM Entertainment, has high ceilings, a wall lined with luxury sauces and an even more luxurious interior that may feel unsettling at times. Here, you can select from the menu, which features Korean food, and order afternoon tea and cocktails as well. SMT Seoul is a harmonious marriage between the luxury of Cheongdam and SM's identity. SMT Tokyo in Japan and SMT LA in the States are expected to open this year.

Play Ground
The first and second floors of this complex are named the Play Ground, which offers casual dining at affordable prices. Lunch sets are from a variety of cuisines, including Korean grilled fish, Japanese rolls and sushi, pasta and steak dishes. With signature desserts from Japanese patisserie, Mont St. Clair, the desserts here are equally delicious. Starting from 6pm, the atmosphere takes on a whole different feel, turning into a lounge where you can drink liquor and enjoy Korean tapas. The second floor also has a bar and DJ booth, where cocktails named after SM songs, such as "SM Pink Blossom" and "GG Apple Mojito," along with whiskey, cognac, etc. are all served. Lee Soo-man, known for his love of wine, has produced his own wine that can only be tasted here as well.

Penthouse
The Penthouse on the third and fourth floors is nothing short of a five-star hotel, with its luxurious interior, food and service. Each room requires a reservation and has its own concept. The TVXQ room with a large TVXQ objet d'art is particularly popular. An exygen concentrator and radiant heating and cooling system will make your stay here more comfortable and cozy.
TVXQ, SNSD, EXO, f(x) and other SM artists' contents are all integrated in this space. Take the escalator between the ornate media walls and you may feel like you're entering an amusement park. In addition to the shop that sells SM products, there's SMTown Studio where you can train and film music videos and take photographs like a celebrity; SMTown Theatre for musicals, concerts and other performances; an archive café and more. If you're a SM fan, this is your mecca.

Celebrity Shop SUM
This shop sells merchandise with your favorite artists on it, such as calendars and CDs, but it is also a lifestyle shop that sells your artist's
favorite products and goods that SM artists collaborated on with other designers. There is even a SUM Market where you can buy items, such as SHINee jjajang ramen, Super Junior potato chips and Red Velvet sparkling water. These products fly off the shelves quick so get them while you can.

SM Town Studio
This is a space where you can get vocal and dance training like real SM artists do, then have your hair and makeup done for a photo shoot and film a music video. After your vocal training session, you can record your own music to make a one-of-a-kind record. Prices vary, but it seems K-pop fans from everywhere are willing to pay whatever the cost, as the experience is immensely popular.

SMTown Theatre
This 800-seat theater sells out almost every day. Eighty percent of the audience members are Japanese or Chinese fans that come to watch the hologram musical. Some Japanese fans even do a day trip to Seoul just to see this musical.
Although the messenger app Kakaotalk dominates the localeige scene, it's actually Line that's become a sensation all over Asia. Loved not just for its  convenience but because of its emoticon characters, Line is  currently being used in 230 countries all  around the world with about 212 million monthly users. Whether it's branded with Brown, Moon or Cony, these lovable characters will have you opening up your wallet for toys, clothes, lifestyle goods and other products. Select Line Friends Stores also have coffee shops and ice cream, but this is just the beginning. The company plans to open a Line Friends Theme Park with characters, food and drinks soon.