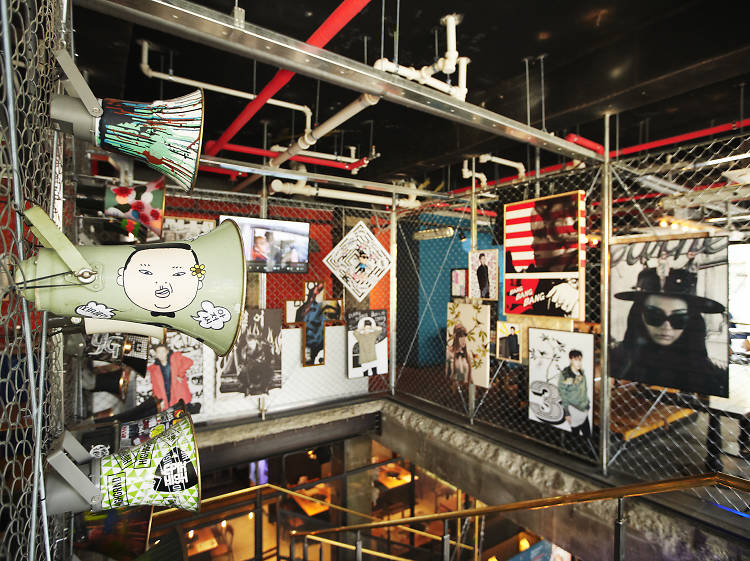 Where better to put a food complex totally dedicated to YG than in Myeongdong, where thousands of hallyu tourists travel to every year. Noh Hee-young, the mastermind behind the snacks of Market-O and other food franchise enterprises, is the head of YG Food. Located in this complex is a café, pub and grill restaurant. YG Republique also opened up a second branch in Yeouido Mall IFC Mall and is expected to open it first branch overseas in Bangkok's Show DC mall this coming August and expand later on to China, Japan, Los Angeles and other international locations.

3 Birds
3 Birds is a café where you can enjoy healthy and hearty meals, such as the avocado and shrimp sandwich, kale and quinoa salad and more. The coffee menu is also impressive, and signature items are the short black served with cream and the flat white, an Australian-style coffee with velvety milk foam on top. All That YG, a YG goods store, is located within this café and sells cups, towels and other items with stars' faces on them.

3 Geori Butchers Blue
The 3 Geori Butchers in Hongdae is where YG Food (a food company started by the music corporation) all started. Soon after it opened, the restaurant was featured as the place YG celebrities go for casual afterwork gatherings, making it a must-visit for all local and international fans. This second branch, 3 Geori Butchers Blue, is an upgraded version of the original, serving only first-class meat in a classy setting.

K Pub
Big Bang, Psy, 2NE1 and other YG artist' works and videos are displayed at this pub. There are a variety of beers to be tasted, including YG beer. The barbeque platter with various kinds of meats, fried shrimp and squid are some of the delicious snacks served at K Pub.