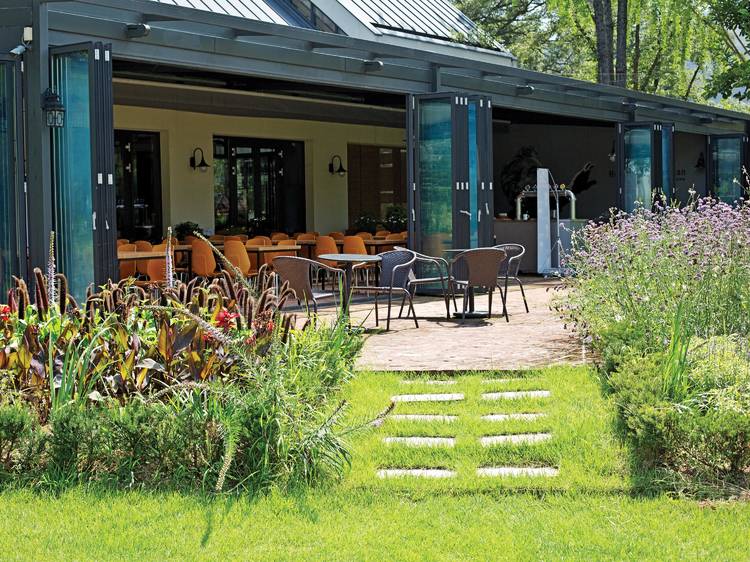 Tucked away in the picturesque Yangpyeong-gun, BOM Farmers' Garden is a charming garden and farm. It has a restaurant, a gallery and a chapel that anyone can stop by and visit. Owner Kwak Sang-yong's idea behind his project that has been cultivated on this vast plot of land is simple: everyone living in today's world "needs a rest," and he wants to provide just that.
Kwak, a former civil servant and a dedicated "Samsung man," envisioned a place where one could go on a day trip to regain his/her peace of mind—some of which might have been lost in sale quotas, business reports and meetings. Visitors can leisurely meander about the farm, where Kwak's harvest of okra, peppers, eggplants, ruccola and chickens are all basking in the sunlight. The garden is also well taken care of, and are the results of this city farmer's numerous attempts to find the best spot for each exotic and native flower that he's found around the country and during his horticulture studies in the U.K. After a nice stroll, the restaurant at the other end of the farm awaits with Italian dishes made with fresh vegetables and eggs gathered from the farm. While the menu items are the creations of skilled chefs with five-star hotel experience, all of the dishes, which are delicately garnished with flowers from the garden, are unpretentious and true to the natural flavors of their ingredients.
After spending a day at BOM Farmers' Garden, you might go away with more than just the tangible pleasures from the garden. That is, in imagining the dreams, efforts, trials and errors and achievements of a "lifelong student" farmer brought to life in the breathtaking landscape and exquisite dishes, you might gain the insight and inspiration that whilst dwelling in this hectic city, you can find your own ways to focus on living a more sustainable life, and to maybe share them with others one day.