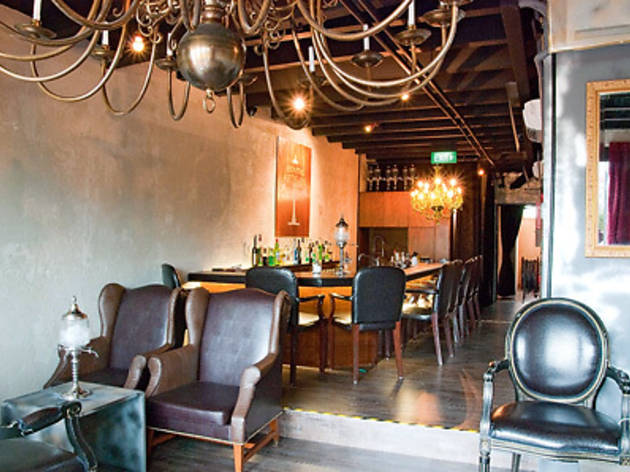 A swish labour of love overlooking the river, Absinthe Artisan is the blink-and-you'll-miss-it brainchild of Goh Hock Soon, who's carved a museum to this resurgent tipple below a massage parlour. There's no drinks list; instead you get an idiot's guide to absinthe from barista Ivan Lee and an offer to taste-test the showpiece attraction – the la louche ritual, wherein an ornate fountain transforms the notorious liquor from emerald to an iridescent cream-white.
Holed up in a second-storey conversion, elegantly decked in muted browns and blacks with a red velvet curtain, from street level this curio is hardly noticeable. Above a heaving passage hardly known for sophistication – trad boozers like The Public House and The Penny Black suck in the tourist dollar down this way – it's an audacious choice of setting. Given such a discreet profile I was hardly surprised to find myself, at 10pm on a Saturday, one of just ten chin-stroking drinkers whose expressions ranged from contentedly chilled to totally bemused. The retro-leaning music verges on intrusive, but it helped fill those awkward silences.
Sobriety soon evaporated as I kicked off with the banana confection Musa Acuminata (epitomising AA's pretensions, these fruit fancies get itemised on the bill in Latin). At an eye-rubbing $22, it doesn't work at all. Lumpy and cloyingly sweet with its superfluity of milk, honey and cocoa-powder topping, the absinthe and rum pulverise the palate as aftertaste, not part of an integrated whole. The Bak Kwa Martini ($20) dunks chewy pork in absinthe mist sprayed from a Lacoste perfume bottle. It's a dry, harsh sip, though at least the absinthe's anise and fennel-seed overtones carry through. The jerky barely enhances the taste; you certainly smell it, especially when you're draining your glass and it rubs against your nose.
Absinthe Artisan's earnest interactivity is disarming, but tipplers are bombarded with so much gustatory arcana and expository guff they'll end up feeling nannied. High-concept to a fault, the rear-side 'Sober Room' has a reclining leather seat like a dentist's chair, perhaps set aside for victims of the coffee liqueur-infused Black Day, which wallops your senses at 80 per cent ABV. It seems they're almost courting a curious, single-visit crowd that's in no rush to go elsewhere. 'Will you be coming back?' beseeched Lee's friend after bringing me someone else's bill (GST does get absorbed, but it should be at these prices). 'I'll certainly tell my friends,' I slurred on exiting, banging my head on a low-flying, candle-free chandelier.
Much like the drink it fetishises, this AA is a seriously acquired taste. Wear black, be patient – and don't say, 'It's time for a Tiger.' Jonathan Evans
Cocktails $20-$22; la louche tasting $60-$110.
Venue name:
Absinthe Artisan
Contact:
Address:
60A Boat Quay
Singapore
049848

Opening hours:
Mon-Thu 6-11.30pm, Fri & Sat 6pm-1am, Tasting sessions every Thu
Do you own this business?