Things to Do
Your comprehensive guide to the best events and things to do in Singapore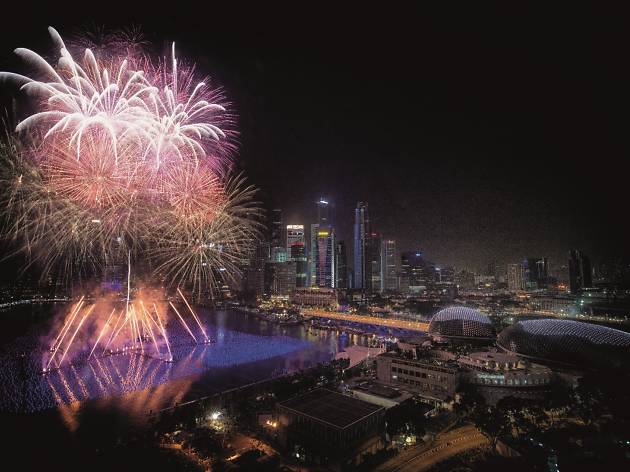 Best places to catch fireworks for free on National Day in Singapore
In addition to celebrating the nation's birthday, the National Day Parade is all about the fireworks. And we're expecting plenty over Marina Bay, specifically near The Float @ Marina Bay. For those who want to see the fireworks up close, here are a few places to park yourselves on July 22, 29 and of course, on National Day itself, August 9.
Upcoming events
Pesta Raya 2017
Pesta Raya returns to celebrate the rich heritage and beauty of Malay traditional and contemporary arts. Anticipate musical performances from new and old artists including a dikir barat battle, Malaysian rock icon, Ella, and Indonesia's rising indie-alternative band, Payang Teduh. Learn more about the Malay archipelago at the screening of Setan Jawa, which features the visual imagery of Javanese mythology, and accompanied by a live gamelan and Western orchestra.
Ignite! Music Festival
The annual student-run festival features a whole slew of local performers. Back for its tenth edition, Ignite celebrates the best of homegrown bands, bringing in both established and up-and-coming local acts. This year's main festival (Jul 28 & 29) line-up includes ShiGGa Shay, THELIONCITYBOY, LEW, Jasmine Sokko and more.
Kueh Pairing Workshops
On July 15, 22 and 23, Rainbow Lapis is holding three kueh pairing workshops as part of Singapore Food Festival 2017. Pair your heritage kuehs with artisan teas ($80), bespoke cocktails ($98) or speciality coffees ($80), and expect to learn the fundamentals of pairing principles during the three-course kueh and beverage tasting session. On top of learning to appreciate culture, you'll also get to make a mod-Sin Kueh and craft a drink at the workshops. 
Japan Food Town's First Anniversary
Japanese food lovers, take advantage of Japan Food Town's one-for-one promotion at a different restaurant each week as part of its first anniversary celebrations. Highlights include a maguro cutting event on July 16, and a social competition that gives you a chance to win a set of $1,000 vouchers. For health-conscious foodies, opt for the healthier choice Japanese rice that can be found in more than half of the participating tenants. 
So Singapore at Sentosa
Get intimate with everything Singaporean at Sentosa's So Singapore, where a slew of family friendly activities wait for you. Go back in time at the Heritage Carnival (Aug 4 to 13) and mingle with roving characters from the pre-war days or munch on local treats such as chendol, and Peranakan kueh. Come on Saturdays and you'll be treated to a performance arts like a wushu performance, Peranakan folk songs, and bian lian, a form of traditional Chinese opera. As night falls, get ready to whip your phones out – the Sentosa's Merlion lights up with an array of colours and visual effects, accompanied by music. 
Singapore Food Festival 2017
Immerse yourself in the local food scene at this year's Singapore Food Festival (SFF). Start from STREAT, SFF's signature event and work your way through various workshops and events such as Ion Orchard's Chocolate Wonderland (Jul 14-16), kueh pairing workshops, and The 50 Cents Fest where you'll get to try hawker dishes for – you got it – 50 cents. Additionally, indulge in traditional hawker fare paired with artisanal wines hosted by Merchant Wine Store. For a relaxing time, tuck into a curated picnic basket on the lawn while enjoying a local food film under the stars at Open Farm Community.
See more events in Singapore this week