Things to Do
Your comprehensive guide to the best events and things to do in Singapore
Upcoming events
Singapore Art Book Fair
If art books to you are weighty coffee table tomes, it's time to expand that definition. Get zines, catalogues and books packed with vivid photography, art and design from this book fair. Scope out what's beyond our shores with offerings from Japan, South Korea and Indonesia, or zines from world-renowned Phaidon Press. Else, go local and pick up indie mag Sand Magazine or Rubbish – it isn't – from design collective holycrap. Riding the #girlpower wave is Wall of Women, a wall dedicated to female artists.
Singapore Heritage Festival
The Singapore Heritage Festival returns with an exploration of Singapore's lesser known stories, led by performances, heritage food and a fascinating look at the world of broadcast. Revisit well-loved shows in theatre company Sweet Tooth's Studio 6, join the revelry of cultural performances at the Bukit Pasoh Street Party, and feast on outdoor installations and stories of Little India's past at the Ramayana Extravaganza.
Colombian Film Festival
Discover Colombia's vibrant and diverse film scene through the lenses of its homegrown filmmakers. Presenting the inaugural Colombian Film Festival in Singapore, The Embassy of Colombia and The Projector come together to curate a programme featuring contemporary and award-winning titles, which includes coming-of-age drama Gente De Bien and comedy flick, Sofia and the Stubborn.
Buy tickets
Bondax
Not to be confused with the twosome from Disclosure, this English electronic duo spin more soul and less deep house. Made up of Lancaster lads Adam Kaye and George Townsend, these wunderkinds will take you on a magical, sonic journey. 
Buy tickets
Giselle
Straight from the oldest theatre in the world, the San Carlo Theatre of Naples, Giselle is a ballet about the redemptive power of love. It follows the ghost of a village girl and her unceasing love for the man who betrayed her. First staged in Paris in 1841 and accompanied by one of the world's first full-length ballet scores, the performance soars with award-winning leads Giuseppe Picone and Ekaterina Oleynik.
Buy tickets
CÉ LA VI presents Mayday! Mayday!
Say goodbye to the month of April and welcome May with a bang. Revel in the clouds with homegrown music maestros, led by DJ Kiat, as they spin a night of groovy house and tech-influenced tunes. And what's a party without getting a lil messy? Plenty of barbecue bites and booze await at this rooftop party.
See more events in Singapore this week
City stories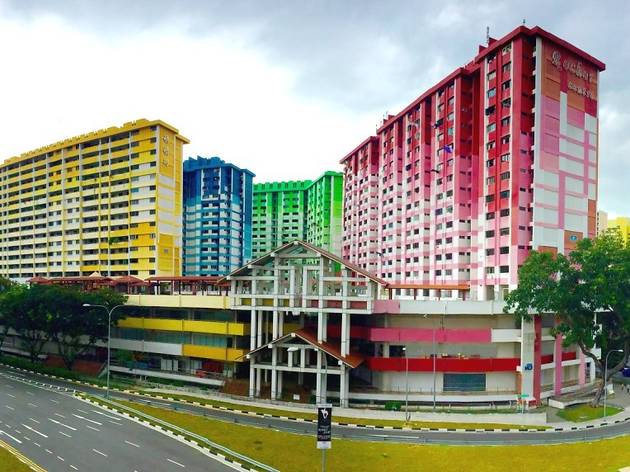 City stories: Rochor Centre
Goodbye, yellow-bricked HDB flat. Come September, the iconic Rochor Centre – in red, blue and green stripes, too – will be the latest casualty claimed in the name of development. From its ashes will rise the North-South Corridor, a 21.5-kilometre expressway slated for construction in 2017 that will have a dedicated lane for express buses as well as pedestrian and cycling paths. Touché, LTA. Built in 1977, Rochor Centre was originally white with red bricks – it was painted over during upgrading works in the early '90s – and comprises both residential and commercial properties. Apartments stack atop three storeys of kopitiams, offices and heartland-esque stores that hawk hardware, handphone accessories and traditional confectionary. And in a rare feature in today's HDB estates, Rochor Centre's 'void deck' can be found on the fourth level, similar to the one in Bras Basah Complex. Before Rochor Centre breathes its last, head over to capture these vibrant blocks on camera. Go late in the afternoon for the best light – and set aside a few minutes to grab a bench on the ground floor to watch residents bustling around. If you're keen to explore deeper into the estate, make your way to the void deck at Block 4. There, you can view Community Quilts, a photography project by Ivan Tan, Juliana Tan and Samuel He. It's a series of eight vertical panels, each a superimposition of three to four photographs, depicting various neighbourhoods and everyday scenes of city life.  RIP, Ro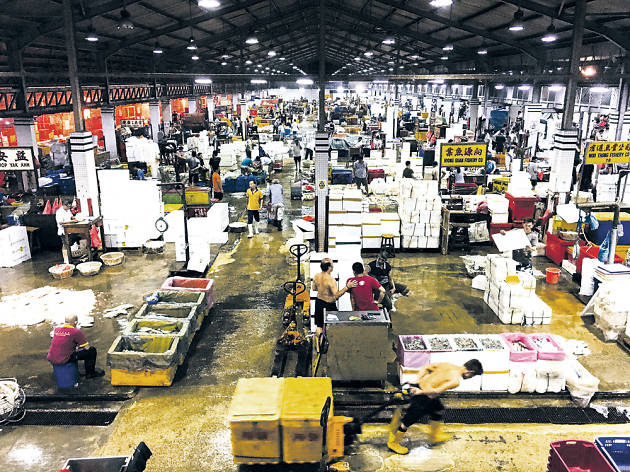 City stories: Jurong Fishery Port
It's one in the morning, and the air hangs with a dank stench. Men clad in rubber boots (and not much else) are hurriedly dragging pomfret, squid, lobster and other types of seafood around a warehouse-like space. At this ungodly hour, Jurong Fishery Port is just starting to get busy. The Port opened in 1969 as a docking base for foreign fishing vessels, as well as a huge wholesale fish market (about 20 basketball courts huge) that houses more than 100 lots for the trawls to be auctioned off. The Port is open all day and night – except Mondays between 2 to 6am – but the action peaks at around 3am. That's when the boats are unloading their catch and throngs of hawkers, chefs and wet market stall owners are buying in bulk. Yes, you can pick up a red snapper or two, some still flapping in their styrofoam boxes, for dinner. But even if you don't intend to, there's plenty of sights and sounds – not to mention smells – to check out, too. Jurong Fishery Port is at Fishery Port Rd.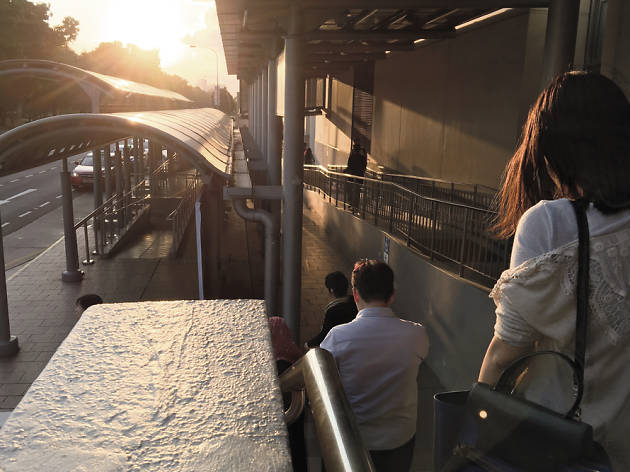 City stories: Singapore at dusk
There's an old-timey rule in photography – if you can accept rules in photography – that says the best time to roam the streets for photographs is in the 'Golden Hour': an hour after sunrise or before sunset. Hefting the iPhone 6 Plus, whose size demands two hands to take a photograph, I went around my neighbourhood in Kembangan, scouting out Singaporeans during this so-called golden hour. After a few days spent revisiting the same areas (MRT station, park connectors, small parks), dawn and dusk seem less like twins and more like funhouse mirrors. Same light, completely different moods. The early morning is crowded yet silent. But an hour to sunset, grown-up feet shuffling home from work are joined by the smaller feet of children – wantonly zooming down park trails on tiny scooters or pounding hard concrete to chase after a football. For the adults (and one particular feline I chanced upon) who've had a hard day's work, they can finally put up their feet up and snooze on a park bench as the sun fades under the horizon.