Things to Do
Your comprehensive guide to the best events and things to do in Singapore
Festival zones of i Light Marina Bay
Giant inflatable balloon animals, a silent disco, a playground powered by kinetic energy… these are the showstoppers of this year's i Light Marina Bay. They're all part of three nature-inspired 'festival hubs' around the waterfront – so it's not all about the jaw-dropping art installations. Here's what you can look forward to. Don't forget to download the official i Light Marina Bay event guide – via the Blippar app (Android or iOS) or by clicking here – to help you navigate the festival.
Guide to i Light Marina Bay 2017
It's the time of the year again when Marina Bay shines a little brighter, as i Light Marina Bay returns from March 3 to 26. In its fifth edition, the festival is upping the ante with three new curated fun zones (termed 'hubs') and a solid activity line-up. These include a playground with giant inflatable animals, a workshop where you can build your own Virtual Reality device – out of cardboard, no less – and good ol' Uncle Ringo carnival rides. That's not forgetting the bedrock of the festival, its 20 environmentally-friendly light art installations which illuminate the waterfront. Check out these seven artworks, inspired by everything from sea to space, that leave a dazzling impression.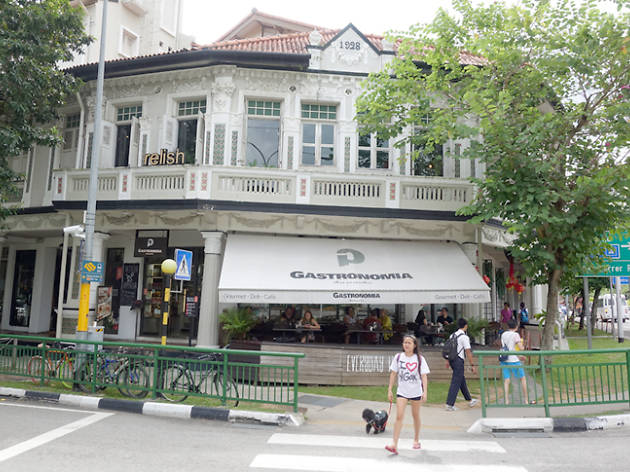 Guide to Coronation
Believe it or not, there's actually more to Coronation than the Botanic Gardens and ginormous mansions. Located within the Bukit Timah neighbourhood, the area is home to a number of restaurants, cafés and shops. Here's a cheatsheet on things to do while you're in the 'hood.
Upcoming events
Earth Hour
Join the Earth Hour movement at the F1 Pit Building, which also hosts a night market from March 21 to 24, featuring fitness workouts, live performances and booths to learn more about WWF and its initiatives. And on March 25, don't miss performances by the likes of Shigga Shay, Inch Chua and Dru Chen. Or run for a cause and promote environmental sustainability during the 5km Earth Hour run, Singapore's first sustainable marathon, held in conjunction with the Sundown Marathon. Complete the race and get a biodegradable medal that you can plant in soil to grow basil.
Buy tickets
Sundown Marathon
Asia's largest night run is back for its tenth edition. Take a break from Singapore's sweltering weather and run in the cool breeze of the night with the Sundown Marathon, with categories in seven different iterations. Challenge yourself with the 42.195-km full marathon and 21.1-km half marathon or take it easy with the 5-km fun run, with separate races for kids, teenagers and adults.
Roger Shah and Emma Hewitt
A five-time awardee in the DJ Mag Top 100 DJs Poll and house music veteran, Roger Shah has released over 500 tracks under his name. Joining him is Australian singer Emma Hewitt, whose worldwide smashes have earned her a spot at the summit of the Global Trance Charts. 
Margins: A season of Haresh Sharma's plays
The 14th edition of Esplanade's The Studios, a platform to showcase local theatre companies and independent artists, celebrates the works by Cultural Medallion-winning writer Haresh Sharma. See the restaging of four Sharma-penned plays, such as Fundamentally Happy and Harap, and a new WIP from the playwright.
Blossom Bliss
You don't need to go to the Land of the Rising Sun for a glimpse of the seasonal cherry blossoms. Wind your way through clouds of pink and white at the Blossom Bliss floral display, which features the famous Japanese flowers as well as peach blossoms and bonsai arrangements, set amidst a Japanese-style garden.
Tsum Tsum carnival
Cute Disney characters descend upon CapitaLand's malls for the month-long Tsum Tsum carnival. Take pictures with the round-shaped figurines in recreated scenes from Disney Tsum Tsum's animation shorts. But that's not all: other activities include the Ninja Castle Challenge, making your own Disney Tsum Tsum characters from Play-Doh and racing Disney Tsum Tsum Tomica die-cast cars. Download the CapitaStar app to unlock Mission Bingo for additional rewards. 
See more events in Singapore this week
City stories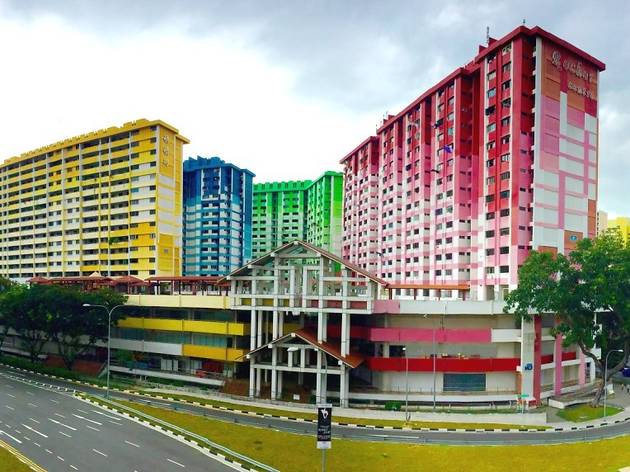 City stories: Rochor Centre
Goodbye, yellow-bricked HDB flat. Come September, the iconic Rochor Centre – in red, blue and green stripes, too – will be the latest casualty claimed in the name of development. From its ashes will rise the North-South Corridor, a 21.5-kilometre expressway slated for construction in 2017 that will have a dedicated lane for express buses as well as pedestrian and cycling paths. Touché, LTA. Built in 1977, Rochor Centre was originally white with red bricks – it was painted over during upgrading works in the early '90s – and comprises both residential and commercial properties. Apartments stack atop three storeys of kopitiams, offices and heartland-esque stores that hawk hardware, handphone accessories and traditional confectionary. And in a rare feature in today's HDB estates, Rochor Centre's 'void deck' can be found on the fourth level, similar to the one in Bras Basah Complex. Before Rochor Centre breathes its last, head over to capture these vibrant blocks on camera. Go late in the afternoon for the best light – and set aside a few minutes to grab a bench on the ground floor to watch residents bustling around. If you're keen to explore deeper into the estate, make your way to the void deck at Block 4. There, you can view Community Quilts, a photography project by Ivan Tan, Juliana Tan and Samuel He. It's a series of eight vertical panels, each a superimposition of three to four photographs, depicting various neighbourhoods and everyday scenes of city life.  RIP, Ro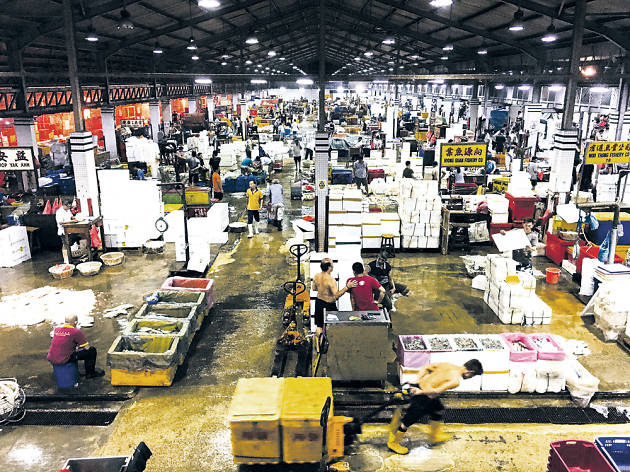 City stories: Jurong Fishery Port
It's one in the morning, and the air hangs with a dank stench. Men clad in rubber boots (and not much else) are hurriedly dragging pomfret, squid, lobster and other types of seafood around a warehouse-like space. At this ungodly hour, Jurong Fishery Port is just starting to get busy. The Port opened in 1969 as a docking base for foreign fishing vessels, as well as a huge wholesale fish market (about 20 basketball courts huge) that houses more than 100 lots for the trawls to be auctioned off. The Port is open all day and night – except Mondays between 2 to 6am – but the action peaks at around 3am. That's when the boats are unloading their catch and throngs of hawkers, chefs and wet market stall owners are buying in bulk. Yes, you can pick up a red snapper or two, some still flapping in their styrofoam boxes, for dinner. But even if you don't intend to, there's plenty of sights and sounds – not to mention smells – to check out, too. Jurong Fishery Port is at Fishery Port Rd.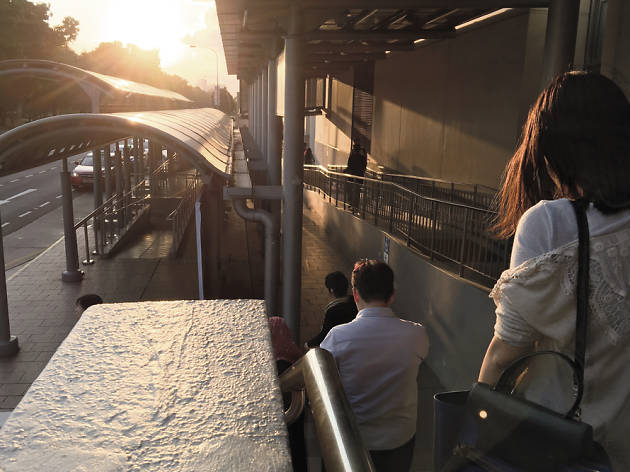 City stories: Singapore at dusk
There's an old-timey rule in photography – if you can accept rules in photography – that says the best time to roam the streets for photographs is in the 'Golden Hour': an hour after sunrise or before sunset. Hefting the iPhone 6 Plus, whose size demands two hands to take a photograph, I went around my neighbourhood in Kembangan, scouting out Singaporeans during this so-called golden hour. After a few days spent revisiting the same areas (MRT station, park connectors, small parks), dawn and dusk seem less like twins and more like funhouse mirrors. Same light, completely different moods. The early morning is crowded yet silent. But an hour to sunset, grown-up feet shuffling home from work are joined by the smaller feet of children – wantonly zooming down park trails on tiny scooters or pounding hard concrete to chase after a football. For the adults (and one particular feline I chanced upon) who've had a hard day's work, they can finally put up their feet up and snooze on a park bench as the sun fades under the horizon.