Restaurants & Cafés
The best restaurants and cafés in Singapore, including restaurant reviews and editors' picks
Latest restaurant reviews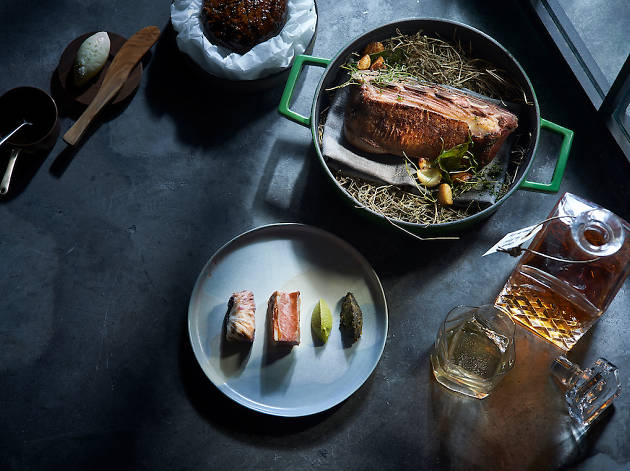 Cloudstreet
Rishi Naleendra is a prodigy among chefs. As the son of a restauranteur-turned-caterer, he grew up in Colombo around food, waking up in the early hours of the morning to watch his dad cook. It was a tough life, and one that he didn't want for himself. He moved to Melbourne to study architecture but the electricity of the city's restaurant scene drew him back to the kitchen. He cut his teeth in establishments across Australia – from the modern Taxi Kitchen to the acclaimed Tetsuya's in Sydney – before landing in Singapore in 2014. He opened Cheek by Jowl in 2016. A year later, he became the first Sri Lankan-born chef to earn a Michelin star for his restaurant. And three years later, he shut it down. Stepping inside Cloudstreet, you immediately understand why Cheek by Jowl, despite all its success, wasn't enough. Cloudstreet is the purest expression of who Rishi is – his composition, complexities and contradictions. It's deeply personal, with pieces of him littered throughout the bigger and bolder space: his paintings of women in the nude line the walkway to the powder room; chandelier from the former restaurant is now draped in fabric softens the rays passing through the skylight; and the glossy emerald tiles that serve as the backdrop to the open kitchen should trigger some association with the old Cheek. The food is Rishi on a plate, remixed in his own special way. It takes you on a journey of the different cultures and influences, breaking away from the modern-Australian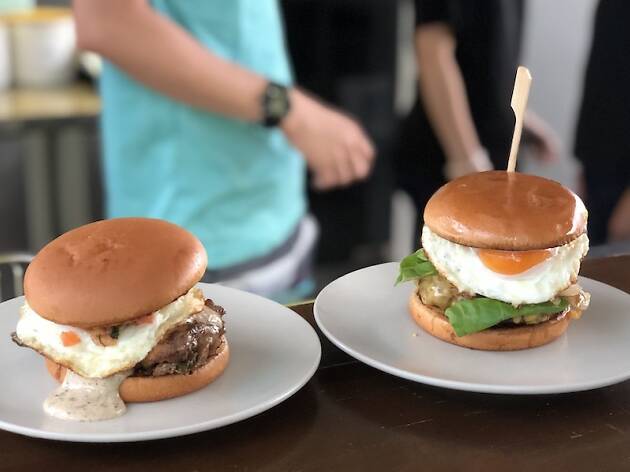 BurgerLabo
We're declaring 2019 the year of the burger. Not only has New York institution Shake Shack landed on our shores, these past six months have seen more burger places try to break through the saturated (fat) market. There are even whispers that Five Guys might make its Singapore debut too. Who can blame them? Like everyone else, Singaporeans love a good burger. And where there's demand, there's supply. But while the patty and bun offerings we have are good, it's hard to declare any as the absolute best. Over at Gillman Barracks, Ken Loon of Naked Finn fame has transformed bar Nekkid to BurgerLabo. We rush in on a rainy day, with the wind and the rain beating heavily against the greenhouse-like shack's hardy clear plastic sheets. Seeking comfort in the compact menu – which offers three types of burgers, two rolls and plates of protein – we order almost everything. The Basic Burger ($23) – affectionately known as BB – is Ken's pride and joy. Now in its 12th iteration since he started making burgers in 2015, the 170g patty is a proprietary blend of grass-fed Angus beef neck, Aomori ribeye, Toriyama A4 wagyu tenderloin and Sendai A5 wagyu brisket. The firm bun slathered in bone marrow butter goes hand in hand with the caramelised patty that's as intensely flavoured as an aged steak. The simple trimmings of organic tomato, locally farmed lettuce and American cheese don't compete for attention. although you can add pickled and caramelised onions ($2) and a fried egg ($3) if you don'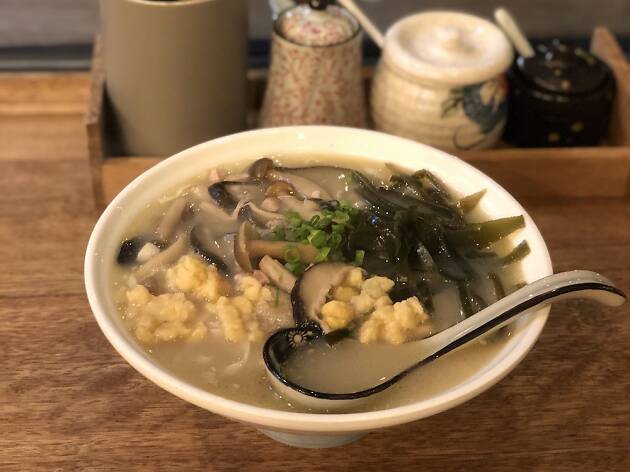 Chuan Hung
Sichuan cuisine is experiencing a moment in Singapore. And with more restaurants and hawker stalls opening up, it's not just a trend but a weekly ritual for some. Enter Chuan Hung, a small noodle shop tucked away from the busy stretch of Telok Ayer Street, ready to feed the spice-seeking CBD crowd. It counts Birds of a Feather and the new 51 Soho just around the corner as sister concepts and shares kitchen space with the latter. The noodle shack is decked out in bamboo poles, rattan chairs, hanging pendant lightbulbs and noodles drying out in the open – all adding to its cosy, hole-in-the-wall ambience. The environment is an upgrade from the cramped stores you find minutes away in Chinatown, where you sit facing soup-stained walls made even more apparent under harsh LED lights. But does the food live up to the joints around People's Park Complex? Not quite. We order the top three noodle dishes on the menu – there are eight varieties in total – namely, the signature braised beef ($12.50), braised chicken, mushroom and bamboo shoot ($12.50) and Australian ox tongue with vine pepper ($14.50). Of the three, we like the Australian ox tongue the best – mainly because it comes in a peppery soup made with green chillies and Sichuan peppercorns that leave a tingling sensation on the lips. The subtlety of the soup allows for other components of the dish to shine through: the gaminess of the thinly sliced beef tongue, the sweetness of the mashed peas and the salinity of the seaweed,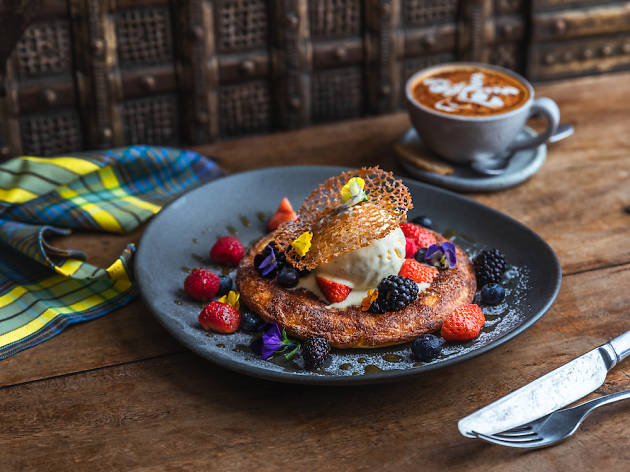 Kafe Utu
It seems as though Keong Saik welcomes a trendy new restaurant every month. Some, like Kok Sen and Burnt Ends, have stood the test of time, but countless nameless others lie forgotten. Over on the quieter stretch of Jiak Chuan Road lies a new contender and it's armed itself with a novel concept, Instagrammable nooks and food, killer coffee and just about everything it takes for a café to succeed these days. Settle into a banquette on the first floor, where beautiful portraits of African women stare into your soul and the long espresso bar or climb up to the second floor to unwind on large leather couches that are the focal point of this living room-like space. No detail goes unnoticed at Kafe Utu. Not the hand-carved mirrors and doors that lead out to its outdoor event space, not the custom-made glassware and ceramic coffee cups etched with its logo and definitely not the food, which is a mix of African cuisine as well as brunch favourites with enough of a twist to keep things fresh. It comes as no surprise that its owner, Kurt Wagner, spent his childhood living in Liberia, South Sudan and Kenya. His love for the continent and its people, art and flavours shines through in this space that stands for "humanity" in Kiswahili. Kafe Utu is a faultless example of a third place you'd want to spend all day at. Order a coffee – its selection goes beyond the usual black and white. The Bidibado ($7) is a mocha rimmed with peanut butter and pink peppercorns that's neither too sweet n
See more restaurant reviews
Best restaurants in Singapore for...