Restaurants & Cafés
The best restaurants and cafés in Singapore, including restaurant reviews and editors' picks
New restaurants and cafés in Singapore
Firebake
With two custom-made woodfire ovens on-site, Firebake is extremely serious about its sourdough breads. There are four types available: white, rye, wholemeal and fruit, each made with all-natural, top quality ingredients like organic flour from Western Australia and Nordaq Fresh filtered water. It's not playing around with the food either – expect dishes like four-spice liver pate ($12) that's made with equal parts butter and liver for a luscious spread, Norwegian blue mussels cooked with lager and chorizo ($25) and grilled pork belly served in a sweet garden vegetable broth ($22). Everything's cooked on two 1880s refurbished Husqvarna cast iron stoves from Sweden that are powered by woodfire, keeping to the theme of rustic soul food from the hearth and heart.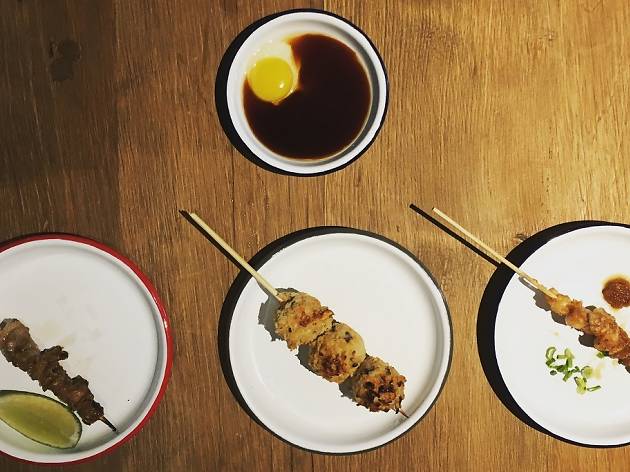 Birders
Grilled chicken on a stick might seem like a simple concept, but Birders does so much more than that. Chicken parts are elevated beyond the normal sprinkling of salt, with different sauces paired with parts such as heart ($4) with spring onions and ginger, and breast ($3.50) with mustard and panko. The yakitori restaurant also has one of the best chicken liver pâtés ($16) in town, served with a side of deep fried mantou sliders and yuzu marmalade. Wash it all down with a wide variety of sake, including affordable, single-serve sake cups if you don't feel like shelling out for the full bottle.
Lewin Terrace (new menu)
With a menu that changes with the seasons, Lewin Terrace is a fine-dining restaurant that combines French cooking techniques with only the best produce from Japan. For Spring, the restaurant has five and seven-course menus that highlight the beauty of spring, using ingredients like cherry blossoms and mountain vegetables. Spring is also the only time where the restaurant brings in sakuradai, a sea bream that is harvested during sakura season, which is pan-fried with sakura ebi and asparagus. Another standout is chef's Wagyu Meets Tiger, a wagyu beef brisket that's been stewed in Tiger beer served alongside dried figs and apricots for a touch of sweetness.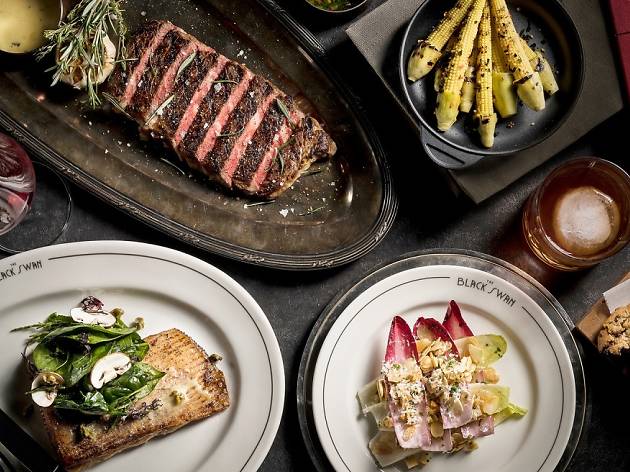 The Black Swan (new menu)
The handsome 130-seater ground floor dining room and showcase bar with the kitchen is run by culinary director Daniel Sia, who has updated the menu to feature more modern chophouse plates. Think dishes like hand-chopped steak tartare ($26), Vidalia onion broth with bone marrow flan ($26), and The Black Swan Burger ($32). The steaks are sourced from boutique ranches around the world, so you'll find Brandt USDA choice tenderloin ($60) and Tajima wagyu striploin ($60) on the menu. Desserts are also a twist on steakhouse classics – don't miss the cookies and cream ($16) with milkshakes spiked with Baileys.
SPRMRKT (STPI)
On the first floor, SPRMRKT Daily is a grocery shop, retail space and riverside café rolled into one. Try the blackened fish and chips ($20) featuring locally-caught fish fillets fried in house-made squid ink batter, or the fail-safe English Breakfast ($28) of Kurobuta pork sausage, bacon, vine-ripened tomatoes, sauteed mushroom, two eggs served with toasted brioche. Climb the stairs up to SPRMRKT Kitchen and Bar, and the vibe changes completely. Here, Singaporean chef-owner Joseph Yeo serves dishes like the twice-cooked chicken roulade ($28) on a bed of smoked curried cauliflower puree and chicken jus, and smoked lobster tail ($42), with macaroni mixed with three cheeses and pumpkin, and topped with toasted garlic panko bread crumbs for extra crunch. Desserts are equally stunning with the Earl Grey creme brûlée ($16) taking the cake with its lemon lavendar streusel base, fresh seasonal fruits and edible pressed flowers.
The Pillar
Whet your appetite with starters like Spanner crab salad ($15) dressed in wasabi mayonnaise and served with diced apple and red-veined sorrel, and Angus beef tartare ($16), which features hand-chopped beef fillet marinated with chives, mustard seeds and accompanied with sourdough crisps. For mains, try the lobster fregola sarda pasta ($28) topped with an onsen egg and parmesan shavings or the melt-in-your-mouth braised beef cheeks ($32) served with browned butter potato puree, heirloom carrots and asparagus. Those looking for a healthier option, there's a salmon ochazuke ($24) on offer, which features seared slices of Norwegian salmon, edamame and ikura, served with a teapot of smoked tea dashi.
See more new restaurants and cafés
Latest restaurant stories
Best restaurants in Singapore for...