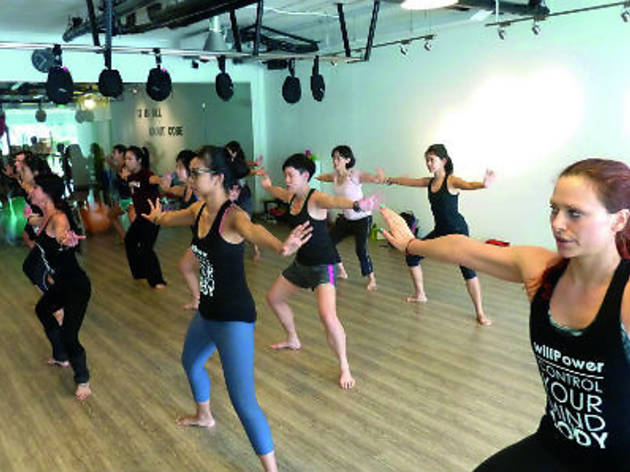 Strange as it sounds, the Pilates-centred exercise studio, Momentum Lab, conducts a freestyle training class here that puts its focus square on your foot's fitness. Intriguingly named willPower & grace, this unique angle on fitness was discovered and brought here by the studio's founder Lynn Ong, making it the first studio in South-East Asia to offer the class.
The exercise was developed by American fitness pro Stacey Lei Krauss, who after 20 years of personal experience studying foot fitness, found that shoes of today provided too much support – resulting in a loss in flexibility and mobility. Many issues were often overlooked and undermined by regular gym trainers and fitness instructors. Like Krauss, Ong also believes that having a well-grounded foundation – in this case, literally your foot strength – is necessary for full body functionality as we go about our daily lives.
The programme therefore encourages students to kick off their shoes to learn how to land gracefully and naturally, and build strength from below to enhance one's posture and prevent injuries. Our 60-minute session began with a gentle warm up involving light toe and ankle movements, which quickly progressed to sets of quick cardio and functional moves, like squatting and twisting, crouched side lunges, hops and squats – all designed to also train the quadriceps, hamstrings and bum while building up a sweat. With our heart-rates elevated, the moves progressed to building flexibility and strength with hamstring stretches and planks. To suit the varying levels of core and thigh strength of students in its group classes of 15, exercises in each class are split from levels one to three to ensure that everyone can keep up with the session's fast pace.
Explaining the name that Momentum Lab specifically coined for their four-a-week willPower & grace classes, director Jim Lim says, 'The classes drive you to have the power of will to go through with the exercises that are crucial in keeping your body on form, and the things you learn here give you grace when you go about your daily activities.' With foot fitness having attained solid ground at Momentum Lab, looks like training those bases is kicking off to a great start. Katherine Arteche
Venue name:
Momentum Lab
Contact:
Address:
#01-15 Alexis
354 Alexandra Rd
Singapore
159948

Opening hours:
Mon-Fri 9am-9pm, Sat 8am-4pm
Do you own this business?