Five things to check out at Suntec City Oktoberfest
Bask in the festivities at the outdoor beer garden or knock back a pint or two at a bar-on-wheels
Break out the dirndls and lederhosen, 'tis the season for beer. See what's brewing at Suntec City Oktoberfest.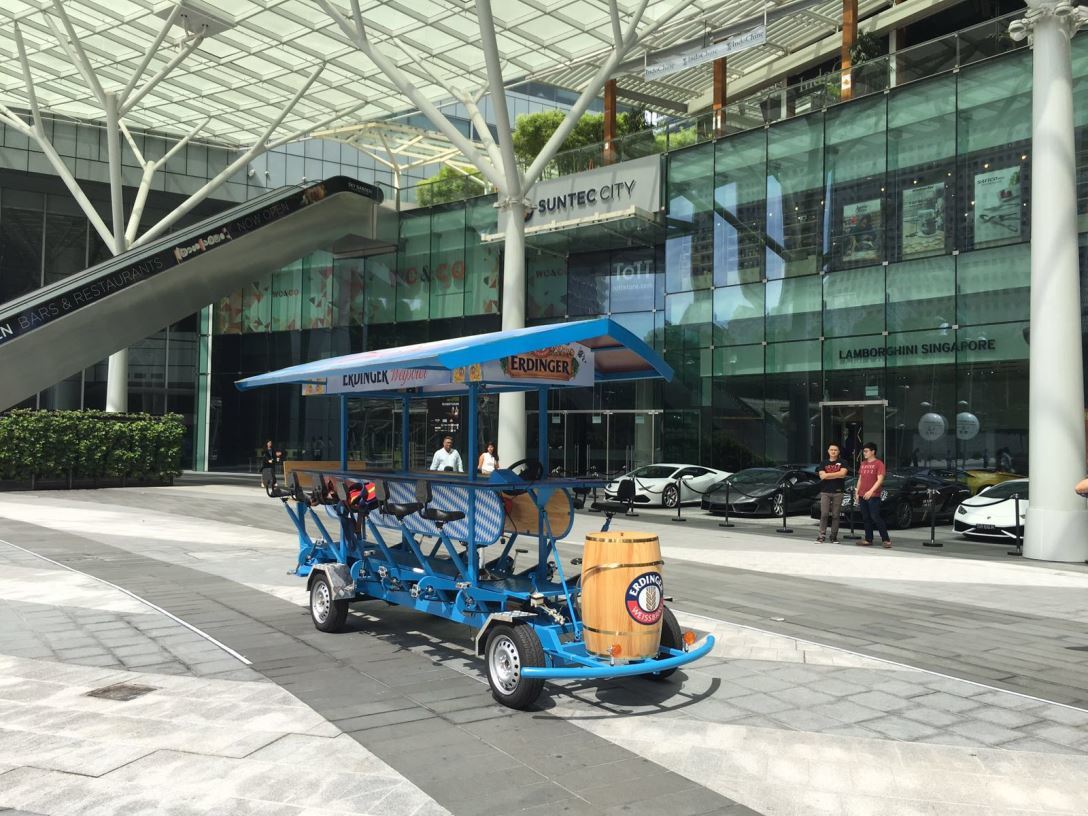 The Erdinger BARcycle
Don't drink and drive, folks – hop on the Erdinger BARcycle instead. Singapore's first mobile bar counter brings the party right to you as it makes its rounds through Suntec City. Take a joyride on this four-wheeled watering hole on September 23 and 24, and sip on a variety of Erdinger wheat beer – the Erdinger Oktoberfest Brew, Erdinger Weissbier, Erdinger Dunkel and Erdinger Alkoholfre – served up by your on-board bartender.
The outdoor beer garden
With live music, carnival-style games and a smorgasbord of bar bites, expect a raving good time at the outdoor beer garden, right in the midst of the city buzz at Suntec Plaza. There, you can unwind after a hectic work day with a pint or two (or three) of the limited edition Erdinger Oktoberfest brew, a specialty Festbier with crisp flavours and hoppy notes. Or, chug down a selection of other beers from the Bavarian house – all going at $12 a pint. Also keep a look out for IndoChine's $10 per pint happy hour offer, from 5 to 7pm. Gather your friends and raise a glass to good drinks and good fortune (maybe even swing by Suntec City's Fountain of Wealth later). Then quell your beer munchies with PasarBella's signature tacos filled with Cajun chicken, flame-grilled rib-eye steak or pulled pork, and seafood and chicken crispy spring rolls from IndoChine. Alternatively, get into the festive spirit and try the Oktoberfest Platter (roasted pork knuckle, roasted chicken, sausages) from Marché or munch on Balaclava's bar bites such as Beer Platter Shrimp and BBQ Pork Ribs ($15 each). Insider tip: sign up as a Suntec Rewards member before heading down to the beer garden. Members get a half pint on the house, subject to limited quantity.
Roving performances and live music
Gear up for an authentic festive experience on Fridays and Saturdays as Oktoberfest-style brass band, Summer Oompah takes the stage at the beer garden to bring you traditional German tunes. You can also catch in-mall performances by roving musicians and singing wait-staff at Suntec City's dining outlets.
Special Oktoberfest menus in Suntec City
Eat your heart out at a selection of Suntec restaurants and bars, where specially curated menus are served up during the Oktoberfest celebrations – chow down on Alt Pizza's signature pizza and craft beers, or enjoy chips, burgers and Erdinger draft at Jamaica Blue. Enjoy special promotions, too, on chicken wings – choose from five flavours at Oliva & Co or pair them with beer Korean-style at Guksu Restaurant. Suntec City sports festive Oktoberfest decor, so you'll feel like you're in a mini beer garden no matter where you choose to dine.
Prizes up for grabs
Be in it to win it. Engage in friendly competition when you try your hand at the booth and stage games, where there are plenty of attractive prizes to be won. You can also snap a tantalising picture of your pre-drinks grub at any of the Suntec dining spots, or a shot of you and your friends at the Beer Garden – post them on Facebook and you stand to win $100 worth of Suntec City e-vouchers when you add the #SuntecOktoberfest hashtag.
Suntec City Oktoberfest is happening from Sep 21 - Oct 2.
Visit Suntec City's website for more information.
Suntec City, 3 Temasek Blvd. Nearest MRT: Promenade and Esplanade. 5-11pm.