Catch the Bicentennial National Day fireworks in style on board a luxury yacht
Kick back, relax and raise a toast to Singapore's 54th year of independence on The Admiral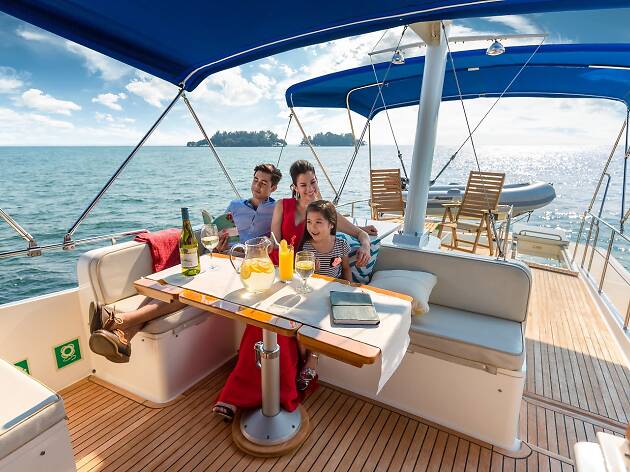 Pink and orange streaks highlighting the sky as the sun sets, the refreshing sea breeze through your hair and an exclusive party experience that culminates in a fireworks show – all excellent reasons why you should make an offshore escape from the city on board a luxury yacht.
Here's the perfect excuse to cruise: Marina at Keppel Bay is hosting an exclusive Bicentennial National Day voyage onboard its marine treasure, The Admiral, on August 3 and 9 from 6.30pm to 9.30pm. With a pitstop at the Marina Bay right when the fireworks go off, it's a great alternative to catch the show away from the massive crowds.
Set sail towards the glittering horizon at sunset on board The Admiral, a Grand Banks 52 Europa. The luxury yacht features quality finishings, designer fittings, spacious lounge areas and an impressive saloon that offers stunning views from helm to aft deck. You don't have to worry about motion sickness, either – expect smooth cruising as the yacht is equipped with a dynamic stabiliser.
While on the cruise, take in the beauty of Siloso, Palawan and Tanjong Beach as The Admiral navigates the waters near Sentosa Island before arriving at the iconic Marina Bay Sands for a breathtaking fireworks display at 8pm.
Soak it all in as the yacht slows down for an optimised viewing experience, allowing you to appreciate the mesmerising fireworks on calm waters. To top off this unforgettable evening under the stars, indulge in tasty canapés, as well as free-flow champagne to toast to the magical moment. The night concludes when The Admiral docks back at Marina at Keppel Bay around 9.30pm.
Prices start from $190 per person. Book before July 10 to enjoy an Early Bird discount of 10 percent. Bookings can be made via phone at 6303 8448 or email at enquiry@marinakeppelbay.com. Start planning your paradisal sea adventure with Marina at Keppel Bay today.