Five dishes to try at Bedok Interchange Hawker Centre
Pair these five hawker dishes with free WiFi at Bedok Interchange Hawker Centre, thanks to the enhanced Wireless@SG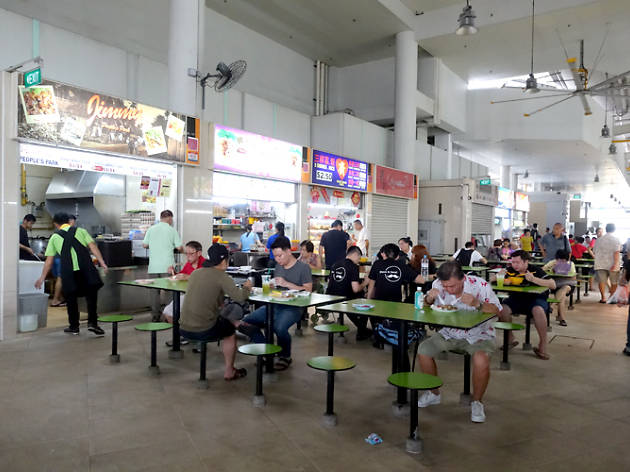 At Bedok Interchange Hawker Centre, burying your nose into your phone while you eat isn't bad table manners – it's to be expected. And that's thanks to Wireless@SG, which provides (wait for it) free WiFi at the popular food haven. Yes, among the many Wireless@SG hotspots around the island, this is the first and only hawker centre with a dedicated hotspot. While you're there, tuck into these five dishes that are worth queuing for.
Hock Hai (Hong Lim) Curry Chicken Noodle
The owners of this stall are specialists when it comes to noodles – they serve just two dishes, curry chicken bee hoon and satay bee hoon ($4-$6), with the former being the more popular item. The gravy is the star, rich and thick yet not too spicy that it numbs your taste buds. Fair warning, though: even the $4 portion is huge, with plenty of tau pok thrown in for good measure.
#01-58. Daily 9am-11pm.
Song Zhou Fried Carrot Cake
One of the hot favourites at the hawker centre has to be carrot cake. Song Zhou Fried Carrot Cake serves both the standard white and black varieties ($3-$5), but you can heap on prawns and squid, too. Go for the white one: it's fluffy, smooth and with just the right amount of heat from the chilli.
#01-37. Mon-Sat 6.30am-8pm.
Inspirasi
This legendary Malay stall has been dishing out mee rebus and mee soto for more than a decade, and the snaking queues haven't subsided. The mee rebus ($2.50) is the undeniable highlight: it comes with a pile of fresh green chillies, a hard-boiled egg and a moreish gravy to complement the springy egg noodles. Squeeze a lime over your plate to cut through the rich sauce, and dig in.
#01-53. Mon-Sat 11.30am-9.30pm.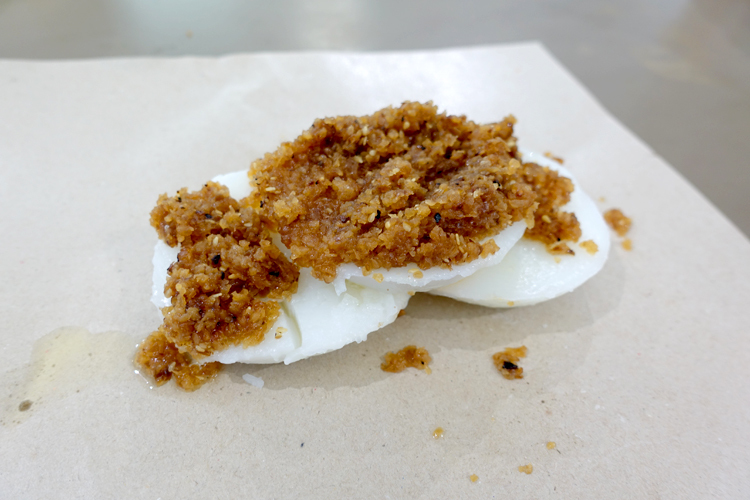 Bedok Chwee Kueh
Springy chwee kueh topped with a mountain of chye poh and a side of sambal ($1/two pieces) – that's the only thing this stall sells, so you know it's gotta be good. The rice flour pucks here are larger than usual, all the better for you to heap on the slightly sweet preserved radish. It's certainly not the breakfast we need, but the breakfast we all deserve.
#01-11. Daily 6.30am-9.30pm.
Lee Kee
To round off your meal, indulge in one of the more sinful local snacks: goreng pisang ($1-$1.50). Lee Kee's version isn't too oily – the crispy batter that coats each banana easily crumbles and gives way to the gooey, sweet fruit. The goreng pisang is our favourite here, but the fritters of sweet potato, jackfruit and tapioca are worth the calories, too.
#01-70. Mon-Wed & Fri-Sun 9am-6pm.
Bedok Interchange Hawker Centre is at Blk 208B New Upp Changi Rd.
No passwords, no usernames – the enhanced Wireless@SG is a breeze to use. Just download the Wireless@SG app for iOS and Android, and, after a one-time setup, you'll automatically connect whenever you are within range of a Wireless@SG hotspot.