Five reasons why Radisson Golf and Convention Center Batam is perfect for the whole family
From an 18-hole golf course to a kids' club, there's something at this luxe resort for the entire gang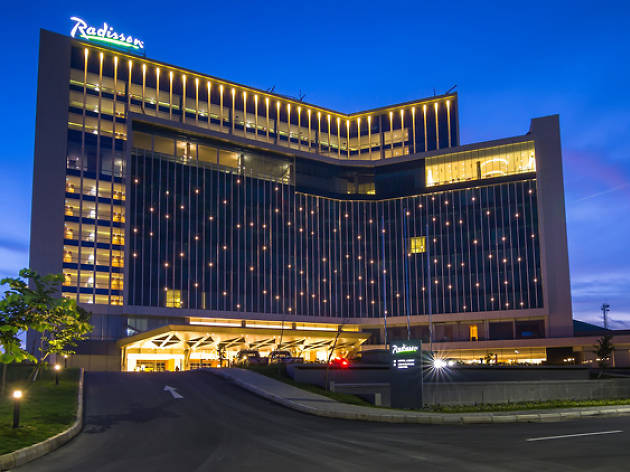 Embark on a great escape with the whole family at Radisson Golf and Convention Center Batam. Located in the upscale Sukajadi precinct of Batam, the resort brings together luxe comfort and family-friendly fun. The kids will be entertained by a plethora of recreational activities while parents can delight in the hotel's plush facilities – all in one tranquil address. Here are five reasons why this sanctuary is the ideal destination for your next family retreat.
Golf, of course
Pack your clubs and tee up. All you sports-loving dads can adjourn to the Sukajadi championship golf course located right on the hotel grounds for a round (or two). Opened in 2009, the 18-hole course has since hosted golf championships and has been rated highly by international golf publications. And it's no wonder – the 6-kilometre-long course boasts a beautiful landscape of greenery and gorgeous views, making it the place to be for the discerning golfer. So take the opportunity to get the family together for an afternoon of sporty fun – kids can try their first swings at the driving range while you work on nailing that hole-in-one.
Entertaining the little ones is child's play
Your kids will be spoilt. For choice, that is. Your charges can get creative with games and crafts, or unleash their inner explorers at the Kid's Club's indoor play area. They can also make a splash at the outdoor children's pool (and maybe even sign up for a swimming class). And if you need a night out on the town, the Kid's Club also offers a babysitting service. Rest easy leaving your kids in the safe hands of the hotel's in-house childcare professionals while you're out and about.
Rest and relaxation awaits
Mums, we know you hustle non-stop. So pamper yourself and get your zen on at Zoysia Spa – you've earned it. Whether it's to unwind after a day of keeping up with the brood, or shopping at the nearby Kepri Shopping Mall, soothe your tired muscles with Zoysia Spa's range of massage treatments. You'll also find respite from the bustle of the outside world in any of the spa's four private rooms.
Take a dip in an infinity pool
Make some waves when you go for a leisurely swim or clock up a few laps in the hotel's infinity pool. Feeling lazy? Then lounge poolside with a good book or refreshing sundowner in hand while you soak up the last rays of the afternoon. The pool overlooks the Sukajadi championship golf course, providing the perfect vantage point for a panoramic view of the resort's lush landscape. The pool's surrounding wooden decking also makes an Instagram-worthy background for that #vacationgoals shot.
Get a taste of the Batam sunset
Recharge after the whirlwind of activity at Bite, Radisson Golf and Convention Center Batam's all-day dining stop. No matter your schedule, drop in any time of the day at this 152-seater restaurant – even the pickiest of eaters will be satisfied with the extensive buffet of international cuisine. Besides eating your heart out, catch the stunning Batam sunset with your loved ones on Bite's gorgeous alfresco terrace. Now, that's how you end your day on a high note.
Find out more about Radisson Golf and Convention Center Batam at www.radisson.com/batamid.