Vesak, the city illuminates
Discover the rituals taking place around the island during this festival of illumination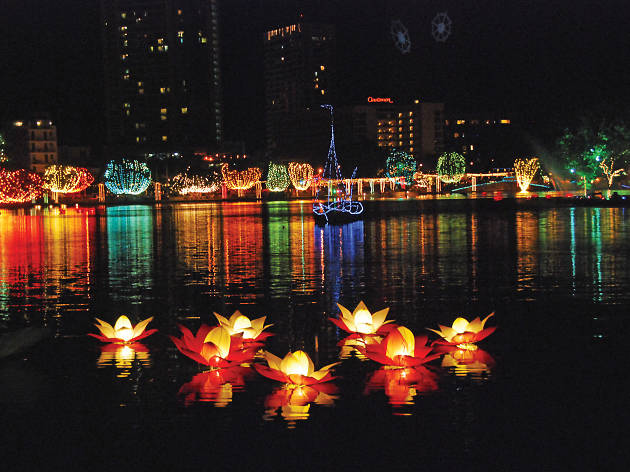 Vesak is without a doubt the most significant and revered Buddhist religious festival in the island. Falling on the full moon day of May each year, it marks the birth, enlightenment and passing away of Lord Buddha. This year the festival is celebrated on May 3rd and 4th and throughout these two days Buddhists gather at temples and engage in various religious activities such as observing ata sil (eight precepts), meditation, and offering flowers, light and incense. However, as evening falls, houses, streets and designated areas take on a vibrant note with countless lanterns, pandals and dan sal. Families and friends alike take to the streets to tour around the city and 'view Vesak'!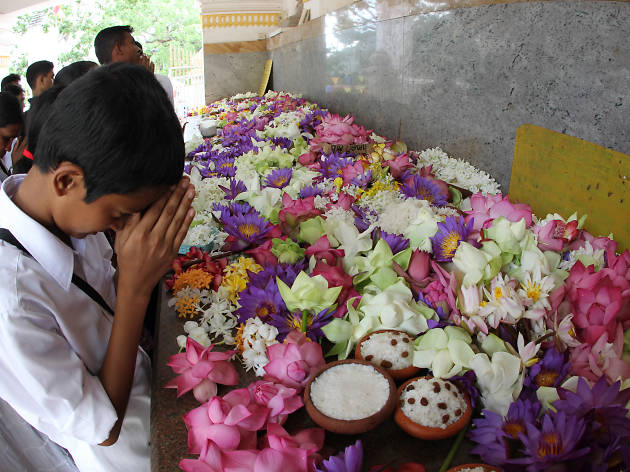 © BT Images
Step into a temple during Vesak and be ready to be overwhelmed by the large number of devotees that flock to each temple to observe various religious activities. Regardless of the crowd thronging the temples, a unique calmness prevails in the premises where the soft murmur of voices reciting pali stanzas only add to the spiritual bearing.
A significant part of Vesak involves visiting a temple to offer flowers, incense and light – in the form of a clay lamp. These are symbolic acts that are conducted by devotees to pay respect to Lord Buddha and his teachings. Reciting the relevant pali stanzas devotees observe the impermanence of life when offering flowers. The fragrant scent of the incense sticks signifies the singular virtues of Lord Buddha whilst the light of the clay lamp represents the insight that dispels the darkness of unawareness.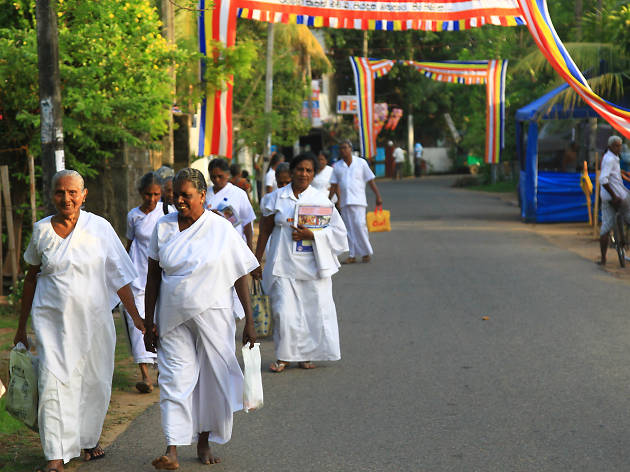 © BT Images
Observing sil (Observing religious precepts)
Many Buddhists commence Vesak by observing sil – more precisely ata sil (eight precepts) – at a temple where a chief priest chants the eight precepts early in the morning to devotees. Dressed decorously in white, devotees observe sil and perform religious activities throughout the day. By observing the eight precepts one determines to foster good conduct and develop self-discipline; thus refraining from engaging in any misdemeanors as described in the precepts. Further, during this day many Buddhists avoid consuming meat and alcohol and selling these items are also prohibited.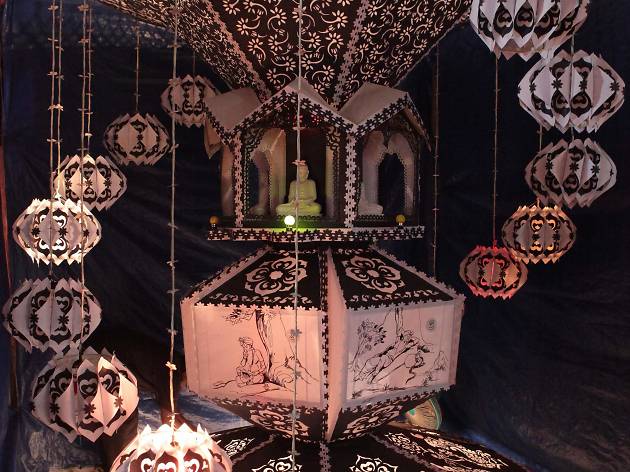 © BT Images
Lighting lanterns is a practice adored by both young and old alike. At home, preparation of these lanterns begins at least a week before Vesak, bringing families and sometimes even friends together. Made in different shapes – bucket, lotus, stupa and many other creative shapes, the lanterns made in the relief of an octagon is the most famous. Generally made with bamboo sticks and tissue paper of various shades, lantern-making has changed with time as some use plastic stripes and other materials as well. Roadside boutiques sell bare frames and completed structures too. Once the frame is fixed, coloured tissue paper is pasted and to light it up, a candle or a bulb can be fixed inside the frame. As a mark of paying homage to the Lord Buddha, people also light oil lamps which is the more conventional method of illumination during Vesak.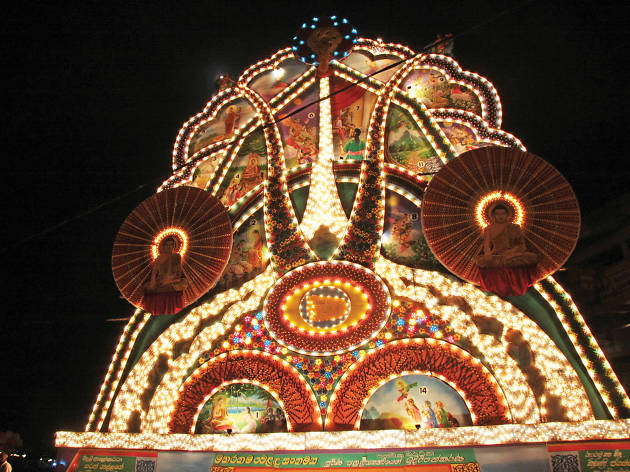 © BT Images
Another feature of Vesak is the massive pandals or thoran installed in public spaces where people gather and never fail to attract massive crowds. Thoran are large structures with picture panels elaborately decorated with coloured electric bulbs that are lit in a sequence to form vibrant patterns. Pandals depict a story from the life of Lord Buddha or His previous births and the relevant stories are recited through verse over megaphones. Occasionally special 'thoran service' buses are also assigned to carry sightseers to Vesak zones, areas specially designated for 'viewing of Vesak'.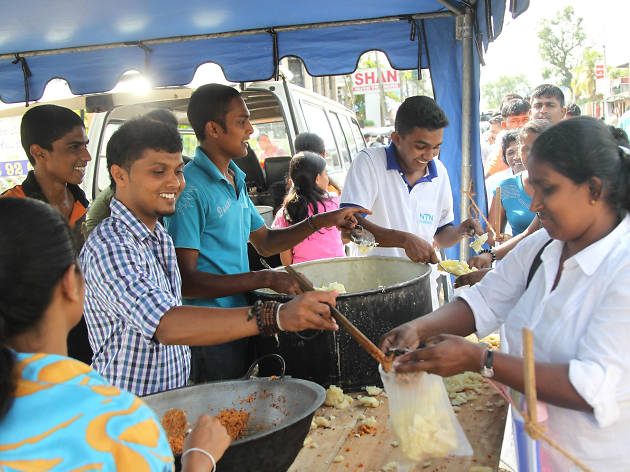 © BT Images
Dansal (Refreshment stalls providing free food)
Propping up in various parts of cities, villages or even by the sides of the roads, dan sal is a common sight during Vesak. These stalls are set up in the spirit of giving and sharing – values associated with Buddhism. 'Dansala' or free food stalls are set up in public places and people queue up patiently for their turn. Banners and handbills announce the locations of these food stalls beforehand and people put up little bamboo-framed sheds on the day to accommodate the food and the visitors. The organisers wait by the side of the road and flag down passing vehicles and people to offer them food, which can range from rice and curry, noodles, boiled gram and manioc to herbal drinks, ice cream, ice coffee and many other delights.