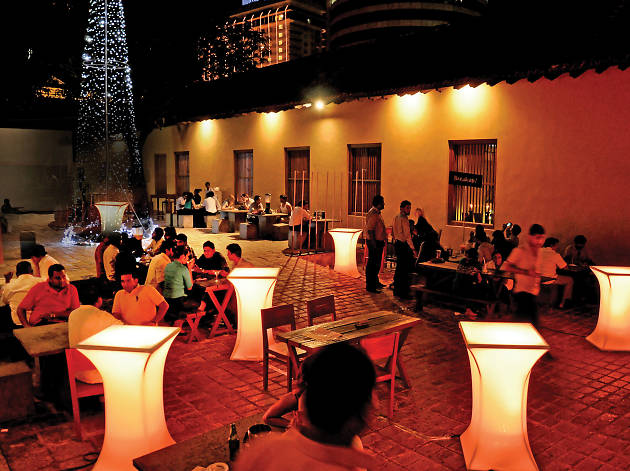 Good for a night out with friends
In need of a place for some week night chills or weekend fever? Adding a zing to the cobbled colonial ambience of the Old Dutch Hospital, Taphouse by RnR is a tipsy safe house for the fun- loving workaholics and tourists of Colombo.
In the evening, the outdoor terrace is a place to relax; a great stop for a lazy catch up with friends. At night the place is alive with the latest hits and crowd favourites and it's especially the hotspot on weekend nights. Taphouse by RnR being one of Colombo's favourite watering holes, club and pub goers are bound to drop in at least to start the night or end it. In the late hours of Friday night, the terrace buzzes with large groups screaming out their favourite lyrics. Grabbing the coveted terrace seats are however enjoyed by the early birds. The bar creates an earthy setting with dim lighting. Its comfy high seats and cool atmosphere suit a more private outing. Or you could sit at the bar and watch the mixing.
The menu includes an innovative range of cocktails, both classics and Taphouse specials. Share in the merryness by splitting a pitcher. Or try the mocktails; the Mint Me Tea will add a refreshing touch as you wind down. Tapas and mains get a thumbs up for taste, spice and sauce. Taphouse has added its own signature touch to the wraps, fried and grilled items, all flavour combinations that fit its blazing character. If your spice metre can take it, we suggest you try the RnR Tongue Scorchers or the patron favourite Chillie Batter Calamari. They'll keep you on your tips and toes all through the night so chug on.
Venue name:
Taphouse by RnR
Contact:
Address:
Dutch Hospital
Hospital Street
Colombo
00100

Opening hours:
11am – 11pm Daily