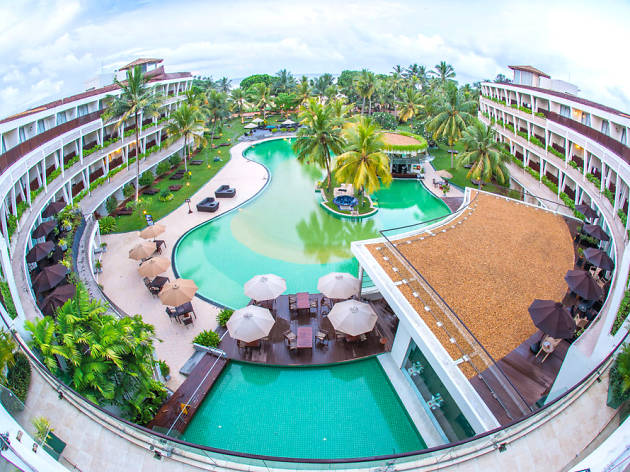 Eden Resort and Spa is a luxury hotel in Beruwala that warmly invites guests to a home-away from home. The 158- room hotel is tastefully furnished and equipped with state-of-the-art facilities. It is one of the best choices to spend a relaxing holiday with family in the South of Sri Lanka.
The luxurious rooms are categorised as Superior, Deluxe, Super Deluxe, the Paradise Rooms, Paradise Suites and Paradise Penthouses. All the rooms are comfortably furnished with either a private balcony or terrace.
Superior rooms are well-equipped with modern amenities while Deluxe rooms are quite conveniently located near the swimming pool. The Superior Deluxe rooms offer spectacular
views of the garden, pool and vast blue ocean. Paradise Suites are an ideal choice for a relaxing stay with the family. The Suites include a fully furnished sitting area with an espresso machine and a butler service. The Penthouses are elegantly and luxuriously furnished with a large timber sundeck and glass panels, which offer panoramic views of the beautiful ocean.
The dining options at the resort too are splendid. The main restaurant of the hotel, 'Garden of Eden' serves a lavish spread of international cuisine. The café by the pool – Chameleon Café, creates a romantic atmosphere for diners. One has the choice of dining either indoors or outdoors.
For intimate and elegant dining, visit 'Temptations', the hotel's signature restaurant, which serves a delightful variety of dishes with daring flavours.
Sip on a refreshing beverage and snack on crunchy tapas at 7th Heaven, the open-air lounge, where guests can enjoy an unending view of the ocean. Relish stylish aperitifs and after-dinner drinks at the Captain's Deck followed by shisha. Tasting the freshest catch of the Indian Ocean is a must when holidaying in the Island. So savour mouthwatering seafood delights at 'Beruwala Malu' and the 'Seafood Market' restaurants.
To add a touch of romance to your vacation, private dining can also be arranged at the Tree Hut or by the golden sandy beach, which is quite ambient at sunset.
With a tranquil as well as attractive atmosphere, Eden Resort and Spa is also the perfect wedding destination. The hotel further has as event space named 'Adam and Eve', ideal for hosting meetings, conferences and soirees.
Pamper yourself in this paradise along the golden coast of Beruwela, where travellers can relish tropical Island bliss.
Venue name:
Eden Resort and Spa
Contact:
Address:
Kaluwanmodara
Beruwala