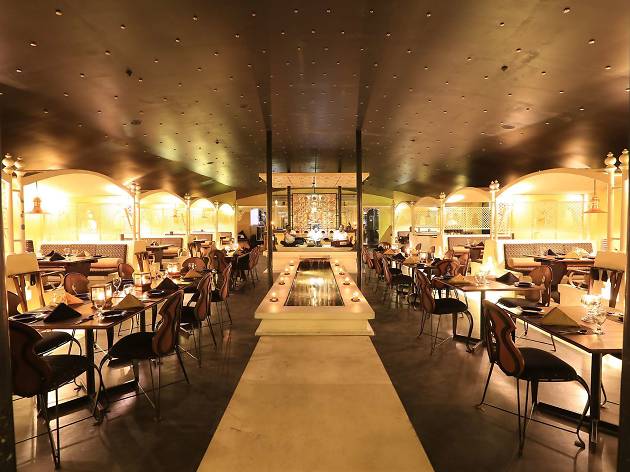 Time Out says
The city of Agra and its flavours transported to modern Sri Lanka.
Agra is on a leafy corner of Colombo. Gently push open its heavy studded doors, which would have credited a Maharaja's palace, and you have entered an Arabian nights setting. We walked into a dim-lit, gilded hall. The intricate trellis work and the absolutely majestic, ornate Moghul furniture and trappings glittered with dim gold light.
Although Sinhala music was being played, in the atmosphere, the soulful strains almost seemed to sound like rural Indian temple rhymes. Waiters in orange jackets, like feudal retainers, provided menus the size of medieval books.The alcoves, in one of which we sat, afforded privacy. But we were not deprived of the spectacle of the entire restaurant, which looked magical, as if a king in an artistic mood had trailed his hand across it.
We commenced the experience with a glass of Pink Agra, which is an infusion of orange, pineapple and grenadine. Anticipating a filling meal, we moved straight to the biriyani. The anticipations were proven right. Their Jhinga Biriyani was a big spicy, sticky, fragrant potful embedded with large prawns. We had this accompanied by Prawn Kadhai and Aloo Paratha. The Kadhai was full of succulent prawns entrenched in a thick creamy, gravy, and we enjoyed sponging it up with the Aloo Paratha, which had a soft filling of vegetables.
We wound up with Chocolate Mousse and Brownies with Ice Cream, and found that their grasp of these sweet Western desserts was as masterful as their expert way with Indian food. Which is saying a lot, for the delicious Mughlai menu at Agra is redolent of the culture that engendered the Taj Mahal: very exotic, subtle, intricate and colourful. In fact, as the chief steward bowed us out that night, we felt we had taken a luxury passage to India.
Details
Address:
100/10, Sri Lanka Foundation Mawatha, off Independence Avenue (behind Bloomfield Grounds)
Colombo 7
Colombo
00700

Contact:
Opening hours:
Daily 12pm–3pm (Lunch), 6.pm–12am (Dinner)
Users say