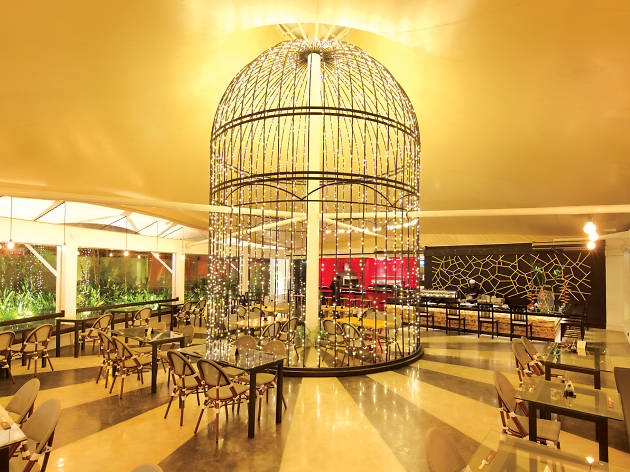 Alexandra & Ward is set apart from the rest of the eateries at Odel's Promenade, designed with the unique touch of Dharshan Munidasa, Founder. Enter the restaurant and it feels like you have walked into an enchanted domain, chiefly because of the giant 'birdcage' at the heart of it all, glittering with strings of lights. The large glass windows allow the diner to enjoy the surroundings – the pleasant lighting at night creating a lively and appealing atmosphere.
The restaurant offers diners a taste of three very different culinary worlds. Dharshan's original Fashion Café has a dairy-free menu of health food. These include bespoke burgers made with kade paan dough, fusing Sri Lankan food with the American hamburger. The chicken liver pâté, made without butter, cream or any substitute, is smooth and nourishing.
The Nihonbashi counter, a casual version of Colombo's distinct and authentic Japanese restaurant, serves sushi alongside its set menus. Tori Kotsu Ramen, created by Dharshan himself, has the distinction of being 'South Asia's only chicken ramen'.The brothy noodle, a favourite of Dharshan, is served in delicious bowlfuls that are prepared with care and attention.
ORO 1889 is where the Sri Lankan-Italian couple Nishan and Thilini Punzi create Pizza Napoletana and other authentic Naples fare. The wood-fired, hand-built oven for pizza was made for Nishan by a traditional craftsman in Naples. The whole process of craft- ing and shipping it was expensive and labour-consuming, but the young chef is content creating the authentic flavours of Naples for Sri Lankans. Ingredients, including caputo flour and San Marzano tomatoes, are flown in from the birth-place of the recipes.
Venue name:
Alexandra and Ward
Contact:
Address:
5 Alexandra Place,
Colombo 7
00700

Opening hours:
12 noon – 10.30pm