Colombo's Coffee: Pick up your brew
Be in the know about all the must-visit cafés in Colombo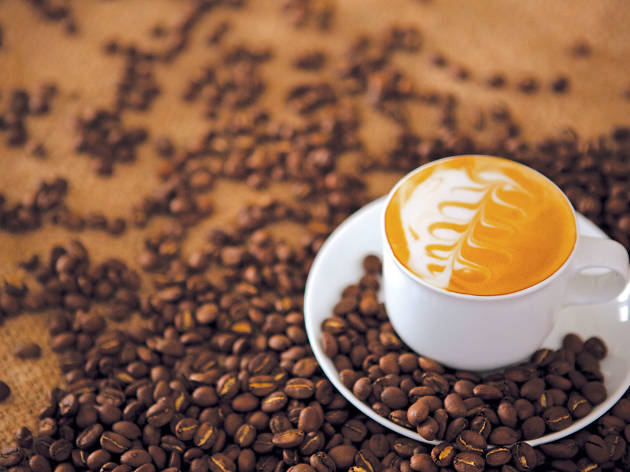 Within the hustle and bustle of Sri Lanka's buzzing Capital, are some spots for anyone looking for a quiet place to unwind. Colombo offers a diverse choice of Cafés to visit, whether you are looking to retreat into a corner and finish your favourite book, or to catch up with your friends over cappuccinos or simply to get your daily hose of caffeine. Here, we give you a list of places to go grab that hot cup of coffee or tea and relax after a long day in Colombo.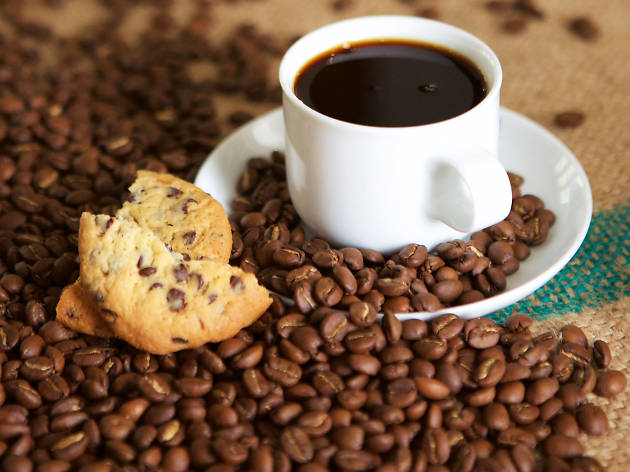 ©BT Images
A coffee lover's favourite!

Newly opened in a converted art deco mansion on Marine Drive facing the ocean (and the afternoon sun) this is a coffee house with food (and wine). Run by the same Australian couple behind Colombo's popular Cricket Club Café, the atmosphere is both retro and businesslike.
Customers can be seen sitting with their laptops at broad tables on the ground floor, or retreat to the upstairs lounge, where it's well lit, spacious and offers admirable interior decor, paintings and an incredible view of the sapphire blue ocean. Coffee is the raison d'etre but interestingly, this is not imported coffee; it's grown right here in Sri Lanka and roasted on the premises itself and has a real kick. There is a modest menu, with modest prices, and cheerful service.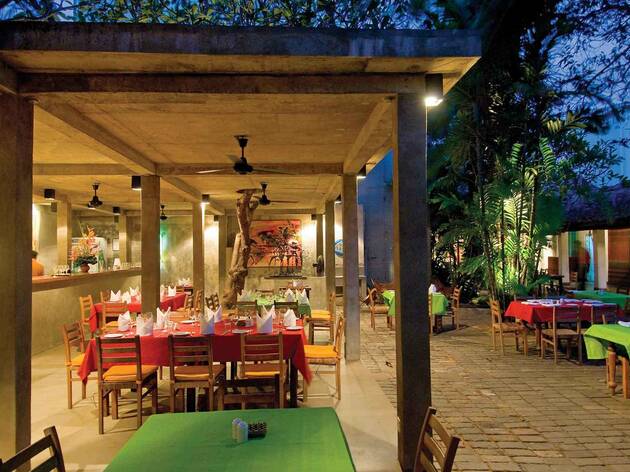 Exuding a tranquil ambience, the Barefoot Garden Café is a place where you can enjoy many delicacies.
Behind the Barefoot Store, through which you can walk to it, or drive and park at its rear, the Barefoot Garden Café is set in an enchanting garden patio with tables for dining under trees, or on the bar terrace.
Barefoot Garden Café provides all sorts of bites from sandwiches and falafels to more substantial choices like prawn dishes, curries, pastas and desserts. If you must keep in touch with the world in this tranquil setting, there is, free Wi-Fi.
It has become something of a tourist attraction as it is popular with visitors as well as trend-setting locals and also has an art gallery that regularly features the work of local artists.
Special events are held weekly including the Colombo Pop Quiz on Wednesday nights, live jazz music at lunch time on most Sundays, concerts, and even gallery openings.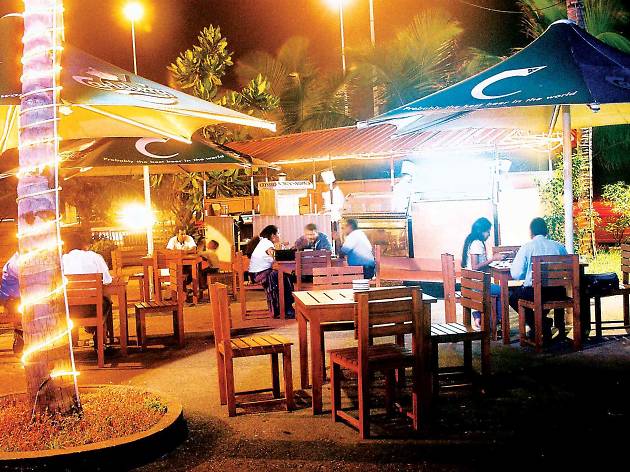 A smarter than average hotel café.
Located in the Galadari Hotel Colombo, Café 64 is a bakery with a scenic open air dining area and wooden and steel furnished interior. The scent of freshly made delicacies are strong as you enter the premises of the welcoming shop, making you feel right at home, in the mellow and homey atmosphere.
At Café 64, you will find a selection of sweets and desserts including handmade chocolate and a range of cakes, and savoury options like pastries, sandwiches and breads along with lunch and dinner meals. They also offer fresh juices, beer and several flavours of ice cream.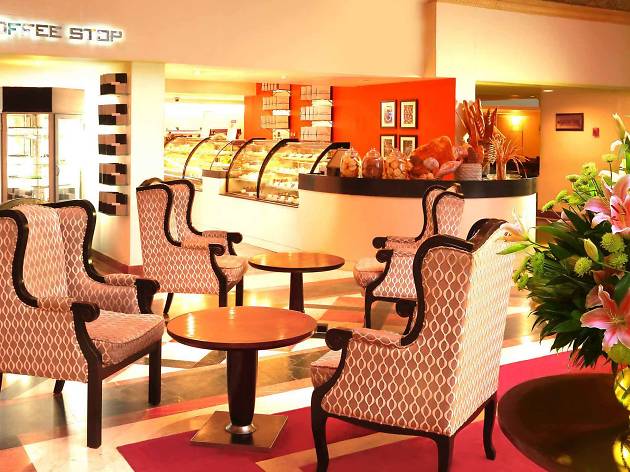 A relaxing venue to enjoy some sweet and savouries along with a good cup of coffee
The Coffee Stop at Cinnamon Grand is surrounded by a refreshing atmosphere. It's filled with confectioneries, cakes, waffles, coffee, milk shakes and ice creams. The calm yet bright orange hues of its décor, make you feel excited and you will long to taste the delicious snacks. This is also an ideal place to grab a quick bite before you head to office and the relaxed ambience is also ideal for a casual conversation.
Coffee Stop also caters to special occasions and accepts orders for birthday cakes and pastries. It also offers delectable crepes and waffles.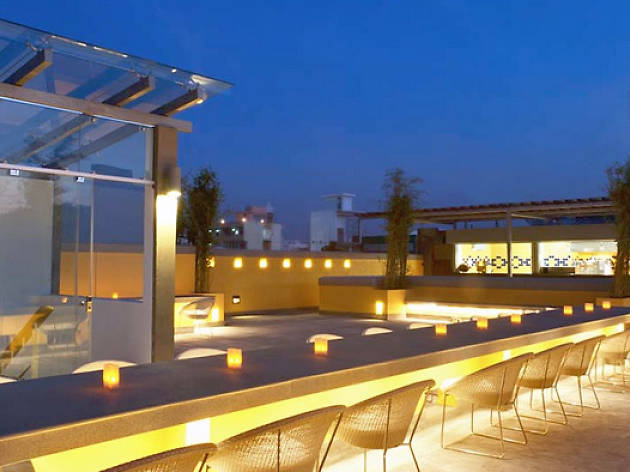 A spacious and contemporary rooftop restaurant.
Above Colombo's busy streets, atop the Colombo Courtyard Hotel is an unusual alfresco restaurant, Cloud Café. This rooftop restaurant is spacious and contemporary, with long sleek tables evenly arranged and a few couches scattered here and there. It's usually a peaceful and serene environment surrounded by Colombo City's skyscrapers and twinkling lights at night.
Cloud Café is host special evening events like Classic Hollywood Movie nights, Live Jazz Nights on Fridays and Concept Evenings.
A range of starters, snacks, sandwiches, desserts, cocktails, mocktails, fruit juices, tea, coffee and other beverages are served here, all at very reasonable prices. If you are bored and want a refreshing change of scene right here in Colombo, this is where you should be heading!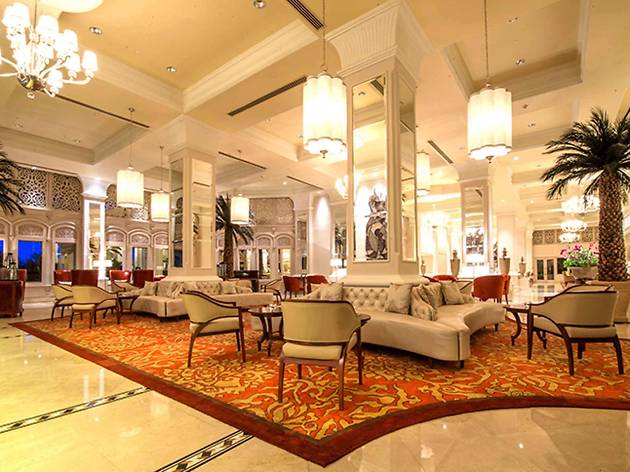 Comfort and casual elegance in one venue.
In the lobby lounge of the Taj Samudra Hotel, Lattice gets its name through the skilfully carved lattice screens and cosy setting fabricated to emphasis the theme of the venue. The elegant chandeliers, date palms and lots of natural lighting contribute to the grace of Lattice.
Large and spacious, it is restricted to 42 guests at a time to maintain the intimate but informal ambience. The English High Tea served at Lattice is very popular and many visit them just for their impressive high tea which displays a range of delicacies in tiered trays is an extravagant sight to be shared with family and loved ones, or business colleagues.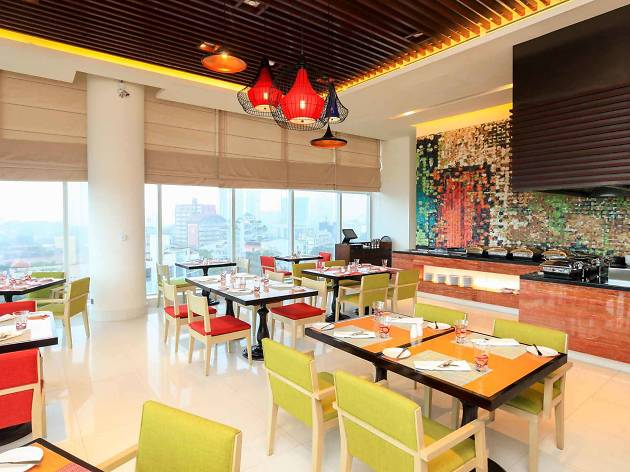 The perfect stop for a delicious wholesome snack.
Stirred Cafe at The Cinnamon Red rooftop gives a stunning view of the city. This stylish and elegant cafe has its interiors in hues of red, blue, white and black.This café, which is open 24 hours also delivers a various of snacks ranging from burgers to wraps.
The unique feature at Stirred is that you can order through their IPTV menu or order from downstairs and grab your meal anytime. Here, you can avail yourself to a range of sweet and savoury bites. They also offer wine, bottle beer, tea and coffee. Offering WiFi and a friendly and warm space to socialise, it's an ideal place to hang out with your friends.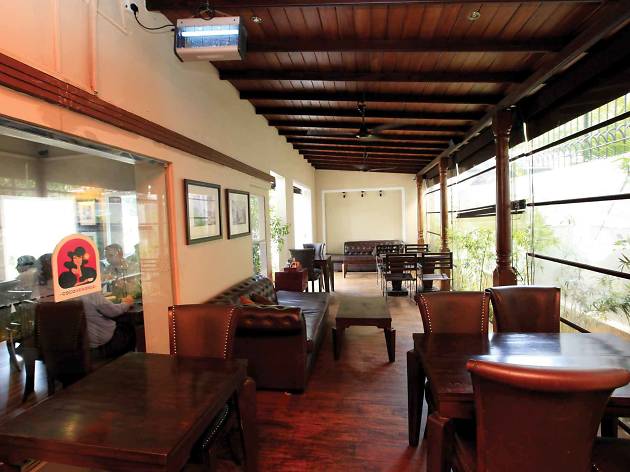 A great place to hangout!
Nestled along the elite Colombo 7 neighbourhood Coco Veranda extends an easy atmosphere to lose track of time. The outdoor dining area dotted with palm trees has a fun and relaxed vibe, and inside freshly baked items on display offer an irresistible choice of snacks.
Groups of friends often gather to chat on couches set at the outdoor area, whereas families favour dining in the air conditioned indoor setting. The café offers a range of continental meals, scrumptious cakes and desserts, and non-alcoholic drinks. A great place to chill out, right in the heart of Colombo.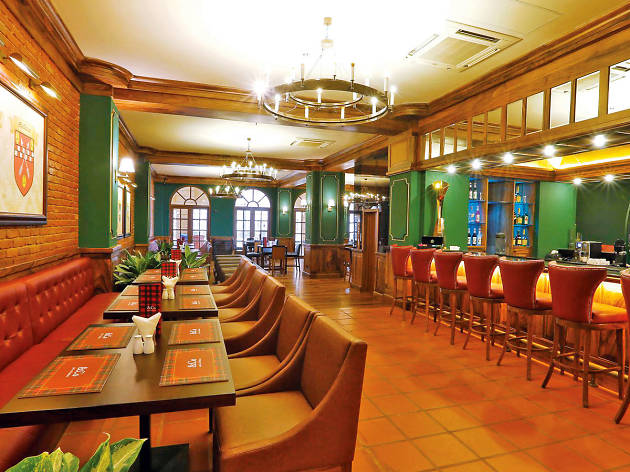 An intriguing Scottish themed pub and café
An up and coming restaurant and pub in Colombo, & Co Pub and Kitchen, although mostly thought of as a dinner place, it is also a n ideal place to retreat to. & Co Pub and Kitchen is a Scottish themed restaurant and home to intriguing interior decor. With Victorian style chandeliers, dark green painted walls, Scottish cultural paintings and hardwood floors, the spacious hall is impressive.
You can choose from various seating arrangements from the bar stools around the bar, if you're planning on having a few drinks, the wooden tables and chairs perfect for a meal, or the comfortable plush couches set into the corners for some solitude.
The staff are very warm and helpful, and will be more than glad to give you recommendations from the menu which consists of International, Scottish and Sri Lankan cuisine as well as a large variety of drinks to choose from.
Here, you can see groups of friends sharing drinks and snacks as well as large families seated together enjoying what looked to be a mouthwatering choice of dishes so if you plan on visiting make sure you call ahead and get reservations, just in case!
New and Exciting!

Chapter One and Café One is amongst Colombo's newest restaurant-cum-coffee shops that has quickly gained fame for offering a cozy and comfortable atmosphere. Chapter One, located in the quiet, suburban Kotte is a place you can visit for either some delicious food, freshly baked goods and is also ideal to unwind and enjoy a cup of coffee. Complete with large glass windows, a well lit hall, wooden tables and chairs and a red brick wall, the modern café and restaurant is pleasing to the eye.
Here, you will see lone diners typing away at their laptops while taking sips of steaming hot cups of tea or coffee, while groups of friends gather around to chat and share their stories over a meal. Chapter One restaurant is also a good spot for a family lunch or dinner.
What's more, you can indulge in a selection of healthy dishes and snacks and you can also drop by in there mornings and avail yourself to a delicious intercontinental breakfast menu. If you are looking for a quiet and cheerful getaway, we recommend you try Chapter One. Here, you have the choice of appetising dishes and refreshing drinks.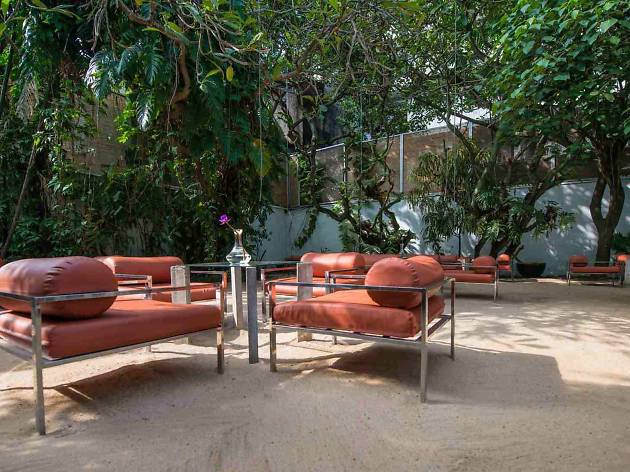 Flavoured teas at a pleasant garden setting
Set in the intriguing 200 year old Moorish Mansion, which we now know as Casa Colombo, is an al fresco seating area complete with towering trees and a neighbouring pond – T Republic. The boutique hotel's open air café adds to its charm, especially at night when hanging fairy lights light up the garden area. Here at T Republic, you will be taken into a state of bliss with the soothing atmosphere and calming breeze in the shade of the trees.
The hotel is known for its flair for design and the café does not disappoint, with its stylish furniture. Here, plush orange cushions don the metallic framed chairs, complementing the glass tables and creating a serene environment for either a late night drink or a refreshing cold beverage on a hot day. Apart from champagne and sparkling wine, the cafe also offers a choice of hot and cold beverages including various coffee drinks, hot chocolate, specialty teas, flavoured teas, iced teas and fresh juices. If you happen to arrive at the café during the happy hour, which is from 5:30-7:30pm you can order from their tapas menu and enjoy a buy-one-get-one-free deal for each portion! The staff are very friendly and tend to all your requests as you make your pick from the menu which ranges from Rs 300-Rs 650.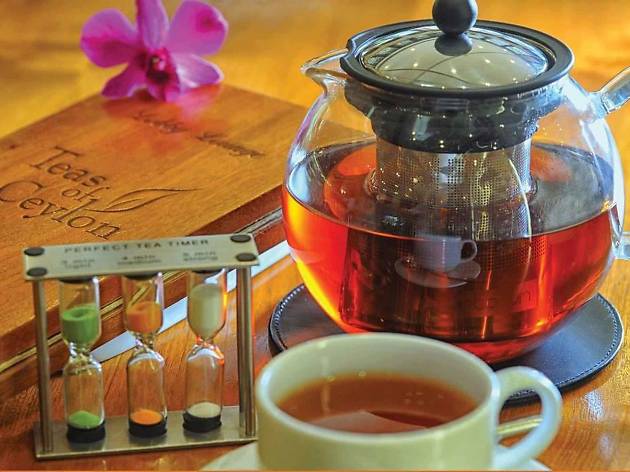 For a fun and vibrant environment with yummy snacks and coffee!
Pebbles, located in the Northen wing of the majestic Taj Samudra Hotel overlooks the scenic view of Galle Face Green. With warm lights and simple, elegant furniture, the café is a cheerful and welcoming hangout spot for many. It is popularly thought to be a very lively and sociable environment and it accommodates a happening crowd of clientele. Here, you can choose to either dine indoors or dine outside in the fresh air while enjoying the tranquil sea breeze and view.
The café's menu is extensive and consists a variety of sweet and savoury dishes inclusive of freshly baked cakes, pastries, pizzas, salads and sandwiches along with a range of fresh fruit juices, smoothies and mocktails amongst other hot and cold beverages.
A hip and vibrant café, Pebbles is a perfect spot to spend your free time with your friends or loved ones, whether it is over a steaming cup of joe, sharing some snacks, playing a game of pool or while cheering on your favourite sports teams on the live streaming sports matches. What's more, it is also an ideal spot to bring along your kids and youngsters.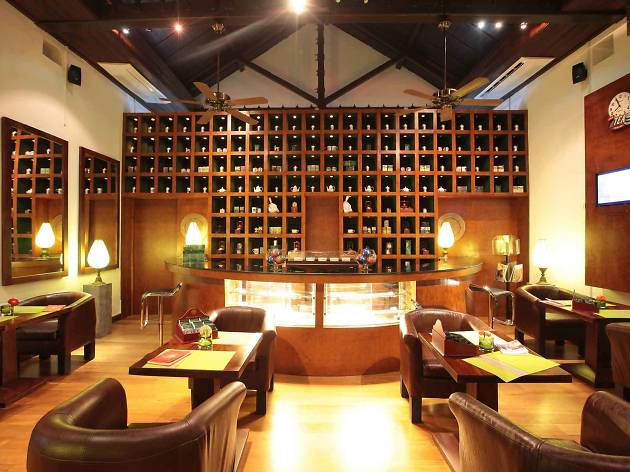 Timeless decor and flavoursome tea for all tea lovers!
An elegant and well presented café, Tea Breeze is located in the historic Race course ground and mirrors this heritage with classic decor creating an old-world feel. The back wall, covered entirely with teapots, tea boxes and tea accoutrements. Well lit, with sturdy wooden tables and leather chairs, the spacious hall is warm and welcoming. What's more, the leafy plants, poetry books and the soothing sound of jazz music will make you feel right at home! A perfect spot for a quick but delicious bite to eat, or even to have a semi formal business meeting. Here, you can also see families pop by for some warm evening tea and snacks, or even friends chatting
Tea Breeze, under the management of Mackwoods, the 174-year old tea merchants, guarantee nothing less than the very best tea products and drinks! Here, apart from delectable floats, iced teas, exotic tea flavours and other hot and cold beverages, they also offer an extensive menu of cakes, snacks and light bites. A great place to unwind and forget all your troubles.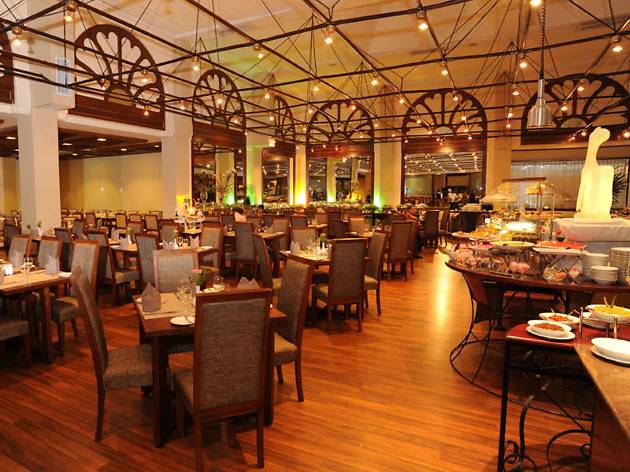 Delicious coffee at the timeless Galadari Hotel
Situated overlooking the lush waves of the ocean, it is one of the main restaurants of the Galadari Hotel despite it being called the Coffee Shop which is somewhat a misnomer. Presenting a wide variety of buffets in the morning and for lunch in the afternoon, it also retains an a la carte menu for those who wish to order individually. Special buffets, which have different themes, are held every night.
This restaurant is most renown for its high tea, in which the presentation is diverse, ranging from sushi to kebabs. The diversity and attention to detail that is paid does not overlook the aspect of 'value for money' paid by their customers. The international cuisines featured include Japanese, Malaysian, Thai and on special occasions, a live counter where you can see the preparation of certain food items, the specialty being seafood.
The cozy environment pairs with the matching interior decoration whilst the wooden flooring and creative ceilings bring out an air of rustic modernity. The staff is very attentive and polite in making you feel right at home and at ease. This comfortable and bright atmosphere sets the mood for jolly conversations over dinner and quick lunches for working men and women.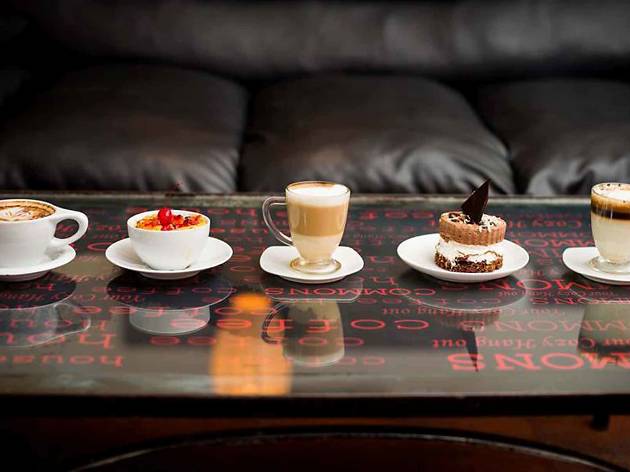 Everyone's favourite hangout spot!
Located in the heart of Colombo, the Commons is neatly situated down Flower Road. Their menu exercises a range of delectable dishes such as warm wraps, juicy burgers, saucy pastas and cheesy rottis. You can drop by in the morning for breakfast to be welcomed by the lovely staff at their sandwich bar where you can request a sandwich to be exclusively made as per your taste with fresh ingredients. If not for breakfast, they are open till midnight so any meal you fancy through out the day, they will cater to.

The seating arrangements with beanbags, cushiony sofas and the cozy rooms emanate a home-away-from-home aura. Those who love the outdoors can choose to dine in their garden courtyard as well. If you need to complete some work by yourself, take your laptop and order a bite or some cake to be finished with some coffee, tea or beverages such as a milkshake, frappe or frappucino. Wifi is complimentary for their guests. If you feel like having one of their meals at home, they are just a phone call away and do not forget to check out their constant promotional offers! In addition to their homely services, their Rotti Karaththaya, also known as the outdoor food cart has gained a reputation in catering to many events.
Aptly named and a local favourite.
"Fine things" is indeed an understatement. There are no words to express the tangy decadent delicacies that are housed here within the Hilton hotel. In addition to the multitude of desserts that are made from scratch, there is a selection of fine wines, tailor made greeting cards, flower bouquets as well as gift wrapping and delivery services.
An array of fruit tarts at great prices is showcased next to the many kinds of cake that they are distinguished for. No matter what your choice of cake is, they will bring it to life whether it is a slice or a whole cake for a special occasion such as a birthday or anniversary. Their handmade chocolates and sweets are a must try. Cheesecakes, sponge cakes and velvet cakes are a whole different dimensional experience in your mouth with the creaminess, nuttiness and gooeyness that just makes your taste buds explode.
Their sizes of portions vary with price and it is advisable to make a reservation for cakes slightly in advance, as they are very much in demand. To team up the dessert with something savory, they offer an assortment of sandwiches, cold canapés and finger sandwiches. You can also purchase a selection of bread ranging from the local kurakkan bread to German white bread.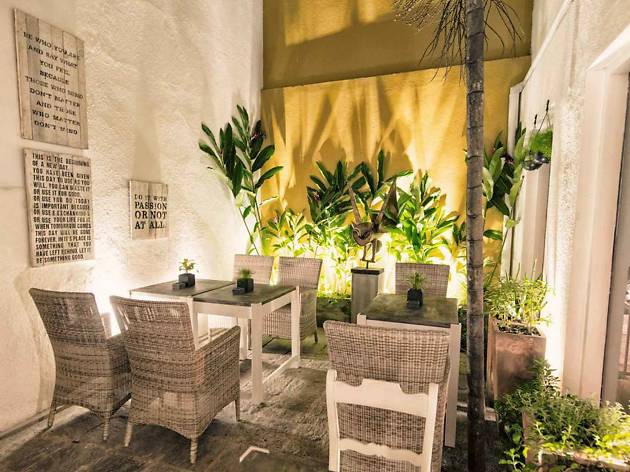 Adding zest to your coffee and snacks!
One of the newest additions to the eateries at the Cotton Collection, this warm little bistro has been racking up a huge buzz adding to its recognition. The atmosphere is live and affectionate with a charming crew to ease in the serenity of the lovely paintings and vases of fresh flowers that illuminate the surrounding with their mild scent. The white washed interior with glimmers of yellow and tight seating, both inside and outside assist in providing a homely feel.
Their menu consists mainly of flavorsome Asian cuisines including Thai, Malaysian and Sri Lankan food. What gives this bistro an added spark is that its kitchen is spearheaded by one of the first famous celebrity chefs of the country, Koluu. While their menu showcases soups, salads, sandwiches, mains and dessert, they have a developing recognition for their seafood and tender meat. Crab, prawns, fish, chicken and beef are some of the varieties of meat showcased in their dishes. They do offer dishes for vegetarians as well.
It is also an ideal place to just grab a bite such as pastries or a dessert, which can be accompanied by tea, fresh juice or coffee after rummaging through the shopping complex in front.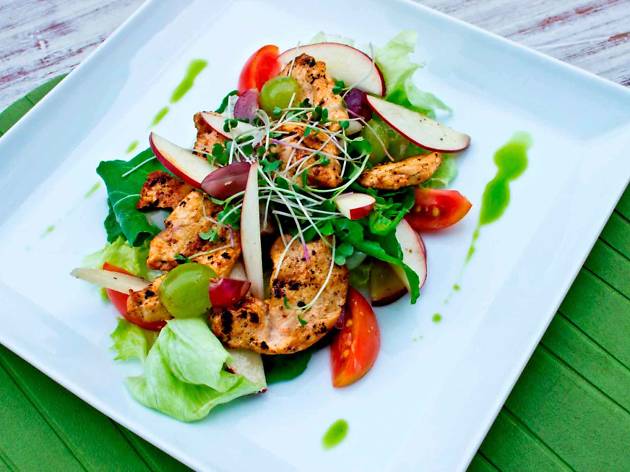 Harpo's Colombo Fort Café
A relaxing atmosphere set in a historic building.
Providing a fusion of the modern day setting and a taste of old world warmth, this architecturally splendid location entails a stroke of invitation in its manner of interior decoration and of course, its food. Set in the historic heritage site that screams of the Dutch colonial splendor, it is also walking distance to the street bazaars if you want to shop.
The red-bricked interior with its blue furniture and traditional wood firing oven makes one reminisce over the cozy café's in the Mediterranean and Europe that pop up right round the corner on the small stone streets. The modernity is represented in the extensive menu consisting of different meats and western food inclusive of burgers, pizzas, and tapas although Asian dishes are not wholly excluded. There is a great range of snacks and light bites such as cheesy nachos.
The bar menu features signature cocktails, martinis and your regular alcoholic beverages. If you are in the mood for something a bit more filling, the choice of seafood filled mains is endless. If you are a vegetarian, fret not for they have some vegan dishes as well. It is a great place to take your kids as they have a special menu for the little ones with a special offer on a complimentary soft drink for kids under the age of 10.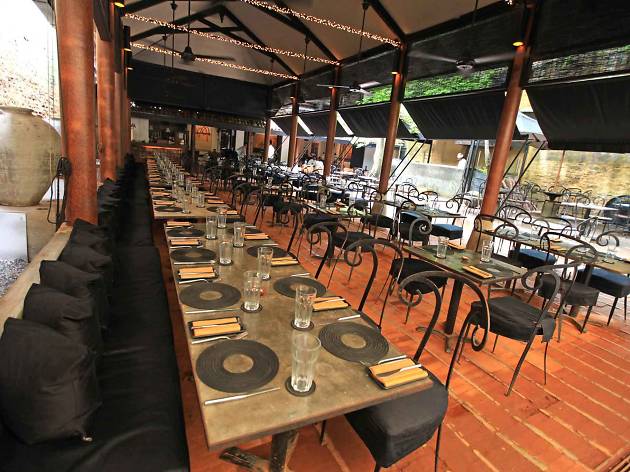 Delightful cuisine for Colombo's most chic
The Gallery Café' is famous for its consistent choice of food and drinks which makes it one of the most common go-to café's for regulars. Their menu, which has not changed for the longest time to maintain their consistency, portrays a variety of selections from appetizers to dessert with a varied choice for vegans and non-vegans. It is also specifically well known for its cocktails and dessert. The passion fruit mousse is a must try for dessert lovers.
In addition to the mouth watering choices of dishes, the appealing interior and exterior of the location is famous for its architectural aesthetics, having been the works of late Geoffrey Bawa. For those who wish to host a private function in the wonderful ambience, the café's entire premises are available upon reservation and they also have an additional room above the café' for such purposes.
It is a very relaxed environment with constant jazz music, which is a great combination with dining and socializing while admiring the tasteful selections of paintings by local artists that are housed and they can be purchased as well. Additional services include complimentary wifi and extended hours of service until midnight every night. Whether you're in for breakfast, lunch or dinner, if you try them once, you are definitely bound to visit them again.
More to explore