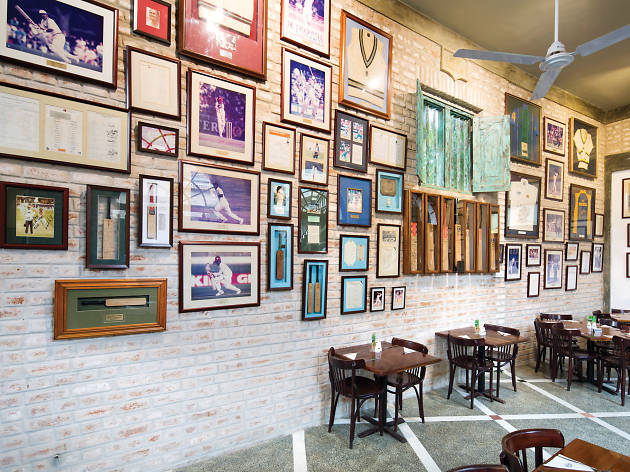 Time Out says
A theme restaurant and bar, the Cricket Club Café is a great place to hangout.
A unique café to enjoy your favourite meals while being surrounded by the cricket fever. Established in 1996, the Cricket Club Café is a popular café to gather in the city.
The magnificent building facing Flower Road provides a great sense of majesty. Walking in through the artistic doors, you are welcomed to the lively atmosphere under the open skies. One could also choose to dine within the cosy interior, both downstairs or upstairs, which is decked with cricketing memorabilia. From cricketing jerseys of yesteryear to bats, balls and even shoes owned by famous cricketers as well as framed newspaper cuttings of important events in cricketing history; the walls tell a story. The cricketing timeline creates a characteristic atmosphere within this café.
The courtyard is the very example of merriment while the interior is comfy and cosy. Live sport, be it Cricket, Formula One or Soccer are screened all day long. Eventful cricket matches are screened as well. The signpost directs the diners to the café 's various sections. Open from seven in the morning till near midnight, even on Poya days, the Cricket Club Café, serves a wholesome breakfast, lunch and dinner. The café is a great spot for snacks with a beverage from their Ruby Harvest or Cricket Club Signature Legends collections. The Ruby Harvest is the café's own brand of Ceylon Arabica coffee, freshly roasted and grounded. It is a great 'pick–me–up' in the morning.
In the evenings, the café is abuzz with diners relaxing with a drink and an entrée or getting into the mood for a nightout. All food items are categorised, from the Pastas to healthy salads and comforting burgers with tasty seafood dishes, grills and pies. Each meal with a creative cricketing reference. The desserts are a must try.
Dining on a weekday evening, the fresh salad we ordered, the Ponsford's Prawns was a delightful meal of juicy prawns, avocado, tomatoes and other condiments. There is quite a variety of salads from the popular Chris Gayle Salad to Captains Cobb. Tasting the Sangakarra's Seafood pasta was quite a mighty sixer on the taste palate! The creamy and filling David Shepherd's Pie among the other pies available was another treat to the taste buds.
The Cricket Club Café is a sports and food lover's paradise. It's a great place for a friendly meet up or family meal where one can indulge their cravings in a pleasant and jolly setting.
Details
Users say