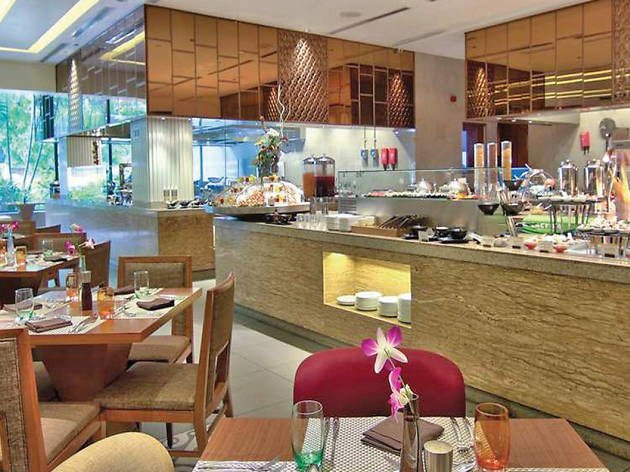 Time Out says
The all-day multi-cuisine restaurant at the Hilton Colombo Residences, FLOW, was alive with flavour as we walked in. It was past 7pm and the buffet was already laid out. Appetite teasing steam arose from the Thai station, the Indian section promised tasty curried goodness and filled with exotic aromas and Western dishes promised the most succulent and meaty meals.
FLOW exudes a sense of elegance withitsbrightinterior,yettheambience is a comfortable one set by calming tunes. Diners are able to linger casually, though smart-casual attire is required. We first pondered on our beverages glancing through the complementing wine degustation. The difficult choice however, lay in deciding whether to attempt the extensive buffet or pick a carefully curated dish like the Lobster Ravioli off the à la carte menu. While the buffet offers a variety from each cuisine the restaurant specialises in, the à la carte selection is great if you have a particular craving. The digital menu, provides a delicious glimpse at the dishes so you would not be blindsided.
With authenticity as the centre piece, the FLOW dinner buffet offers an extensive choice for both vegetarians and meat lovers. Indian, Japanese, Chinese, Western and of course Sri Lankan. Each selection delivers on the promise of scrumptiousness. One could never go wrong with the traditional SriLankan servings of hoppers or pittu, especially if you are a first-timer. The Japanese sushi and sashimi selection is fresh while the European section with its pulled pork lasagna and chicken lollipops are delightful. Arabic rice and preparations of couscous are tongue-tingling as the section strives to provide dishes that veer from everyday Middle Eastern specials. And you can't get enough of the steaming hot dim sum. The excitement from the action stations too add to the experience.
Cakes and sophisticated puddings vie for one's attention from the dessert corner. The creamy delights are mainly classics such as Crème Brûlée and a citrusy Orange Cheesecake, while youthful decadence is also featured.
Be it for special family gatherings or a delectable dinner experience, FLOW ticks all the boxes. Even if you choose to dine solo, you will not be starved for company with the affable staff ready to engage in frivolous conversation. While the dinner buffet is served from Monday to Saturday, the FLOW Sunday Special Brunch is ideal for those who sleep in and wake up with a hearty appetite.
Details
Users say