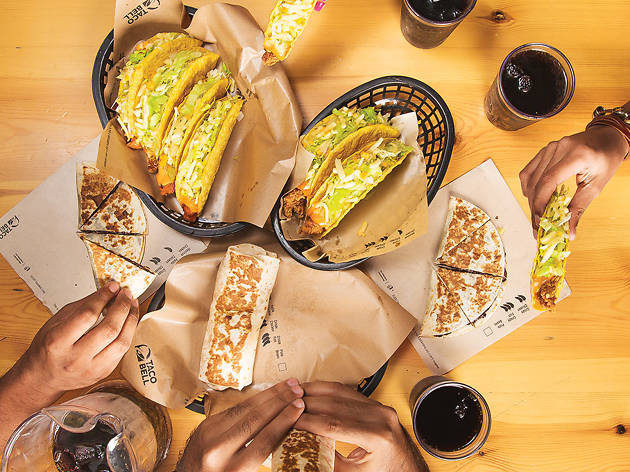 TACO BELL in Horton Place has become one of the hottest places to grab a snack, dine or hangout with friends. The exposed brick interior and modern furniture create a rustic urban setting that makes for a youthful ambience and a cool hangout spot in the city. The atmosphere is lively, a mix of toe-tapping music, conversation and giggles. Mouth-watering aromas and sizzling sounds from the kitchen add to the experience. Those in need of a quick bite can also stop by the drive-thru.
Taco Bell offers a delightful array of Mexican inspired cuisine such as, tacos, burritos, quesadilla and chalupas. There is a range of fillings to choose from too. Mexican Chicken and Crispy Chicken are the most "taco-ed" about, while Fajita Chicken, Crispy Fish and Pinto Beans are the other scrumptious fillings available at Taco Bell. Cool Ranch, Smoky Chipotle and Hot Ghost Pepper are their signature sauces, which you can select from.
Order a side to munch on while you wait for a friend. Delightful Nachos with Salsa, Cheesy Nachos, Mexican Fries and Cheesy Fries are all excellent choices to satisfy the minor hunger pangs. They are great for sharing too. Refresh yourself with a mojito or try the California Tan, a fizzling beverage that's sure to perk up your mood.
Sweet dreams are made of these...Finally, to complete your meal, try their Chocodilla, a heavenly combination of tortilla and chocolate chips or Chocolate Caramel Tostadas with Vanilla Ice Cream, a dish you will never stop dreaming about!!
36 Horton Place, Colombo 7;
070 362 2622;
Opening hours: 11am – 11pm (daily)