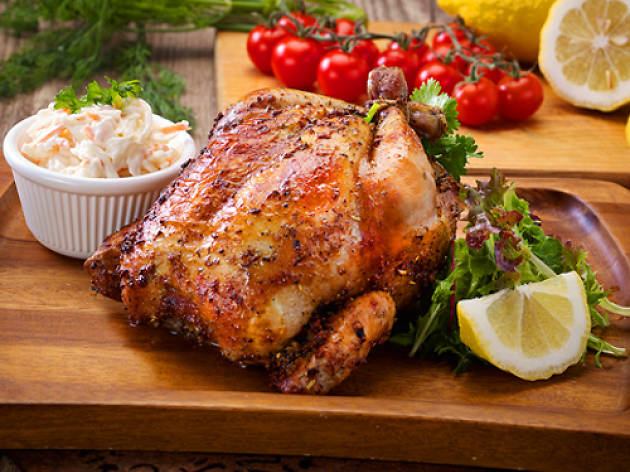 It's a celebration of chicken at Tenderfresh! The Singapore-based franchise serves chicken dishes prepared in the world's favourite Western and Eastern flavours. The outlet in Colombo is a great option for those who want fresh food served fast.
The atmosphere is busy and filled with chatter. The kitchen sizzles with preparations of Western favourites such as burgers, grilled chicken, French styed roast chicken and even the famous US buffalo wings. However, for the traveller in search of South East Asian comfort food, this is the place to dine at. The Mee Goreng with a dose of crispy chicken, Laksa Prawn with a big serving of shrimp, the strong Wasabi Prawn and the choice of seafood in the Asian Mee will ensure your palate explores a completely different culture of flavours. Clearly there's also a host of choice for the pescatarians.
For the health conscious, the Chicken Sambal Salad provides some much-loved zests and tangs. It's the spiciest treat on the salad bar. However, no matter what your preference maybe, nothing is as satisfying as dipping fries in the Tender fresh specialty cheese sauce or meat sauce. Or if you want to make a meal out of it, order a pot of fries with meat sauce and egg.
The interior is modern and spacious; making it great for large gatherings, be it with family, friends or even for a quick lunch with colleagues.
Keeping in mind the corporate customer base, Tenderfresh also offer special executive lunch deals. A great way to take a break from the hectic work day. And to ensure that you get your fill of the Sri Lankan staple – rice, there are a several crispy or grilled chicken options, which area accompanied with a portion of flavoursome spring rice.
Once you have had your fill of the savouries, top it off with a decadent brownie and you'll be assured of a fulfilling experience. The variety and flavour on offer at Tenderfresh will keep you coming back for more.
Venue name:
Tenderfresh
Address:
400, R A De Mel Mawatha
Colombo 3
00300