Party in Style!
Always look your best and be party-ready!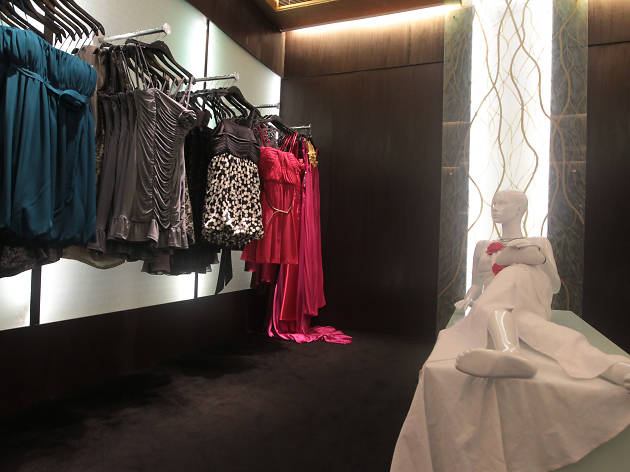 Got an invitation to your friend's wedding? Or perhaps you've got a special occasion coming up? Well, you've got to look your absolute best!
Colombo is a hub for shopping, with great choices available in a wide range of shops. Not to worry about completing your outfit—visit these shops and you will not regret it! Whether you're looking for new heels, clutches or glamorous party dresses and accessories, they've got it all!
For traditional and exquisite sarees and shalwars, try Benzaar and Kamsins!
Have fun trying on all the many many outfits, and good luck deciding which ones you like the best!
Romafour has taken the local shopping scene by storm. With an impressive building located down Galle Road, Romafour is joyfully over the top. This fashion kingdom is comprised of four floors and caters to the entire family. Most of the clothes here are deliciously loud; sequins, glitter and bold colours makes Romafour truly different from the rest of Colombo's shopping destinations. As such, the store is catered to largely young audience, but don't be fooled by its youthful appearance, Romafour has a wide selection of formal suits, evening gowns and other grown up attire. Prices are moderate for what you get and the staff is attentive fashion savvy. Take heed, parking can be a little tricky.
Read more
Meaning 'sensuality' in Sanskrit, Aviraté, Sri Lanka's pioneer high-street fashion label, embodies the essence of the stylish woman in its exotic range of every day and evening wear, gowns, lingerie, shoes and accessories. Having launched in June, 2010, during the IIFA Film Festival, of which it was the proud sponsor, Aviraté today is fast becoming a legend in the global fashion platform with major expansion plans in India and other Asian countries as well as the Middle East and Far East. In today's competitive global fashion market, Aviraté has managed to hold its own, with its exclusive designs being featured in prominent Indian fashion magazines such as Elle, Vogue and Femina. The immense success the brand has enjoyed is due to the high quality of the designs and reasonable pricing with mid-range as well as high-range choices. 
Read more
A name that's now synonymous with Colombo, Odel is an integral part of the city's shopping scene.  Boasting 33,000 square feet of sheer retail bliss, Odel has steadily grown from humble beginnings to a department store worthy of international acclaim. Odel's exterior presence follows a traditional formula; tall arched entrances, brilliant white walls and rich wooden interiors, Odel is a homage to colonial architectural establishments in the city. 
Odel has a rich collection of clothes, from basic tees to exquisite designer wear, Odel is one of the few stores in Colombo that manages to appeal to both a mass and niche audience. Like any department store, apparel is just one of Odel's product offerings. Designer time pieces, exotic sarees, an extravagant perfume collection, a cosy book store, an eclectic assortment of jewellery and a playful kids' department truly makes Odel your go-to shopping destination. Though the very essence of Odel is shopping, you will be amazed by the number of things one can do within its richly adorned interior. From a Japanese sushi bar, to a French delicatessen, to a well stocked bar and even a foot spa.
Read more
A fashion centre of Southeast Asia replete with fabulous fashion, spread out across 250,000 square feet is a veritable shoppers' paradise comprising some of the most well-known brands of clothing for men, women and kids, household items, fashion accessories and loads of gift items for any occasion. Seventeen escalators operate for ease of access for shoppers as well as a 350 car park for customer convenience. The ground floor has a vast lobby, information centre and ample cashier counters. Cosmetics, perfumes, and jewellery will capture the attention of any discerning shopper as they enter the first floor whilst women will be kept busy on the second floor dedicated solely to women's wear. The fourth floor has a range of men's wear and accessories including shoes, belts, ties and casual, office and high-end wear. An entire floor of this mega store is dedicated to kids ranging from infants to teenagers. Clothes, toys and accessories. The home ware section comprises a huge array of items designed to enhance the bedroom and the elegance of bathrooms. 
Read more
The flagship branch of Beverly Street, the modern and trend-setting store spans over a building of four floors alongside a cafe/restaurant and a nail studio.  The brand, known for its high quality products offer a wide range of clothing items and accessories.  All your shopping needs from women's fashion accessories, shoes, bags and outfits to kid's clothing items and men's wear can be satisfied here! Be sure to visit when you're in need of some retail therapy! 
Read more
With a slightly over ambitious name, NOLIMIT is a local fashion chain that is immensely popular, as it targets the budget-conscious customer. The store spans three floors offering household goods, women's and kids' wear and men's wear. Parking tends to be a wee bit difficult but the staff here are extremely helpful. A word of caution, NOLIMIT tends to get crowded, and we mean crowded.
Read more
The branch of the Glitz store chain in Hyde Park Corner offers a range of clothing and footwear with glamour and sophistication, and a relaxed shopping experience. Glitz is a mega store that provides ample parking space for its customers. It features ladies', gents' and kids' clothing items, belonging to different brand categories as well as catering for high demand clients. Its ambience is customer friendly and leaves one with an impression of calmness to continue the shopping spree in a relaxed manner. The staff are eager to help and will come quickly to your side should you require their attention.
Read more
This shop specialises in Indian style clothing, and it boasts a collection of wedding and party wear which won't disappoint. It's dramatic, exquisite designs offer much for the eye to enjoy - from beading details to unusual cuts. Sarees and dresses are dramatic, flowing and perfectly shaped to suit the figures of the wearer. The shop sells smart wear for special occasions for both men and women, making it an ideal place to shop for wedding wear. 
Read more
An elegant clothes store situated in Colombo 06, Kamsins is for the man and the woman and the young and the old with an inimitable range of designer saris, lehengas and shalwars, suits, sherwanis and kurthis. The accessories to glamorise the outfits are antique and hefty and blend well with the heavily embellished saris and other ladies' wear. Kamsins specialises in wedding attire for the bride and the groom and every piece is intricately worked and embroidered with beautiful threads of gold, silver and bronze and a multitude of stones and sequins. Kamsins is also popular and frequented for being trendy by those knowing what's in vogue in sari and men's wear. Kamsins is a must-visit fashion store for Indian outfits selected only from the finest and cutting-edge designers of India.
Read more