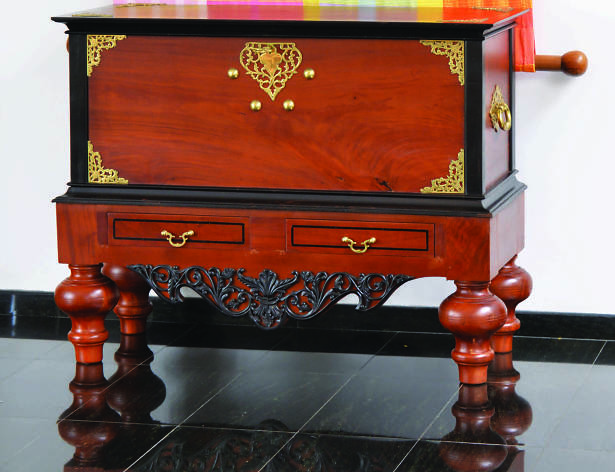 The State Timber Corporation (STC) Furniture showroom in Nugegoda is an unmissable five storey building. Displayed within the spacious store are distinctive timber products. Each furniture item comes with the promise of being produced from quality and sustainably sourced timber.
The first floor showcases a range of products from everyday furniture including tables and chairs to grand products such as the antique chests (pettagama). The significant feature of the collection is the remarkable array of designs, which range from simple to the ornate and embellished.
Their furniture collection includes verandah, dining and lounge chairs, teak beds and almirahs, jak or kumbuk benches as well as sturdy cupboards made from Ebony. Canopy beds and charming dressing tables that will add character to one's home are also available at the store.
The influences of our traditional Sri Lankan craftsmanship and colonial design is evident in the pieces. Either in a grand or subtle manner, furniture at the store are intricately carved with familiar local swirls and curves. Gold gilded designs add a stately allure to the products.
Thus, the STC Furniture showroom attempts to provide the customers statement pieces that suit a different identity or personality. Thereby the wood furniture follow a timeless design concept that the customers, especially Sri Lankans can connect with.
These also make for valuable gifts to mark special occasions such as birth, marriage or moving in to a new home. The office and school furniture options, which are charming, practical and economical, will prove to be an asset.
With the promise of durability and quality, a purchase from here will surely be a valuable investment.
Venue name:
State Timber Corporation
Contact:
Address:
17, Pagoda Road
Nugegoda