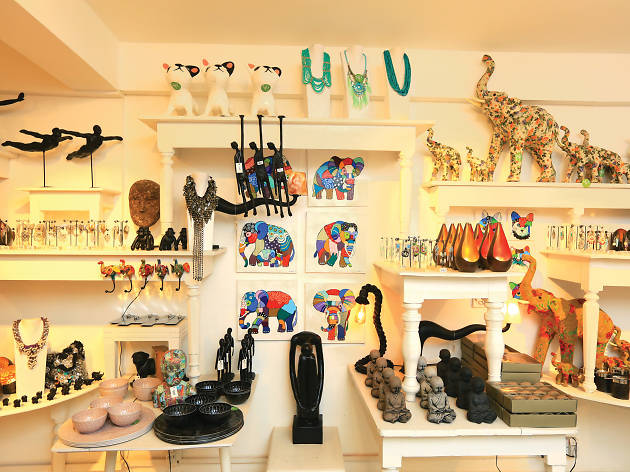 While walking down R A De Mel Mawatha, an eye catching window display of chic designer wear will bring you to a stop. The white facade of The Three by TPV beckons you with its exotic display.
The brainchild of the Scandinavian trio Thomas, Patrick and Vadim who are also the namesakes of the stylish boutique store, TPV is the epitome of chic elegance as you'll soon discover.
TPV is a melange of South Asian design, Scandinavian thinking and Western standard, and these influences are obvious in the different elements that make up the boutique. There are a mix of designerwearforladies,uniquepieces of exquisite jewelry and stylish interior objects. All designs are handpicked by the very discerning and tasteful owners.
The clothing available makes for a high end fashion statement on its own. The unique pieces available are of various styles and designs catering to all types of tastes be it elegant evening wear,casualeverydaytopstovintage and bohemian dresses. Each item is of the highest quality. Strolling through the store at leisure enjoying the ornamental interior items which are up for sale, one comes across stands with beautiful and exotic looking jewellery. They range from drop earrings to uniquely designed ornamentalnecklaces,madeespecially for the stylish woman.
The bejeweled interior objects consisted of ornamental table décor, designer candle stands, and many wooden ornaments in the shape of the Sri Lankan elephant which is a recurring motif. Some are even made of components such as saw dust. Some of the elephant figures were covered in colourful patchwork. The beautiful contemporary artwork hanging all over the walls throughout the store add to the vibrant array of items available at The Three by TPV to fulfill one's designer needs.
Venue name:
Three by TPV
Contact:
Address:
21, R A De Mel Mawatha
Colombo 4
00400

You may be interested in: