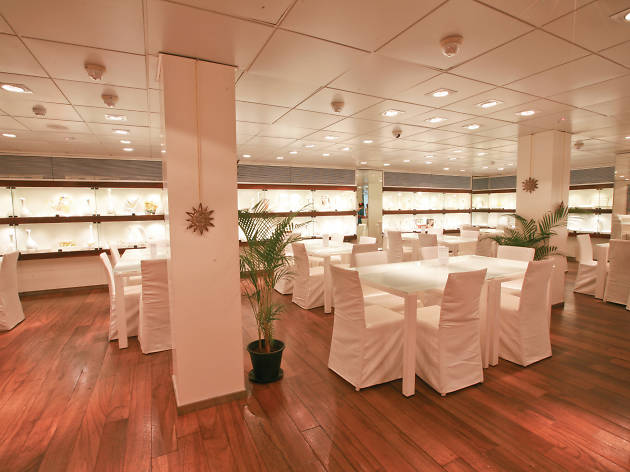 1/2
2/2
Master Jewellers with a variety of options to choose from
Vogue Jewellers has been a landmark in Kollupitiya ever since the days when Colombo3 was a breezy residential suburb. Through the decades, they have gone forward to become a renowned name in gold jewellery. Walk into the glittering banquet like interior and be assured of courtesy paired with warm care from the staff.
Vogue has always made sure that they are a part of their customer's lives by adding lustre to their special moments.This is obvious as all their collections are specially classified under 'Life's Special Moments', with pieces suitable for each milestone. They cover an entire spectrum, from sweet little gold pieces connected with childbirth to timeless, grand, classic heirlooms that will be passed down through generations and centuries.
The 'Birth' collection includes the simplest pieces like the panchayuda, infant bangles and mini ear studs. The 'Attending of Age' collection, is composed of slender, shapely designs:elegant, pure and simple. Under 'Passing Value' comes their heirlooms: heavy, majestic necklaces hanging with intricate, bejewelled and pearled pendants; rings set with multi-coloured oversized stones; majestic earrings with Indian splendour. The graduation pieces, in contrast, are very simple, yet elegant while the 'Youth' collection is bright and playful. The 'Office Wear' collection issmart,classyanddetailed,itisthe perfect accoutrements to bring out the elegance of a smart suit.
The romantic 'Express Your Love' and 'Embrace Your Love' collections are most eclectic, colourful and exciting, but, of course, the 'Bridal Collection' is the undoubted crowning glory, with exquisitely crafted pieces created just for that special day.
Vogue was the world's first jewellery manufacturer to be awarded the latest edition of the ISO standards, the ISO 9001: 2015. Looking at the innovative, timeless and trendy collections with which they evolved through the many decades, Vogue can be billed to have abrilliantfuture.
Venue name:
Vogue Jewellers
Contact:
Address:
528, Galle Road
Colombo 3
Colombo
00300

You may be interested in: