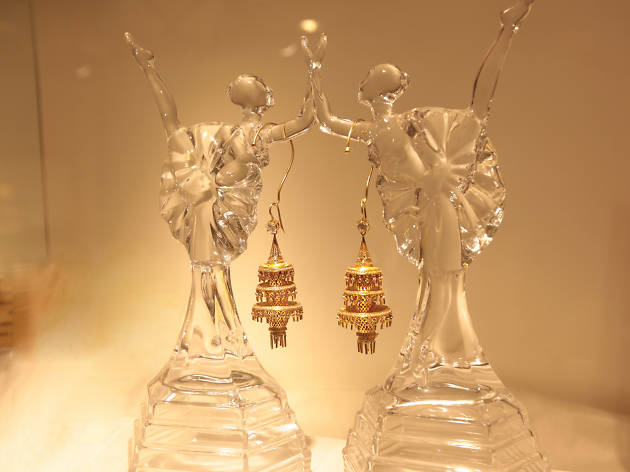 Master Jewellers with a variety of options to choose from
A name that resonates with elegance and trusted quality, Vogue Jewellers is synonymous for timeless jewellery. The stylish flagship outlet of Vogue Jewellers, located along Galle Road in Colpetty, exemplifies sheer luxury. The spacious three-story building with a gleaming white façade, opens its doors to an exquisite world of dazzling jewellery. The interior is decked in pale white with wooden touches to accentuate the jewellery. Upon entering, one can browse through display upon display of exotic jewellery including earrings, necklaces, rings and bangles. Each piece is designed with great attention to detail, demonstrating brilliant craftsmanship, a quality Vogue Jewellers is known for.
Apart from the classic 18K gold collection, a charming range of white gold and rose gold is displayed on the first floor. The exclusive diamond collection with delicate cuts reflects the epitome of luxury. The second floor is dedicated to sophisticated bridal collection that features designs inspired by Kandyan, Hindu and Western traditions. Inspired by these classics and customs, bridal jewellery in contemporary designs is also showcased. Vogue Jewellers also offers a 22K solid gold range precise in design and quality that is an unstinted promise to last forever.
The aesthetically designed limited edition Tusker Collection is a trove of iconic statement pieces. Every unique piece of the Tusker collection is a treasured heirloom, to be handed down from one generation to another.
Vogue Jewellers stands as a hallmark of quality in gold jewellery with experience of over five decades. Each masterpiece is crafted with care and designed to add glamour and sophistication to the wearer's look. The collection of precious stones at Vogue Jewellers exudes a sense of pure extravagance. Sapphire, cat's eye, ruby and alexandrite gems enchant the onlooker. A collection of emeralds will soon be a part of this selection. Vogue also offers an array of semi-precious stones including garnet, citrine and peridot. The well-informed staff are trained to ensure the customer has a good experience and selects a product that suits their desire and taste.Vogue Jewellers provides jewellery to help commemorate all the special moments and milestones in life.
Venue name:
Vogue Jewellers
Contact:
Address:
528, Galle Road
Colombo 3
Colombo
00300