The Biker Brothers
Scroll down to look at the story of the Biker Brothers!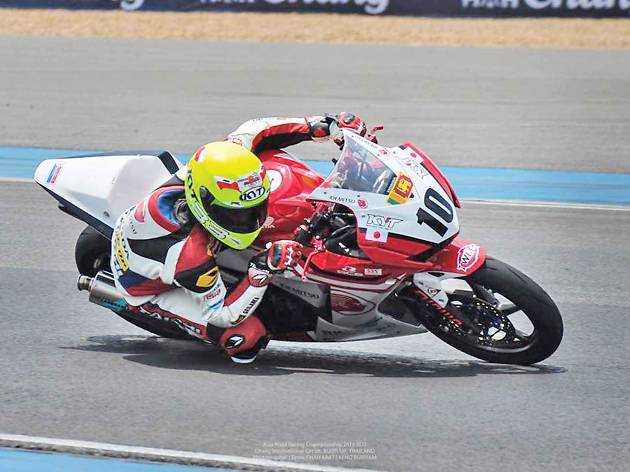 1/2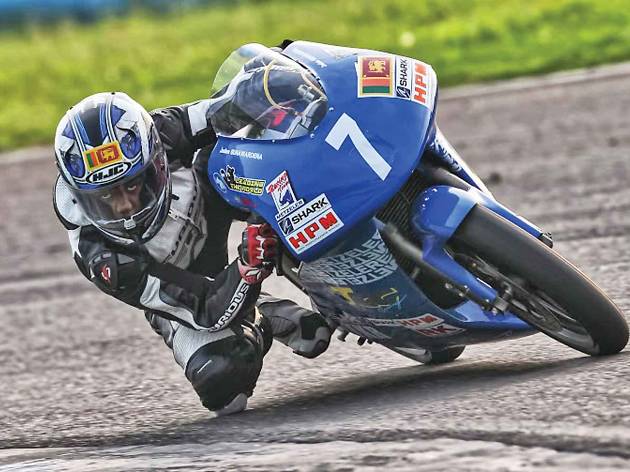 2/2
Jaden and Aaron would most probably be Sri Lanka's answer to MotorGP. Sons of Shane Gunawardena, a Motocross legend, the brothers first rode a bike at age two. Now 14 and 13 respectively, they are proving their might on international Circuits. Suminda de Silva speaks to their father and mentor.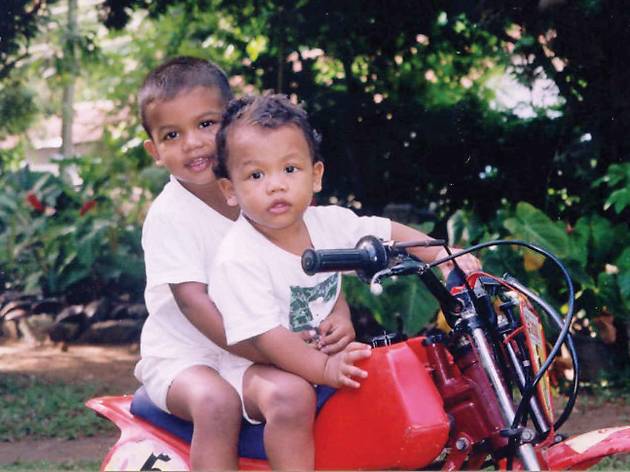 Q: Let's talk about their early beginnings.
A: Jaden got his first bike on his second birthday. It was a Honda QR 50 and within six months he was riding on a small track in the backyard. The backyard racing turned into something bigger. As the passion grew there were more and more 50cc mini bikes at home and Aaron also had a go at riding following his older brother. We used to practice in all available tracks in Sri Lanka, even in Nuwara Eliya.
Jaden officially started racing at 5+ followed by Aaron who also started at 5+. Today the boys also practice on 650cc bikes.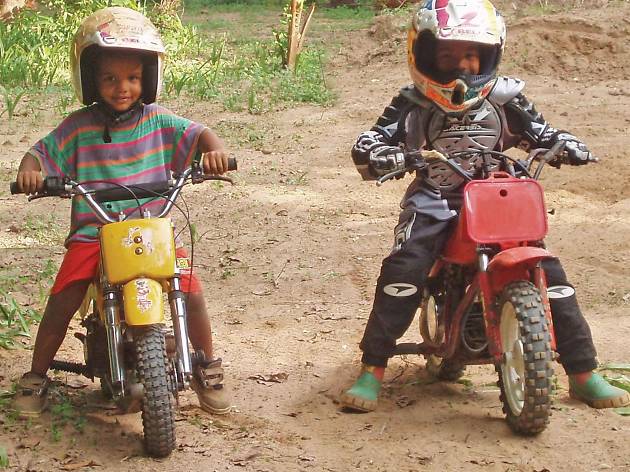 Q: That's interesting. Not many Sri Lankans have their own track in their backyard.
A: Yes. The backyard track became too small. I had to lease a five acre land to take things further. Soon both boys started winning and getting on podiums and the enthusiasm rose to a different level. We had to invest in our own earthmoving machinery to keep the track at peak level. Although the boys were racing Motocross, their idol was Valentino Rossi. It didn't make sense as Rossi was a circuit racer. We then gave circuit racing a try and both boys started showing a lot of interest in it.

Eventually they started riding at 125cc events on 100cc bikes and gradually worked their way up. Within six months our eyes were set on the National Championship. Jaden became the National Champion and Aaron the Runner up. At age 9 and 8 respectively they represented Sri Lanka at Asian level meets. Today we have leased a circuit known as the Kanway Autodrome in Meerigama for practices.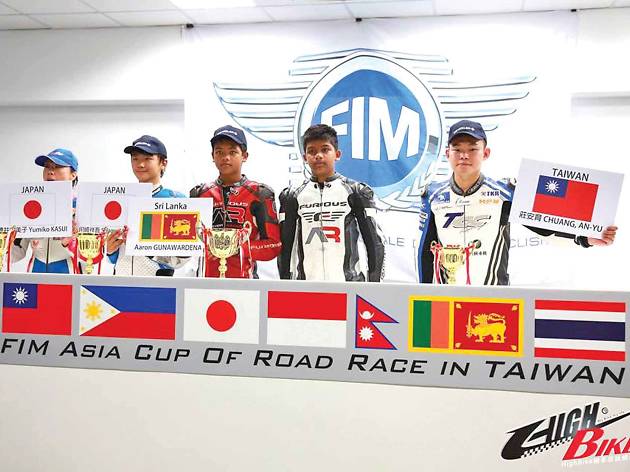 Q: You mentioned International Racing. Where have the boys taken part?
In 2015, we entered both boys as a team for the Asia Cup of Road Racing held in Japan, Thailand and Taiwan. The boys brought home glory by winning the Cup. It was a historic moment, as it was the first time this prestigious Cup was won by a Sri Lankan in the 104-year history of FIM.
The win helped them enter the more competitive Petronas Asia Road Racing Championship. Jaden also entered the Shell Advance Asia Talent Cup in Taiwan and Aaron participated in the Redbull Road to Rookies. Both Jaden and Aaron are the youngest competitors from all of Asia.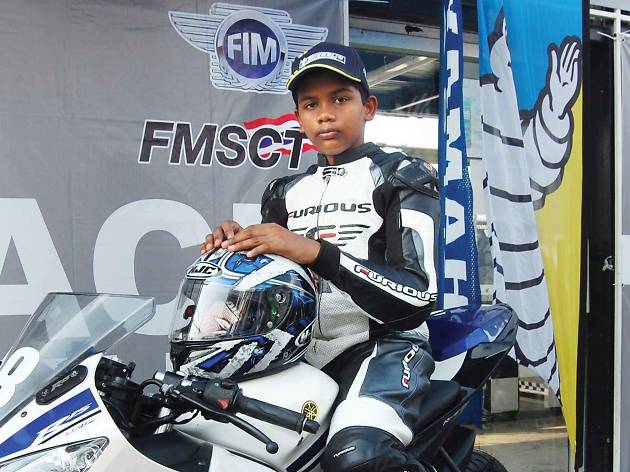 Q: I am sure more doors opened after the performance at the Petronas Asia Road Racing Championship.
A: This year, Aaron was invited to India to attract young Indians to the sport. He took part in Redbull Road to Rookies (runs concurrently with the Gixxer Cup) to set a benchmark and he clocked the fastest time. So far he has completed in five events and placed 1st thrice and 3rd once.

Jaden also got the opportunity to ride in the TVS One Make 200cc event in India. The events will help the boys on their pathway to the Redbull Rookies Cup in Spain, which runs parallel to MotoGP on the same tracks.
In 2015, Jaden came close to making it to the finals in Spain, but could not make it to the top 9 finalist. It is interesting to note that most of the recent top MotoGP Riders came through the Redbull Rookies Cup.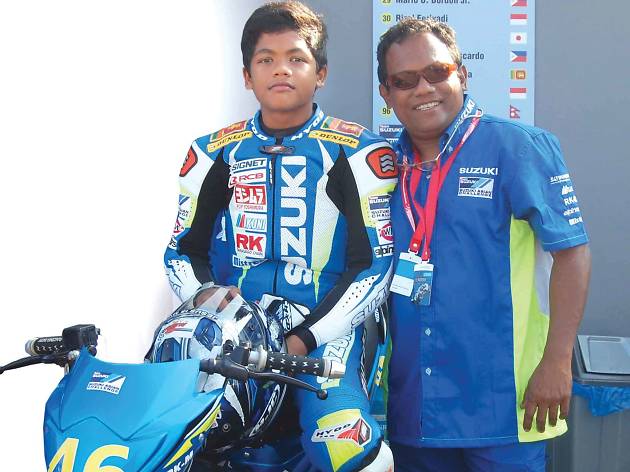 Q: What are the international circuits the boys have raced in?
A: Suzuka, Motegi and Sugo in Japan, Sepang and Johor in Malaysia, Nakonchasri and Chang in Thailand, Sentul in Indonesia, Penbay Taiwan, Kari & Madras Race Circuit in India, Losail in Qatar, Guadix in Spain.
Q: Do you believe we can see one of the boys progressing to Moto3 and MotoGP?
A: It is definitely possible as both Jaden and Aaron have age on their side. The current challenge we face is that we don't have an International standard circuit in Sri Lanka
to practice on.

In this sport, it's all about practice, practice and more practice. We are lucky that the Madras Racing Circuit is not that far from Sri Lanka and was upgraded recently. We might use this circuit more for practices. However, practice needs more funding than the actual race day, as for example, each practice day requires a new set of racing tyres among other costs.
Q: So how many trophies do the boys have in their collection?
Q: I am sure the old man has more than that.
A: Old man has over 500 in the collection.
Q: What are the challenges?
A: Yes there were plenty. Initially it was hard for people to accept the fact that two kids of Jaden and Aaron's ages were racing at a competitive level with all the associated risks involved.
That is over now as the boys have matured. We have a passion for the sport and we just kept following our hearts. I now focus on managing the kids' racing as you cannot get to this level working on it part time. I have a dedicated team of professionals running the family business, which makes it easier for me. Other challenges we face are balancing the boy's education and racing calendar. My wife Nalika looks after the education part while I spend most of the day managing race preparations.
Q: You mentioned "Associated Risks". How do you manage that?
A: Motorsport in any form is risky. There is no way you can totally eliminate risk. All you can do is focus on what you can control and minimise it. To do this, the first priority is safety in everything we do, from practice to race day. Any potential hazard or risk has to be identified and a counter measure put in place.