Avurudu Sweetmeats
Sinhala and Tamil New Year is characterised by the many traditional sweetmeats and food.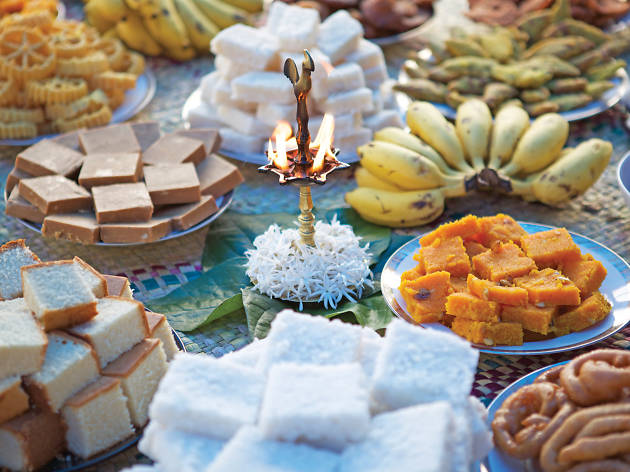 The aroma of the ingredients used in the preparation tingle your nostrils inviting you to delve into a blissful world of Avurudu sweetmeats. Here are some Sinhala and Tamil preparations to celebrate the New Year.
Kiribath or Paal Soru
Kiribath or Paal Soru is white raw rice cooked in coconut milk with a hint of salt. Usually white rice is used to make kiri bath but red rice is also an alternative. On New Year, Kiri bath is cooked in a new clay pot over a sputtering open fire as the very first meal prepared. Once cooked, it will be poured on to a large tray and cut into diamond shapes. Kiri bath is served with "lunu miris" – a paste prepared using dried chilies, salt, onions, dry fish and lime. The fusion of creamy texture of rice and spicy kick of lunu miris makes a perfect combo. A side of dish ambul thiyal is also a pungent kick to accompany this creamy and milky dish.
Athirasa or Adhirasam
Rich in sweetness, Athirasa is another sweetmeat that adorns the tables during the New Year. Athirasa is an oil cake made with jaggery treacle and rice flour, with a pinch of cardamom powder. The preparation is easy as all what you have to do is to prepare a sticky dough using jaggery and flour, flatten it into small circles and deep fry. The name itself implies Athirasa is an extremely sweet treat to delish.
Konda Kavum
A classic Sri Lankan sweetmeat also known as oil cakes. Kavaum possess an odd shape with a little mound that goes up atop each oil cake and perfecting this lump requires some skills and experience. To prepare the batter, red rice can be used as it gives kavum a rich brown colour. The rice should be powdered to fine flour. The batter is a mixture of rice flour, sugar, kithul treacle, coconut milk, salt and fennel seeds. Heat a pan with oil, slowly pour a ladle of batter and fry till golden brown.
Paasi Payuru Urundai
With a crunchy crust outside and juicy sweet center Paasi Payuru Urundai is a favourite Tamil sweet. It is prepared using moong dhal flour and kithul treacle dipped in rice flour batter and deep-fried. It is similar to Narang Kaevum made by the Sinhalese.
Mung Kavum
Another New Year delicacy made of moong dhal and kithul treacle. These are deep-fried diamond shaped snacks coated in rice flour batter. The sweet yellowish texture, crunchiness and lavishness of jaggery make mung kavum a delicious treat to indulge in.
Kokis
Kokis is a deep-fried crunchy snack with a touch of sweetness. Made with rice flour, the batter is milky. No Sri Lankan traditional festival is complete without kokis. Though kokis is considered as a traditional Sri Lankan snack, the long held belief is that the word Kokis itself has been derived from the Dutch-termed 'cookies'.
Aasmi
The beauty on the table, aasmi is one of the favorite sweets of Sri Lankans. Aasmi is honeycomb shaped and decorated with caramelised sugar syrup usually in pink or brown. Not so easy to make, aasmi is a culinary battle worth winning. The batter of aasmi is an exotic mix of rice flour, davul kurundu – a variety of cinnamon, coconut milk and sugar. After the second frying, aasmi is sugared.
Aluwa
The diamond shaped aluwa is easy to make with just two ingredients; rice flour and coconut or palm treacle. First the rice flour is roasted on medium heat and the treacle is heated to the boiling point. Next the roasted rice flour and a pinch of caradamom are added. A handful of cashew can also be added to the mixture. Left to dry and cut in diamond shaped pieces, aluwa is a delectable treat to enjoy during the Avurudu season. It bursts into a powder of sweetness in the mouth.
Dodol
A gooey sweet-toffee like confection made with coconut, roasted rice flour, jaggery, crushed caradamom and chopped cashew nuts. The mixture is stirred continuously in a large pot over a medium heat for around one hour. Once the mixture starts thickening the oil starts separating. Separate the oil and let it cool off before slicing into pieces. With a brilliantly gooey texture dodol is a rich saga of deliciousness.
Peni walalu/ Undu vel
Covered in thick layers of honey, Pani walalu is a treat to sweet lovers. These are deep fried coils made out of a batter of white undu seeds, white raw rice, coconut milk and a dash of salt are soaked in sugar treacle. A bite with oozing sugary treacle is an unbeatable choice!
Murukku
A crunchy, coil-like snack made by the Hindus to share the happiness of the New Year. Murukku is usually made using rice flour. The snack can be savory or sweet. Sweet murukku is coated in sugar syrup whereas savory murukku is prepared adding chili powder and sesame seeds to the batter.
Laddu
A sphere-shaped sweet especially made by the Hindus. There are two major varieties of laddu. Boondi laddu is a sweet treat with gram flour, sugar, raisins, cashews and a pinch of cardamom powder and clove powder. Rava laddu is made with semolina, saffron and dry fruits. The making of both laddus is easy and even kids can help in the molding process.
Vadai
Vadai is a culinary delight tracing the roots back to southern India. There are two types of vadai; Paruppu vadai and Uundu vadai. Paruppu vadai is a crunchy and tasty treat with carefully blended Bengal gram, chilli flakes, finely chopped onions and green chilli, curry leaves and a pinch of salt. It has a unique texture as the crust is crispy and the center is soft. While, Ulundu vadai is doughnut-shaped, fluffy in the center and crispy on the outside. Dipped in coconut chutney, it's a great combo.