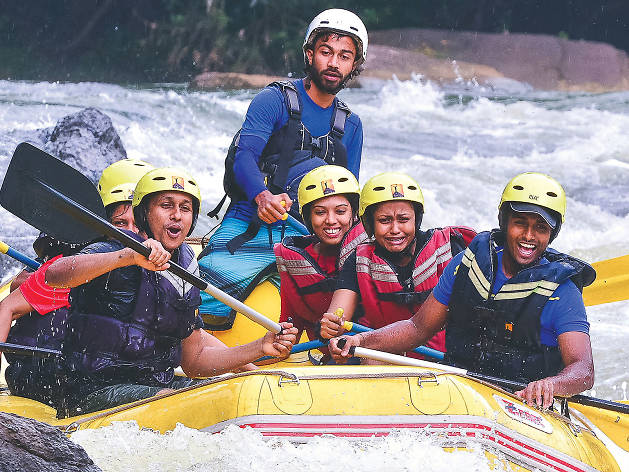 Good for adventure seekers
Get your adrenaline pumping and your reflexes up to the mark. Adventure is the name of the game at Borderlands. Located at one of Sri Lanka's top thrill- seeking spots, Borderlands provide eco adventure themed vacations that make for unforgettable memories. As one of the pioneers that introduced water sports in Asia, Borderlands has over two decades of experience and is a reputable name in the industry.
White water rafting, kayaking, expeditions along the Mahaweli and Madu river and even deep-sea fishing can be organised. Take on the rapids of Kitulgala as a stress-relieving leisure activity or team-building exercise.
Experience Sri Lanka's unmatched bio-diversity as you trek through the forest of Kitulgala. The Borderlands base camp is only minutes away from the forest as such this excursion can be easily arranged. If a journey by foot is not your style, mountain biking is the way to go and get lost in the splendor of the wilderness.
In addition to this, Borderlands also offers the opportunity for you to explore the "Great Blue" with Ocean Safari, which covers the migratory routes of the world's biggest mammals and other marine life.
Safety is an important aspect of the service offered by Borderlands, with risk mitigation techniques and quality equipment being used. Internationally certified instructors will accompany each adventure-seeking group.
Customizable packages that fit your needs, sets Borderlands apart from competitors. Young explorers are offered expeditions such as the "Week Without Walls" specially designed for youths leadership development.
In addition, team-building retreats focusing on corporate training and professional development are available. With it's extensive list of activities, Borderlands lets you explore and discover the Island's hidden treasures.
Venue name:
Borderlands
Contact:
Address:
15, Stratford Avenue
Colombo 6
00600