Let's Celebrate Poson
Poson is celebrated in Sri Lanka as the day on which Buddhism was introduced to the country… take part in some of the religious activities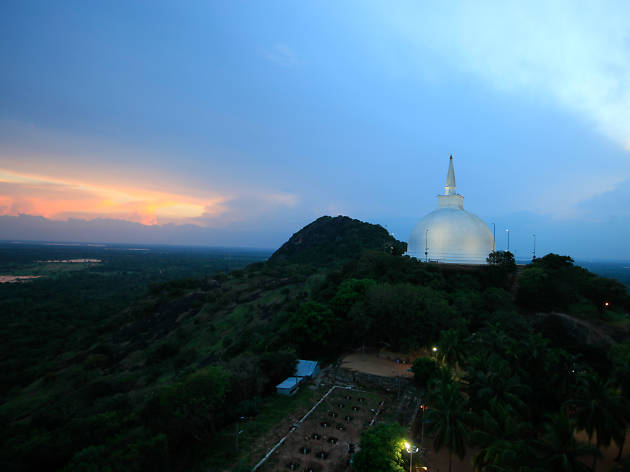 Considered to be the second most important Buddhist festival in Sri Lanka, Poson falls on June 2nd this year. Poson is widely hailed as the day on which Arahat Mahinda Thero introduced Buddhism to the nation and devotees take part in various religious activities to commemorate its significance. Celebrated in a grand scale in Mihintale and Anuradhapura, countless devotees and visitors make their way to pay homage to the sacred Sri Maha Bohi and ascend Mihintale.
According to history King Asoka, emperor of India sent his son, Arahat Mahinda Thero to Sri Lanka, as his special emissary to spread the message of Lord Buddha (the Buddhist philosophy of supreme truth on ending suffering) many centuries ago.
Legend has it, that a delegation was sent to extend a hand of friendship to King Devanampiya Tissa (307 BC – 267 BC). It was on the full moon day of June (Poson Poya) that the king who was on a hunting expedition encountered Arahat Mahinda atop the mountain of Mihintale close to Anuradhapura. As he listened to Arahat Mahinda preach the gospel of the Buddha, he was inspired by its teachings and embraced Buddhism. This is considered to be a significant cultural event that transformed the culture and lifestyle of Sri Lankans.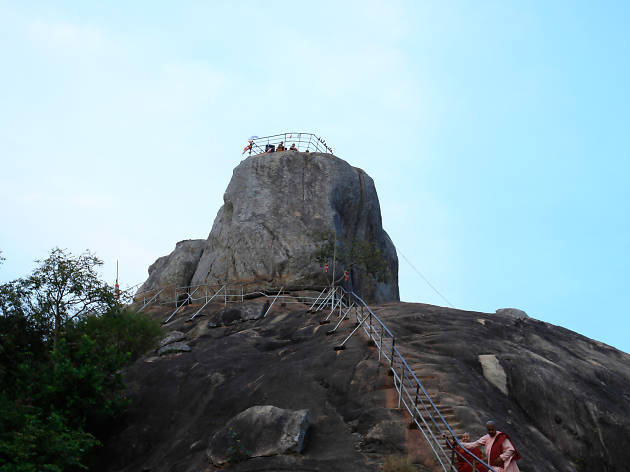 © BT Images
Visiting Mihintale and Anuradhpura
Mihintale is considered to be the focal point of Poson celebrations. The temple premises, spread through many acres, and the pathway leading to the summit of the rock where Arahat Mahinda Thero has first preached to King Devanampiya Tissa, are thronged with countless devotees. Here, people clad in white visit the sacred Sri Maha Bodhi, and make their way to other temples around the areas of Anuradhapura, to seek the blessings of the Dhamma.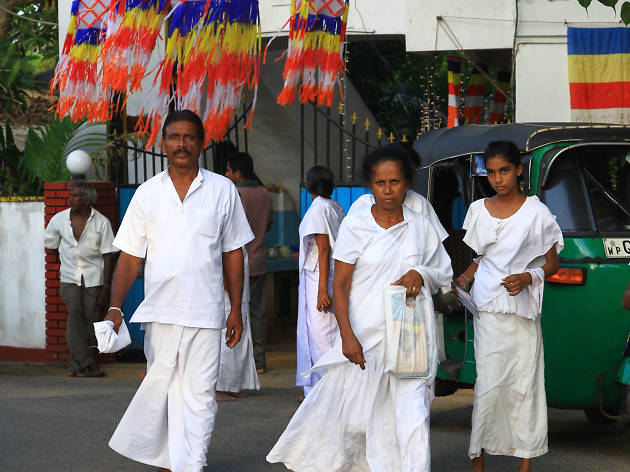 © BT Images
Generally, Poson is commenced by observing Sil, or the atasil (eight precepts) at a temple where a chief priest would chant the eight precepts early in the morning to the devotees who are clad in white. The chief monk or priest delivers the precepts one by one, and other sermons and discourses throughout the day.
Observing Sil is an important aspect of this festival. The atasil or the eight precepts are meant to inculcate good behavior leading to a peaceful way of life; and dressing in white clothes is appropriate.
Note: Devotees strictly abstain from consuming alcohol and meat during this time. Selling liquor and meat is also prohibited during Poya days in the country.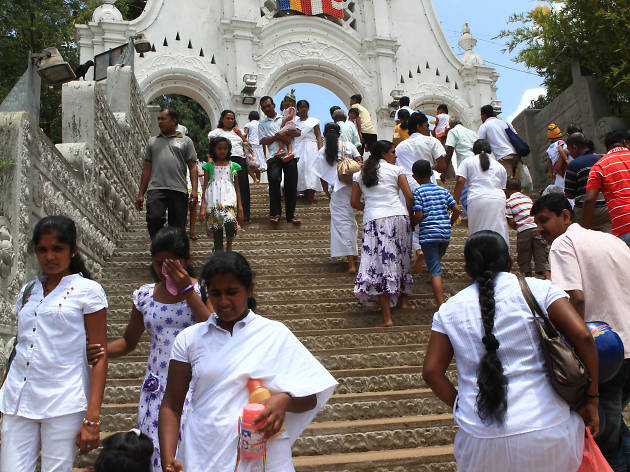 © BT Images
Buddhists visit temples throughout the day to spend sometime engrossed in spiritual thoughts and seek blessings of the dhamma. Adults and children alike offer flowers, incense and lamps to Lord Buddha statues and Bo trees at the temples.
Perehera is essentially a grand procession featuring music, dance, parading elephants and many other – all performed to pay respect and seek blessings from gods and dhamma. Mihindu Perehera is conducted to honour Arahat Mahinda Thero. The Mihindu Perehera takes place in major Buddhist temples around the country, but is more colourfully celebrated in Mihintale and Anuradhapura. The pageants normally commence late in the evening and go on until night while the entire locality gather to witnesse the spectacle.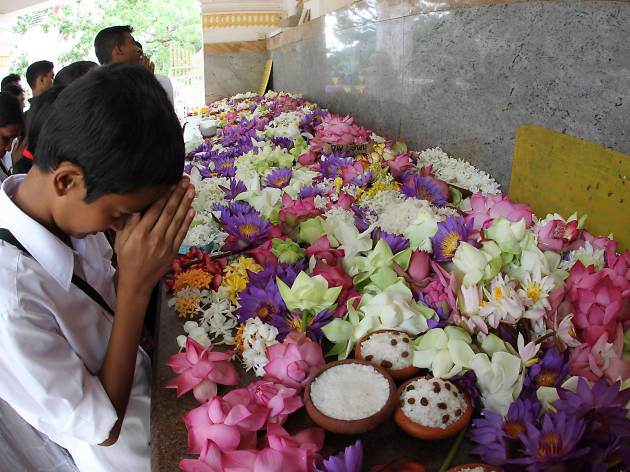 © BT Images
Pichcha Mal Poojawa and Aloka Poojawa
In line with the Poson festival, temples conduct various spiritual programmes, and poojas. Among those the Picha Mal Poojava and Aloka Poojava are unique. The Picha Mal Poojava involves devotees and monks bringing Jasmine flowers in large quantities to offer to the Buddha and the gods. Flowers brought from various devotees are gathered in heaps to one place, where the sweet fragrance of the blossoms add to the divine ambiance at temples. Hundreds attend the Picha Mal Poojava, which takes place at the venerated Sri Maha Bodhiya.
The word 'Aloka' refers to light in Pali and the Aloka Poojawa involves offering 'light' to the Buddha and the gods. During this event, devotees take part in lighting day lamps to illuminate the temple premises. In more recent times, electric lights are also used as part of the festivities to bring some vibrancy.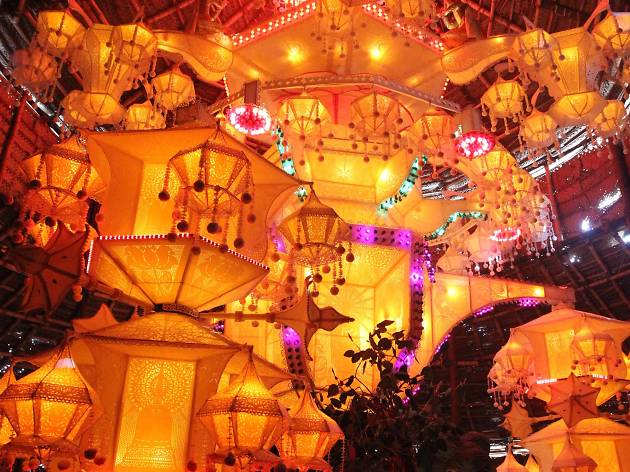 © BT Images
Pandals, or the Thoran—another interesting feature of Poson, are large structures with picture panels elaborately decorated with coloured electric bulbs lit in a sequence to form vibrant patterns. Pandals are installed in public spaces where people gather to witness the pictures that depict stories from the life of the Lord Buddha and his previous lives while these stories are also recited as verses through microphones. As with Vesak, viewing the decorative Pandals have become a cultural custom with Poson too. Anuradhapura and the adjoining areas are the main go-to spots for experiencing these displays during the time of Poson. Illuminated lanterns can also be viewed during this season, decorating the streets with vibrant hues.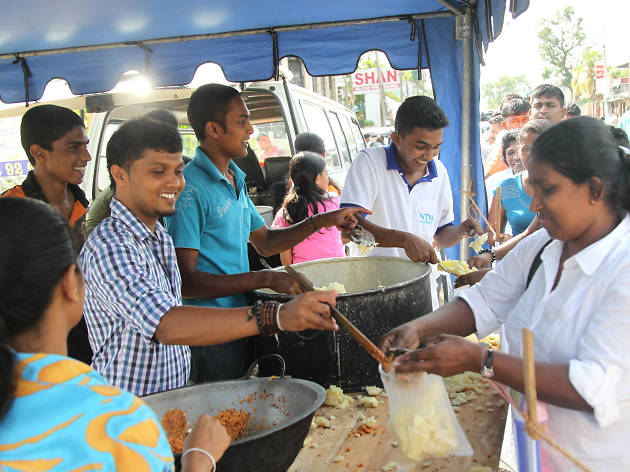 The Buddhist virtue of 'Danaya', or giving, is emphasised during this festival. Giving and sharing what one has in excess in terms of material, is an important value, which Buddhists are expected to clutivate. The Dansals or food stalls provide refreshments free of charge to pilgrims and visitors, and is a great example of practicing and encouraging this belief. Numerous Dansals pop up at important parts of towns and cities, and quite frequently, you will see volunteers from these stalls flagging down vehicles and calling over to passers by. They will then offer food, which can range from hoppers, rice and curry, noodles, boiled gram and manioc to herbal drinks, ice cream, and coffee amongst other delights.