Paddle on in Kithulgala
Rafters flock to Kitulgala for a rush of excitement.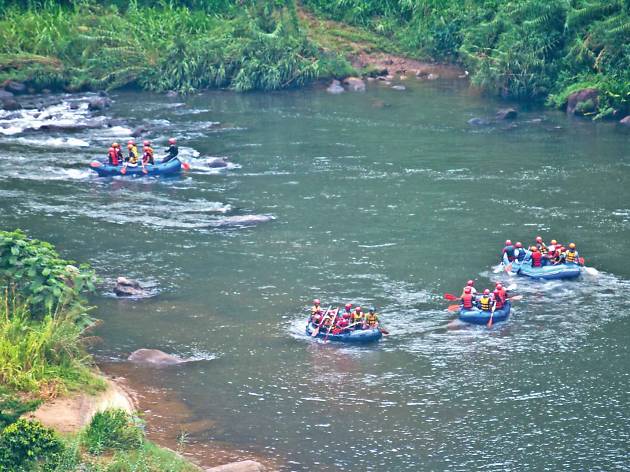 Kitulgala gushes with rapids, splashing across rocks to offer rafters an exhilarating experience. Between May and December is the ideal time to grab a paddle, boat and a few mates to take on the exciting waters of the wildest section of the Kelaniya River...
80 kilometres away from Colombo, Kithulgala, backed by rich greenery and tropical vegetation, is a great destination for whitewater rafting, a sport that requires teamwork and concentration. Through its cool and moist climate gush the waters of the Kelani River, rising above rocks and plummeting down slopes creating exhilarating experiences.
Though it may seem that the daring sport requires years of experience, it typically doesn't. It's even considered safe for kids above 10 years. However, to take part one must be on average healthy and energetic.
Between May and December is the ideal time to visit Kithulgala for white water rafting. The river flows ardently for the sport with many rapids, some named Head Chopper, Virgin's Breast, Butter Crunch, Killer Fall and the Rib Cage. It is advised that you raft with a professional and gear yourself with helmets and life jackets.
Kithulgala is also home to many exotic birds and wildlife, so watch out for these exotic avians. Taking its name from Kitul or palm, this location offers a wholesome nature experience. Black rafting takes place at night. Rafters are equipped with a headlight. It is a 90-minutes of pure excitement and euphoria. At Kithulgala adventure it always in its element.