Special avurudu sweets and dishes
Combining the best of ethnic cuisine, the Avurudu table is filled with sweet, soft and crispy goodies!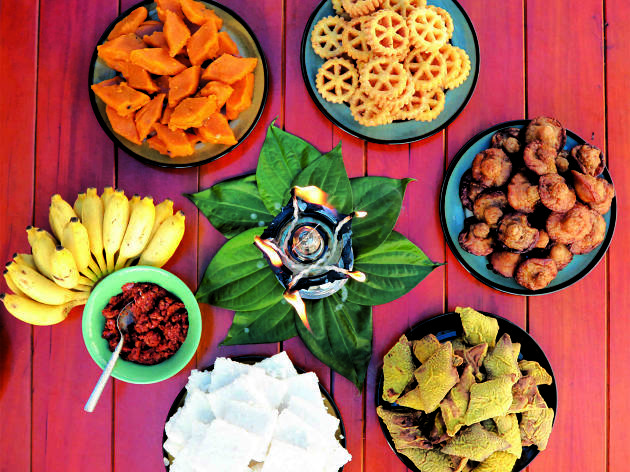 Sweet meats and special dishes are an essential facet of the Sinhala and Tamil New Year. While they have come to be identified with and annual festival, some of these food items are also prepared to mark special occasions. Here are some sweet meats and other foods prepared in Buddhist and Hindu households this time around.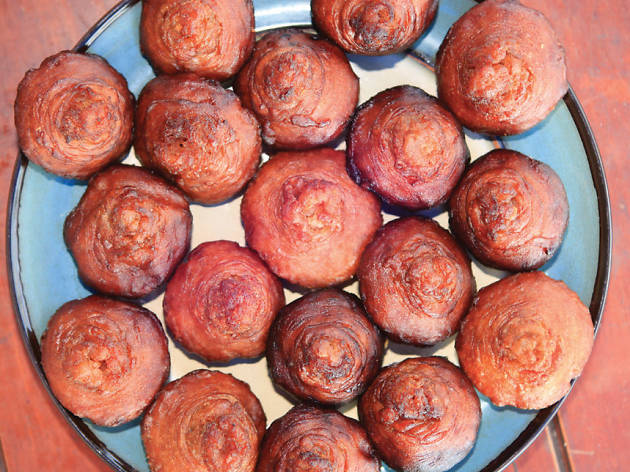 ©BT Images
Its an oil cake that possesses an odd shape with a bun like lump in the centre, from which it derives the term Konda (hair). The preparation of the batter involves the mixing of treacle and sugar, which are cooked to boiling point. Rice flour and steamed flour is added to the cooled treacle. A spoon of the batter is poured into a pan of hot oil, with a wooden skewer inserted at the centre to create the lump, while ensuring that oil is constantly provided to the developing Konda or bun.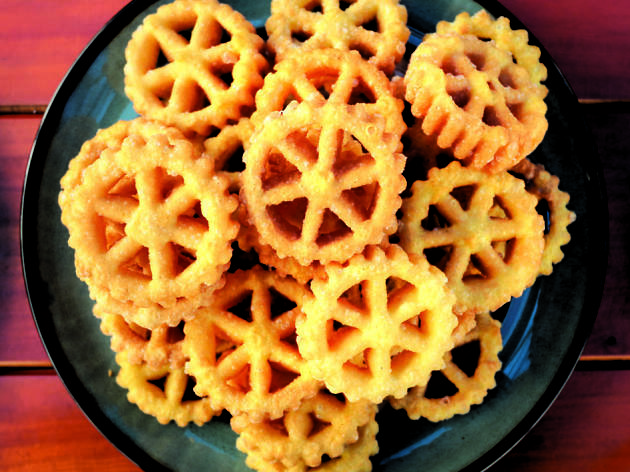 ©BT Images
Kokis is a deep-fried, crispy and sweet snack made from a mixture of rice flour and coconut milk. Although considered a traditional Sri Lankan Avurudu snack, the long held belief is that the word Kokis itself has been derived from the Dutch, which has links with the word 'cookies'.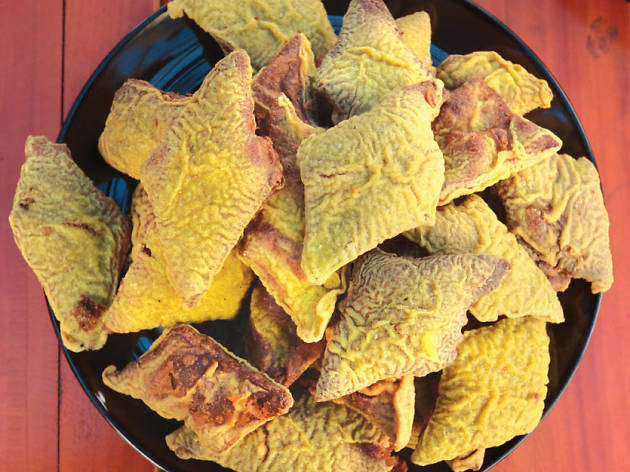 ©BT Images
Mung Kavum is a combination of rice flour and green gram flour added to warmed treacle. Diamond-shaped pieces of this mixture is soaked in a batter of rice flour and coconut milk and deep-fried.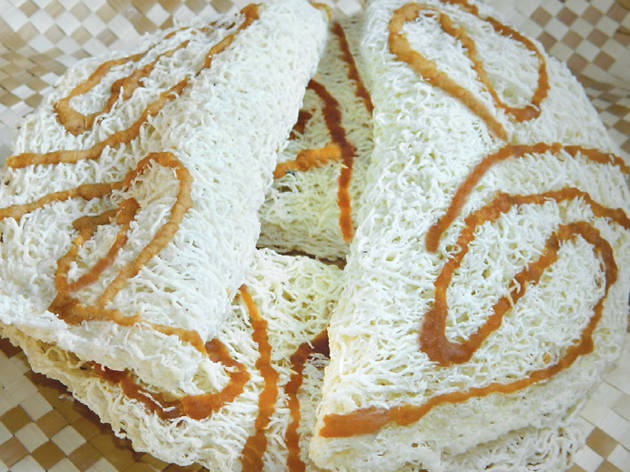 ©BT Images
Not a very easy sweet to make, but certainly a triumph of effort and skill, The batter for this sweet is unique. First, milk is added gradually to rice flour, which is constantly kneaded. A handful of cinnamon leaves are squeezed into a cup of light coconut milk, and the strained juice is added to the batter. The juice of the cinnamon leaf makes the batter thick and slimy. Once the batter reaches the required consistency, its time for frying.
A punctured coconut shell spoon is used to pour the batter to create a web like design. Asmi is kept aside for a day or two before being re-fried and decorated with thick sugary syrup.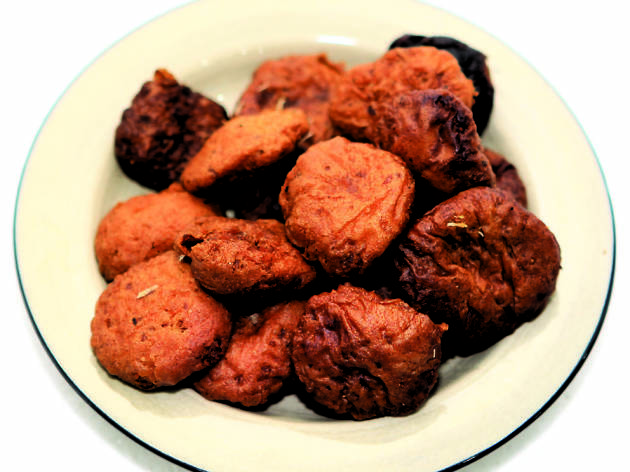 Athirasa, as the term implies is an extremely tasty Avurudu sweet, which is quite rich in sweetness as well. It is an oil cake made with jaggery and rice flour rolled into a paste, flattened into circles and fried.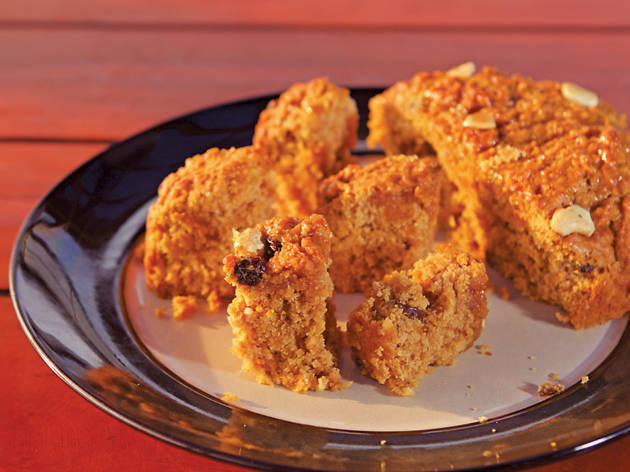 ©BT Images
Bibikkan is a rich, dark, chewy and moist cake made of shredded coconut, jaggery and semolina. Ingredients include grated jaggery or treacle, melted in a little water, heated, then cooled and mixed into a batter with roasted semolina. Chopped dates, winter melon, ginger preserve, candied peel and cashew nuts are added, along with crushed fennel, cardamom, cloves and cinnamon and a dash of salt. A beaten egg is folded in before the mixture is popped into the oven.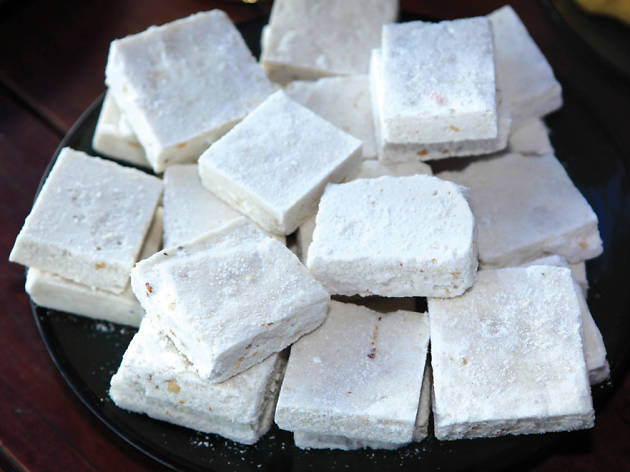 ©BT Images
A sweet made with just two ingredients, rice flour and coconut or palm treacle. The process begins with the roasting of rice flour on medium fire. Next, the treacle is heated to boiling point, at which stage the rice flour, a dash of cardamom and handful of chopped cashew is added. Aluwa is easily identifiable with its diamond-shaped pieces and heavy coating of rice flour.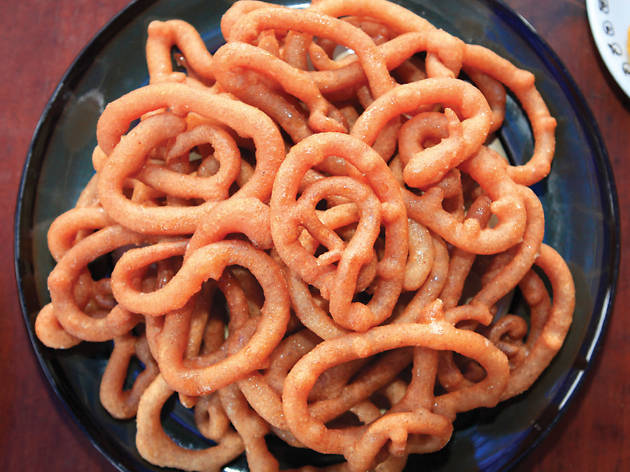 ©BT Images
Unduwel is a very sweet food made during Avurudu, that originated from the central province. It is a deep fried coil of a mixture of Urad dhal and rice flour soaked in sugar syrup.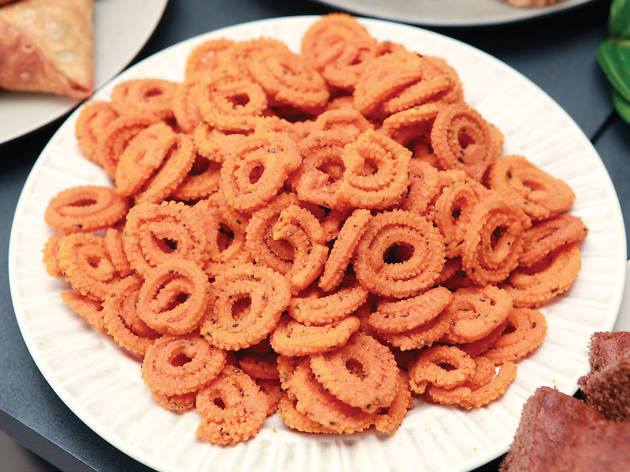 Coming in a range of sizes and shapes, murukku is prepared using a variety of flour. The snack can be savoury or sweet. For the sweet murukku, also known as seeni-murukku, it is coated in sugar syrup after the murukku is fried. The savoury murukku is prepared adding chilli powder and sesame seeds to gram flour.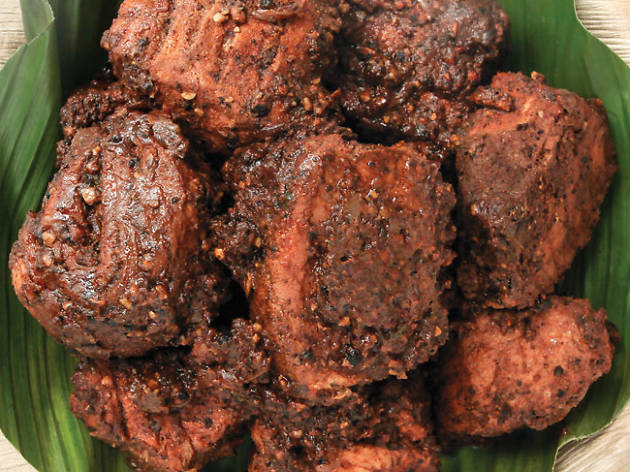 Fish ambul thiyal (sour fish curry) is one of the most beloved varieties of the many different fish curries available. The fish (usually tuna) is cut into cubes, then sautéed in a blend of black pepper, cinnamon, turmeric, garlic, pandan leaves and curry leaves. Perhaps the most important ingredient is dried goraka, a small fruit responsible for the sour flavour. All the ingredients are simmered with a small amount of water and cooked until the liquid reduces. This allows for a thick spice coat on each cube.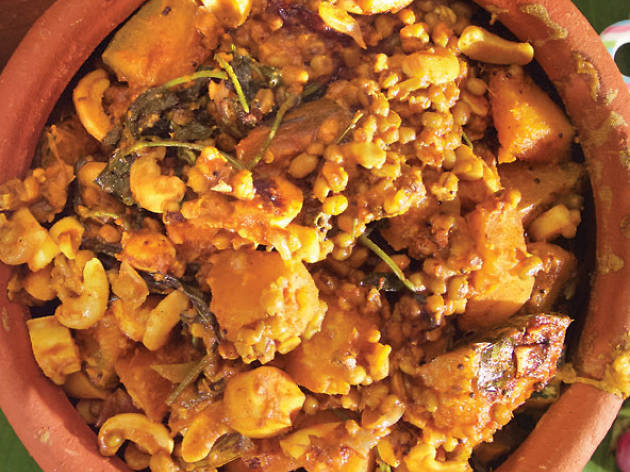 ©BT Images
Hath Maluwa as the name implies is a dish made of seven vegetables, cooked in a fine blend of spices such as ginger and garlic, green chilli, dil seed, cumin, sweet cumin and pandan leaves with coconut milk. The Hath Maluwa is prepared for special occasions and is a famous dish that adorns the festive table during Avurudu in Sri Lanka. Today, the type of vegetables used for this curry varies from one district to another.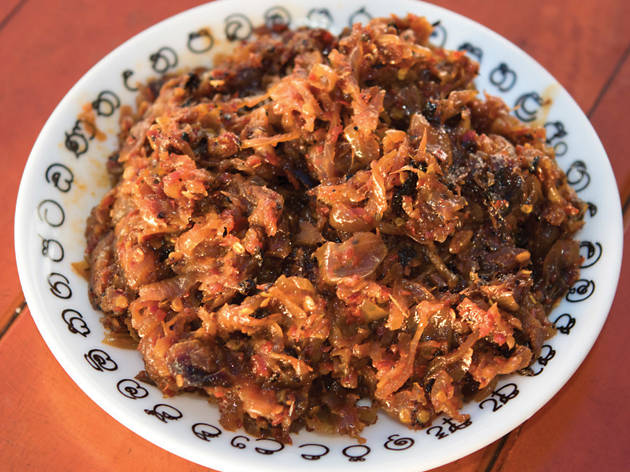 ©BT Images
Seeni Sambol is a fried onion mix of chili powder, tamarind and sugar. Onions are chopped and sautéed in oil along with the other ingredients until it is caramelised, by the sugar. A touch of Maldive Fish adds taste. Seeni is the Sinhala term for sugar, which demonstrates the importance of sugar in the preparation of the dish. Seeni sambol is a fine accompaniment for milk rice.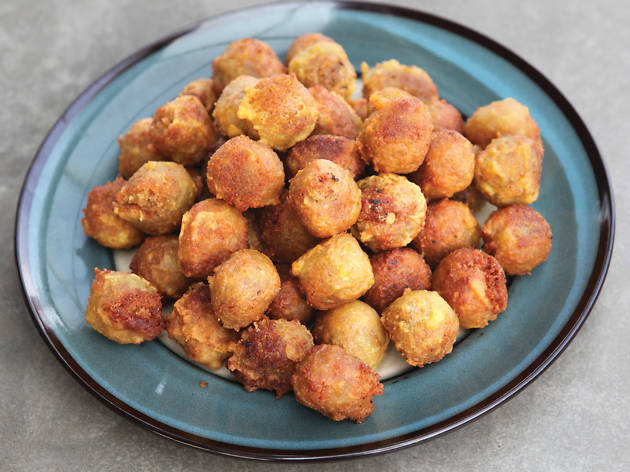 ©BT Images
Using roasted coconut, kithul treacle, sesame seeds, rice flour (roasted) and roasted green gram flour, the urundai is a popular and healthy sweet meat! The urundai before frying is dipped in a batter of rice flour and coconut milk. When served hot, the coating is usually crispy and gives the urundai a soft texture.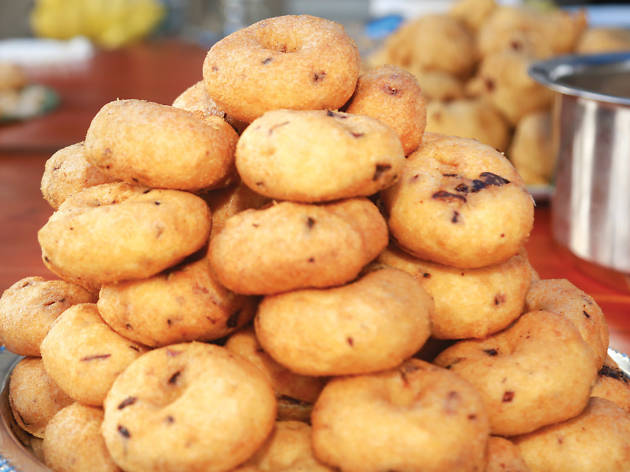 ©BT Images
Vadai is an ancient food preparation from southern India and popular among Hindus in Sri Lanka. There are two types of vadai - Paruppu vadai made from chana dal (split de-husked black chickpeas), and Ulundu vadai made from urad dhal. While parippu vadai is circular and slightly flat, ulundu vadai is wheel-shaped with a hole in the centre. Chopped onions, green chili and curry leaves are usually added to the dough.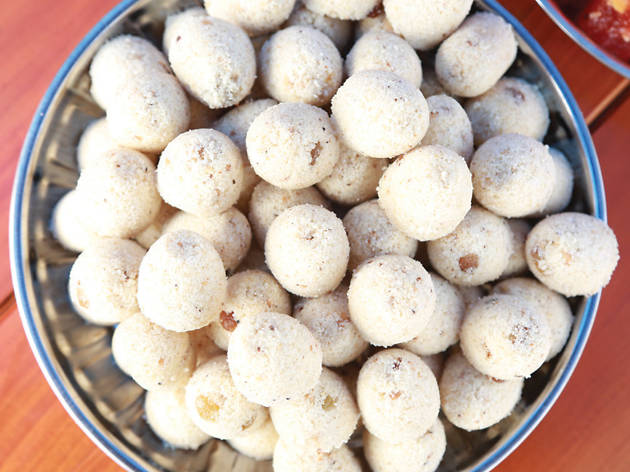 ©BT Images
Laddu is made from gram flour and rice flour, a pinch of salt, ghee and water, which are stirred into a thick liquid. Small portions of this thick syrup are dropped into hot oil through a boondi plate (a plate with lots of holes), which is later mixed in sugar syrup, and cooked with chopped cashew nuts, cardamoms and ghee and shaped into even balls.
Other types of laddu include Maa laddu or Rava laddu. The Maa laddu, prepared with roasted gram flour, ghee and sugar is finely moulded using extra ghee to give that soft texture, so as you take a bite, it melts in your mouth. While Rava laddu is prepared in the same manner using raisins. Both are ideal for your sweet tooth.