Tropically Christmas and a Sunny New Year!
The exuberance that fills the air at Christmas is swelled by the treats of the season.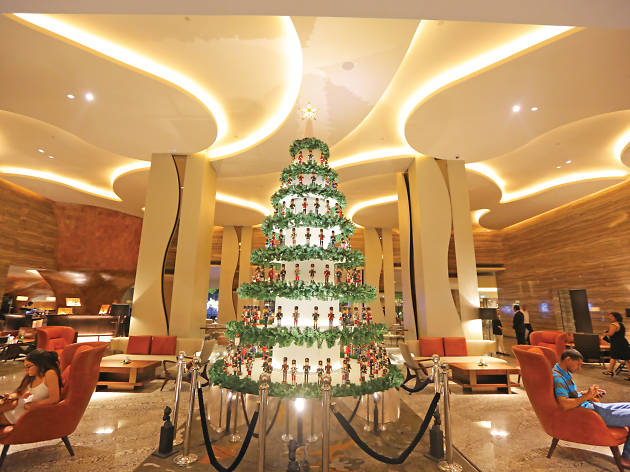 Entire Colombo takes on a magical aura with the onset of the festive season. Mornings turn chilly, charming fairy lights glisten over streets, seasonal ornamentation decorate buildings, and the evergreen conifers lined up for sale on the sidewalks diffuse their sweet smell that lingers in the air. Church bells peal and the celestial sounds of choirs singing carols emerge from churches, school halls and gatherings. Cathedrals and churches island-wide brim over with the faithful, especially on Christmas Eve and Christmas Day. (See What's On).
The yuletide fare for Christmas Eve and Christmas day is a selection of flavours that reflect different cultures and traditions. In Sri Lanka, lunch on Christmas day is special and is an extended family affair. Firm favourites that have become the quintessen- tial Christmas meal comprises Yellow Rice served with tempered or curried potato, devilled or curried chicken, cashew curry Brinjal Moju (eggplant pickle), and crispy Papadam. Best-loved desserts are Christmas Pudding, custard pudding, crème caramel, marshmallow pudding, fruit salad, and jelly with ice cream. Hotels and restaurants across Sri Lanka also create these wonderful feasts. (See What's On, Restaurants and Hotels).
Tropical Wines and Iced Ceylon Coffee
Serving homemade wine during Christmas is yet another colonial tradition. A slightly invigorating and somewhat heady beverage, a must potion to be savoured to complement the jollity of the season. Milk wine – the transparent and sweet, burgundy wine – is a favourite and goes well with a piece of Rich Cake. King coconut, ginger and lovi in addition to an array of fruit wines are brewed at home at least ten months before Christmas and is ready just in time for the holidays! With condensed milk for sweetness and brandy for vivacity, Ceylon coffee served ice-cold is a staple at the parties in Sri Lanka as well as at Christmas. It would be a fine con- clusion to a hearty, festive meal. (See Cafés and Restaurants).
The delicious delights of the celebration that adorn the festive table and tray bulge with tantalising scents. Try a piece of special Christmas Cake: the Sri Lankanised 'Rich Cake'. The miscellany of ingredients that goes into making Rich Cake is gloriously great: ginger preserve, candied peel, dried fruits and finely chopped nuts that are mixed with generous drops of vanilla, almond and rose essences, jam, honey and spices and, of course, completed with the intensely aromatic brandy or sherry. Sri Lankan brewed arrack can be used as an alternative. The Rich Cake is a medley of aromas, a dazzling russet that is later topped with an almond paste and served in squares. (See Cafés and Cakes).
Join the excitement and step out with your family and friends! Streets, shops, department stores and malls bustle with shoppers, making the most of the abundance of sales and extravaganzas. The wide array of shop- ping emporiums and fairs are bound to entice you. Festive food, beverages, and merriment are found all around, so treat yourselves to the mouth-watering festive fare available at hotels, cafés, shopping malls, food festivals and fairs (See Shopping, What's On).
©BT Images
Greet the dawn of the New Year at any location across the island. In Colombo, the Galle Face Green and surrounding hotels come alive on New Year's Eve with music, good vibes and fireworks. While Unawatuna, Mirissa, and Negombo livens up with music and parties, complete with good food, the crowds stay awake to watch or dance till the dawn of the New Year! If a quiet, laid-back start to the new year is what you are seek- ing, then head over to Arugambay. Relax on balmy, palm-fanned, sunny beaches and watch as the sun rises heralding the dawn of 2018. Arugambay is the ideal location for a peaceful beginning to the year with lasting memories. Religious observances too are held around the country to bestow blessings for the New Year (See What's On).