Heads up! We're working hard to be accurate – but these are unusual times, so please always check before heading out.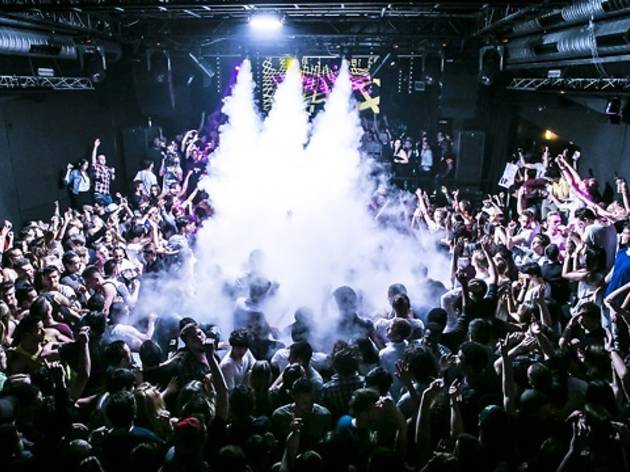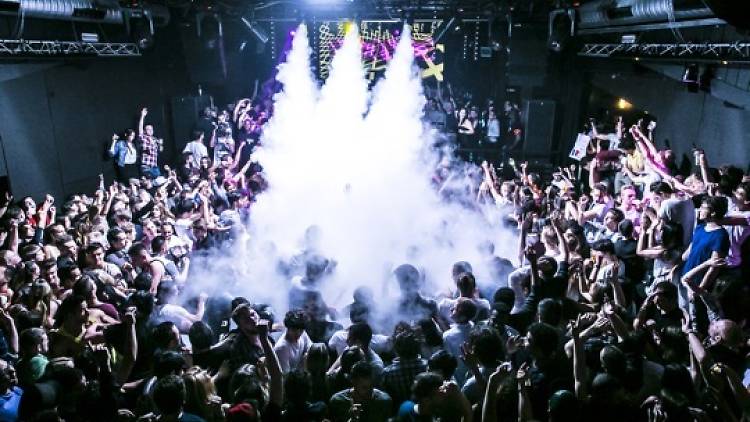 The best nightlife in Switzerland
Don't miss a beat with our guide to the city's top nocturnal spots – including the best live music venues and the coolest clubs in the country
Basel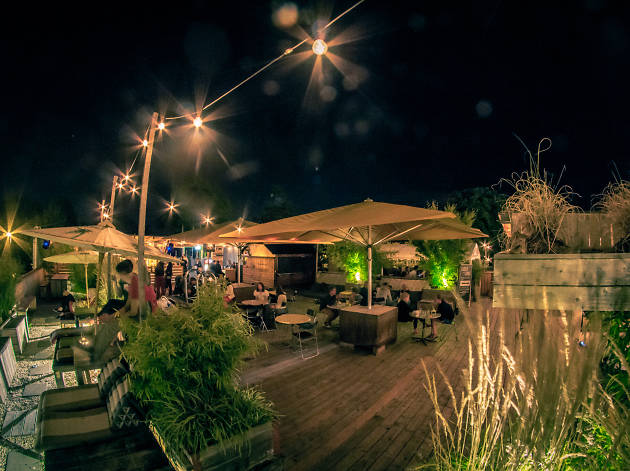 While the location might not seem too promising, stranded in no man's land between Basel-Land and Basel-Stadt, it's ideal for Hinterhof and its youthful and edgy clientele. An enormous party house, Hinterhof is a huge bar-and-dance complex housed in an old fruitmarket that has truly seen better days. Punters come here primarily for the music, which ranges from big name international artists, to eclectic art projects and to local club DJs playing to a loyal following. The urban setting feels miles away from quaint and historic downtown Basel, with a landscape of carparks and train tracks visible from the roof terrace. If you don't think you're cool enough for a warehouse rave, you can sit up here insteads, enjoy one of the decently-priced cocktails and watch the sun go down.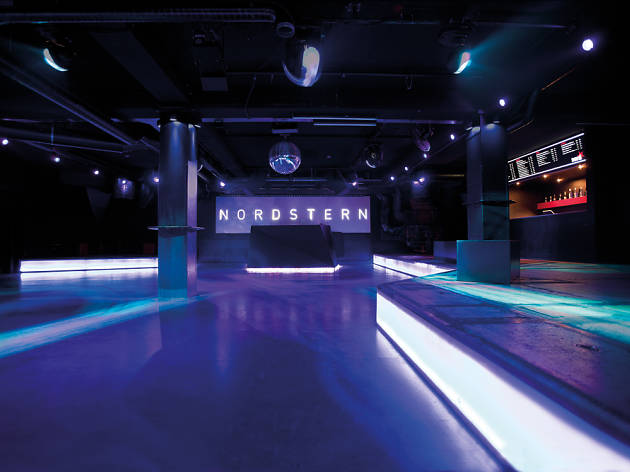 People like to refer to it as a behemoth on Basel's club scene, and there doesn't seem to be too much competition if this is your style of nightlife. A gigantic technoclub, Nordstern specialises in bringing techno to the discerning masses. Even without the music, it's an immensely cool industrial space that emerged from the underground workings of a power plant. Clubbing at Nordstern is carefully managed to try to help guests enjoy a transcendent experience – expect sound that has a profound physical effect and crowds of fellow clubbers dancing gleefully to an illustrious roll call of international artists late, late into the night. A strict door policy for over 20s only applies and is rigorously enforced.
A bar, restaurant, music venue and club in one, Hirscheneck is a venerable and eye-opening Basel institution, run since 1979 by a highly politicised collective for arty alternative types as well as the LGBT patrons who are its core clientele. Dining, which is mainly on vegetarian and vegan fare with a few organic meat dishes thrown in, takes place at long canteen tables, and generally comes with a side order of philosophical or left-leaning political discourse with your neighbours – a refreshing change in this most buttoned-down of burgs. Then there's the nightlife, whose wildly varied scope includes punk and thrash bands, world music DJ sets, comedy shows, lesbian and transgender discos and good old-fashioned homo dance parties. Recently reopened after an extensive renovation, it's a ballsy, brainy and beautiful mould-breaker.
Bern
This 19th century riding stables turned warehouse is now something of an avant-garde arts and cultural centre. Occupied from the 1980s by a bunch of young, disaffected squatters, it's now on permanent loan from the city, who has allowed the big, graffiti-covered building's gradual development into a complex housing a theatre, cinema, bar and live music venue. Feminist collective Frauenraum stages regular events here including LGBT nights.
A fixture in Bern's Gurtengasse district, Art'Café is a popular venue for after-work aperitifs and late night weekend cocktails and dancing. It attracts a young and trendy crowd, although the interiors aren't intimidatingly cool – think ambient lighting, coloured feature walls and functional black furniture. You can grab a bite to eat through the day from a set menu that is cheap although lacking in inspiration. Better are the signature cocktails, which come served in shakers – the bar does classics well and offers monthly specials. Live DJs turn the venue into a club at weekends, though its small size doesn't leave much scope for throwing shapes.
Geneva
If you're seeking something different to the overpriced slick clubs aimed at Geneva's moneyed jet setters, you'll certainly find it here. A former gold refinery, this listed building is now an alternative arts venue with a theatre, cinema and several concert spaces presenting an eclectic mix of music including electro, punk, ska, rock, reggae, disco and metal. Artists range from local unsigned bands to international DJs, and the crowd is just as varied. It can be sweaty, smelly and dirty, but if you care about that sort of thing then you're unlikely to end up here anyway.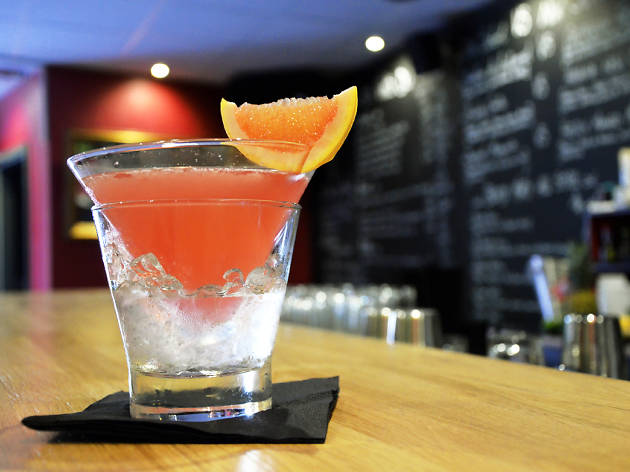 Away from the city centre, this live music club in Carouge promises a fun night out. Upstairs there's a bar and restaurant serving burgers, steaks, tapas and share platters, while downstairs the club lays on a brilliant programme of live music including jazz, soul, French chanson and hip hop. DJ nights, jam sessions and comedy nights pop up from time to time too, so it's always worth keeping an eye on the programme. Prices aren't horrendous, and there's a great set-price offer if you want to combine dinner with a gig. It does pretty good cocktails too.
Lausanne
A former theatre, D! Club can be massively crowded and might make your wallet scream in protest at the prices, but it remains a popular nightspot in Lausanne nonetheless, mainly because it attracts an impressive line up of DJs and live acts. Big names on the roster in the past have included Boy George, David Morales, John Digweed and 2ManyDJs, while live acts have come from Swiss songwriter Sophie Hunger, Scottish crooner Paolo Nutini and Juliette Lewis' band Juliette and the Licks through to Asian Dub Foundation and Herbaliser. It has regular student nights on Thursdays and can host private parties and events.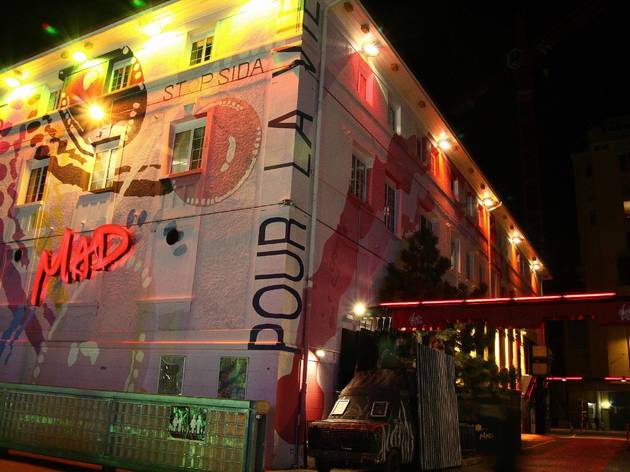 One of the country's biggest and brashest clubs, MAD is hardly an understated place. Occupying a vast converted warehouse in Lausanne's trendy Flon district, it proclaims its mission statement with swirls of colour and huge block writing all over the facade. This is a place you go to be seen; wallflowers need not attend. With five levels, four dance floors and one restaurant, it can welcome up to 1,100 clubbers for a variety of club nights featuring local, Swiss and international DJs. Top names such as Armand Van Helden, David Guetta and Eric Morillo have all played here. It's technically a members club, but members can bring guests and non-members can gain entry for a fee. On Sundays it's free to get in for gay night Gameboy.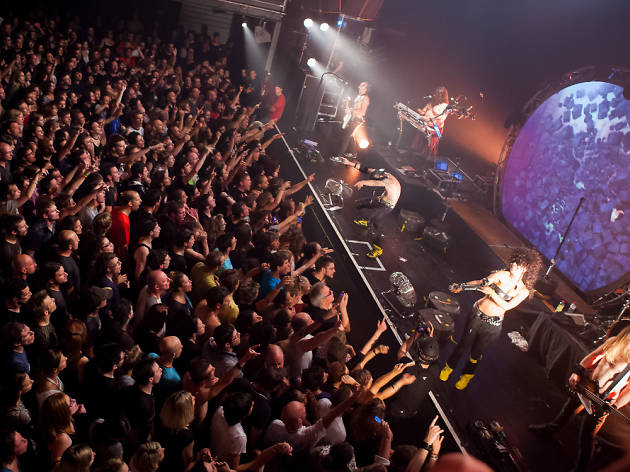 Lausanne's premier live music venue, Les Docks is the place to go to see edgy international bands in an intimate environment. Its 1,000 capacity room means you won't catch the biggest names on the planet, but it's so much the better for it. Instead, the eclectic programme includes young singer-songwriters on the up (think Miles Kane, Kate Nash, Switzerland's Bastian Baker), cult bands (Liam Gallagher's Beady Eye, electro duo Lamb, UK rockers Klaxons) and stellar names enjoying a late-career revival (Moby, Patti Smith, Morrissey). Tickets sell out quickly.