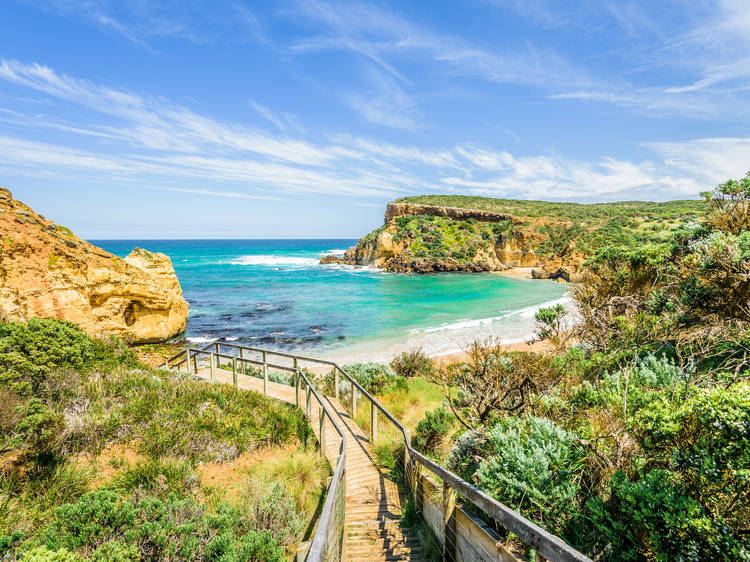 Photograph: Shutterstock
1.

The Great Ocean Walk, Australia
The trek: Located 124 miles southwest of Melbourne, where the Australian coast meets the wild Southern Ocean, The Great Ocean Walk obliges hikers with plenty of only-in-Australia sights and ranks as the continent's most superlative coastal foot path. Beginning at Apollo Bay, the 68-mile walk shadows the iconic Great Ocean Road, passes through Great Otway and Port Campbell national parks and concludes with an encore at the world-famous limestone stacks known as The Twelve Apostles.
The sights: Along the route, hikers will undoubtedly encounter koalas resting in eucalyptus treetops, wallabies scampering along the headlands, creek and river crossings, tall forests and deserted beaches with panoramic views from windswept headlands.
When to go: The Austral spring, autumn and summer are the preferred times to explore the trail. But the June-through-September winter season also has its incentives in the form of cool temperatures, wet, lush rain forests and being the best time to spot migrating humpback and southern right whales passing just offshore.
Trip tips: The Great Ocean Walk can be done independently over eight days, and walkers can stay at various dedicated campsites or find off-walk accommodations nearby. Great Ocean Walk tour operators will handle the logistics and lodging for those who lean toward a more organized experience.