The Hirosaki Cherry Blossom Festival takes places annually at Hirosaki Park in Aomori prefecture, located at the northern edge of Honshu, the most populous main island of Japan. This wildly popular festival has been going on for a century, with 2020 marking what would have been its 100-year celebration. Unfortunately, due to the Covid-19 coronavirus pandemic, this year's festivities have been cancelled.
The long-running festival is one of Japan's top spots to catch these fleeting blooms towards the end of spring – the weather is cooler up north, so the sakura don't usually reach full bloom until the end of April or the beginning of May.
Although the cancellation comes as unfortunate news, it's not a big surprise – many other parks and sakura festivals around Tokyo have also been temporarily closed or cancelled to encourage everyone to stay home. Some people are even opting for virtual cherry blossom viewing this year.
If you had your heart set on the Hirosaki Cherry Blossom Festival, we've gathered a few photos and videos from Hirosaki Park's previous sakura seasons so you can get a feel for the festival. Hopefully the event will be back next year, bigger and better.
The most recognisable part of the festival location, Hirosaki Castle sits at the centre of the park and is surrounded by a moat plus 2,600 cherry trees of 50 different varieties.
The moat surrounding the castle is particularly photogenic with all the fallen blossoms, creating a blanket of pink petals on the water.
Hirosaki Park is usually lit up in the evening, too. The pink blooms look sensational in the warm lighting.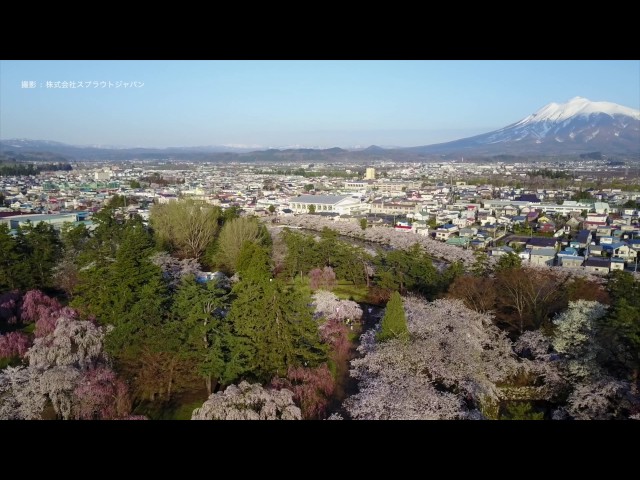 The park isn't large, but it has an incredible array of cherry blossoms.
This video, shot along the moat at night, is our favourite piece of footage from Hirosaki Cherry Blossom Festival.
Spend more Time In
Tune in to a podcast about Japan