There are lots of free things to do in Tokyo, but those 18 years old and under can add more free attractions to their itinerary. Starting Saturday March 18, youths no older than 18 years of age can enjoy free entry at some of the city's best museums and art galleries.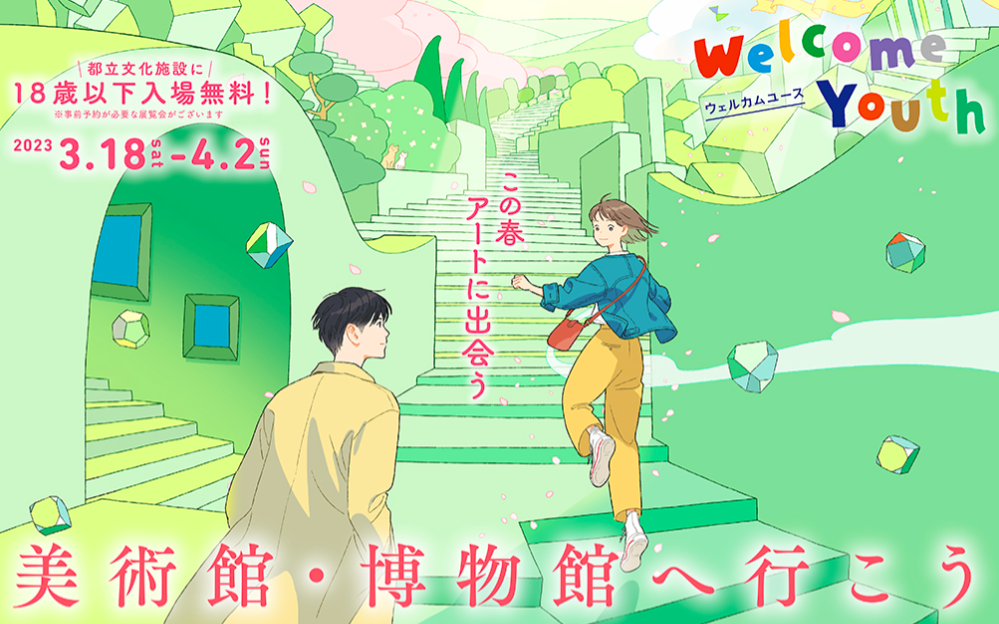 The Tokyo Metropolitan Foundation for History and Culture has created the Welcome Youth campaign to encourage the younger generation to explore the city's arts and culture scene without having to worry about money. So from March 18 to April 3, 18-year-olds and younger (born after April 2 2004) can enjoy the exhibitions at the following five art institutions for free:
Tokyo Metropolitan Teien Art Museum
Looking at Architecture 2023, Reminiscence of a House
Edo Tokyo Open Air Architectural Museum
Japanese "Tile": A Century of Beauty and Utility
Tokyo Photographic Art Museum
Yebisu International Festival Art & Alternative Visitons 2023
Domon Ken: A Pilgrimage to Ancient Temples
Museum of Contemporary Art Tokyo
Christian Dior Designer of Dreams
MOT Collection: Membrane of the Time
Waiting for the Wind Tokyo Contemporary Art Award 2021-2023 Exhibition
Tokyo Metropolitan Art Museum
Egon Schiele from the Collection of the Leopold Museum – Young Genius in Vienna 1900
Make sure to bring an ID to show proof of age. And if you have a smartphone, you can participate in a virtual stamp rally.
Check the Welcome Youth website for more information.
More news
Everything we know about Tokyo's new Harry Potter attraction opening in June 2023
Enjoy fun rides amid 500 blooming cherry blossom trees at Seibuen amusement park
This abandoned bathhouse in Saga is now a cool teamLab exhibition and modern spa
The Disney pop-up café in Omotesando serves monochromatic food inspired by classic films
Tokyo parks will allow cherry blossom picnics for the first time in four years
Want to be the first to know what's cool in Tokyo? Sign up to our newsletter for the latest updates from Tokyo and Japan.