​​In a unique culinary endeavour, Ethical Spirits and Krispy Kreme Japan have united to fight food waste. Their partnership has resulted in the creation of three inventive products: the Little Joy Spirits gin, the Craft Gin Upcycle Old Fashioned doughnut, and the Elegant Herb Milk mocktail. Each offering brings an innovative approach to sustainability, with interesting flavours and creative use of surplus materials.
At the forefront of this collaboration is the Little Joy Spirits gin, where surplus ingredients from Krispy Kreme's Original Glazed Doughnut production have been upcycled into a limited-edition gin. It's an unconventional blend offered at ¥3,300 per bottle, uniting a love for spirits and sweet treats.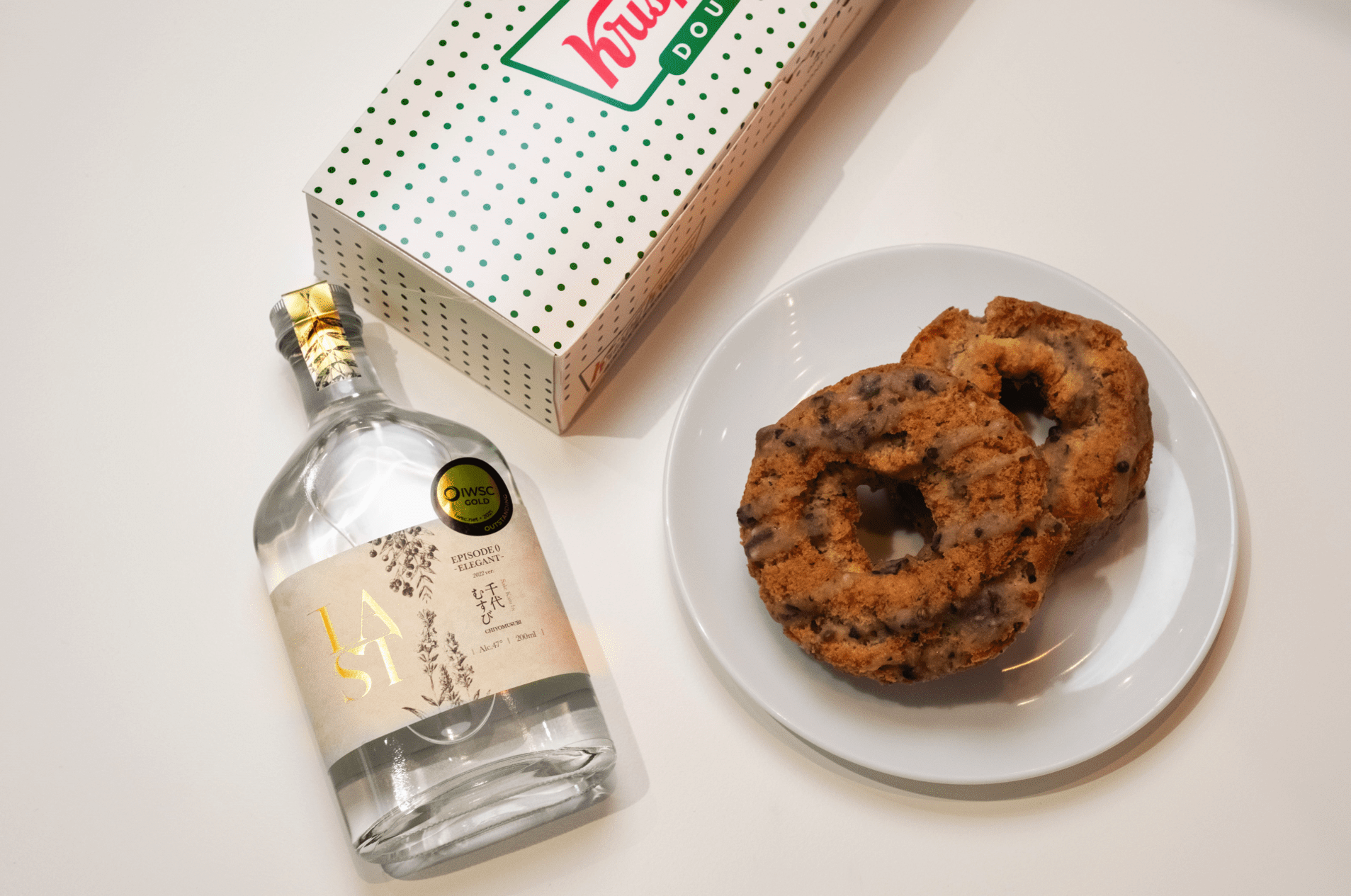 Meanwhile, the Craft Gin Upcycle Old Fashioned doughnut is a new creation from Krispy Kreme made with the by-product of Ethical Spirits' Last Elegant gin production. Infused with herbs and spices, including juniper berries, pink pepper, lavender, and cardamom, the limited-edition doughnut is an enticing blend of floral and spicy notes.
The third offering from this collaboration is the 'Elegant Herb Milk' mocktail. Designed for gin lovers who prefer a non-alcoholic twist, this milk-based drink leverages the non-alcoholic essence of Last Elegant gin with the zest of ginger and passionfruit.
The Little Joy Spirits gin launched on Ethical Spirits's online store on June 2 for ¥3,300 per bottle. As for the other two products, you can sample the Elegant Herb Milk mocktail (¥756 for takeout; ¥770 for dine-in) and Craft Gin Upcycle Old Fashioned doughnut (¥291 for takeout; ¥297 for dine-in) every Friday and Saturday until the end of June from 5pm to 9pm at the Tokyo International Forum branch of Krispy Kreme.
More from Time Out
Two Japanese airlines make the 2023 world's top ten airlines list
Survey cites top 10 inconveniences for tourists visiting Japan
3 Tokyo restaurants are in the World's 50 Best Restaurants 2023 list
Taylor Swift is bringing The Eras Tour to Tokyo in February 2024
A new teamLab exhibition is coming to Kanazawa Castle in autumn 2023
Want to be the first to know what's cool in Tokyo? Sign up to our newsletter for the latest updates from Tokyo and Japan.