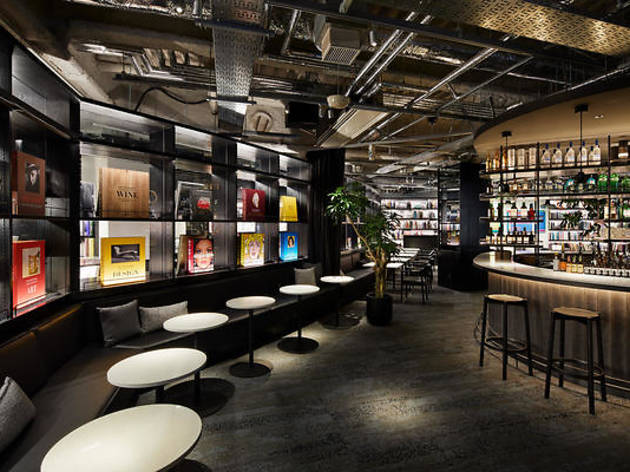 The Tsutaya bookshop in Roppongi is getting a bar
Posted: Friday March 6 2020, 5:12pm
Nothing brings quite as much pleasure in a big city as a coffee shop crossed with a bookstore. Roppongi's Tsutaya, with its in-store Starbucks, was particularly popular thanks to its long opening hours and prime location in one of Tokyo's busiest nightlife districts. The merging of two of the city's most popular chains seemed to cater to everyone in a different way, from early risers to night owls and bookworms to party animals. The store closed for renovation in January this year, but it's reopening on Saturday March 7 as Roppongi Tsutaya Shoten, and the renewal comes with an exciting new addition.
Roppongi Tsutaya Shoten will now feature a bar on its second floor, where literature lovers can flip through the pages of a new book with a glass of wine in hand – or something stronger, if you're channelling Hemingway. Tsutaya has also promised the addition of cushier sofas, so readers can settle in properly and get comfortable with a magazine and something to drink.
Unfortunately, eager readers won't be able to stay quite as long as they used to. Roppongi Tsutaya Shoten was a late-night haven for those in need of a caffeine kick to see them through the night, but when it reopens, the store will no longer operate until 4am. The renovated books and coffee section of the store will be open from 7am to 12midnight daily, whereas The Lounge – the part of the store with the bar – will be open from 10am to 12midnight.
On top of selling books and beverages, Tsutaya will also offer a selection of souvenirs and miscellaneous items based on the concept of 'taking Japan home', although if you ask us, the chance to enjoy a good book over a nightcap is the best thing to bring back from Tokyo.
Looking for some reading material? Try these books about Tokyo. Or for more places to enjoy a drink, check out our list of Tokyo's best bars.
Share the story