Japan is famous for its culture of gift giving – especially when it comes to food. After all, something as simple as a parfait can become a work of art here. But we have to admit that the new Art Beef Gallery gift set takes Instagrammable food to a whole new level.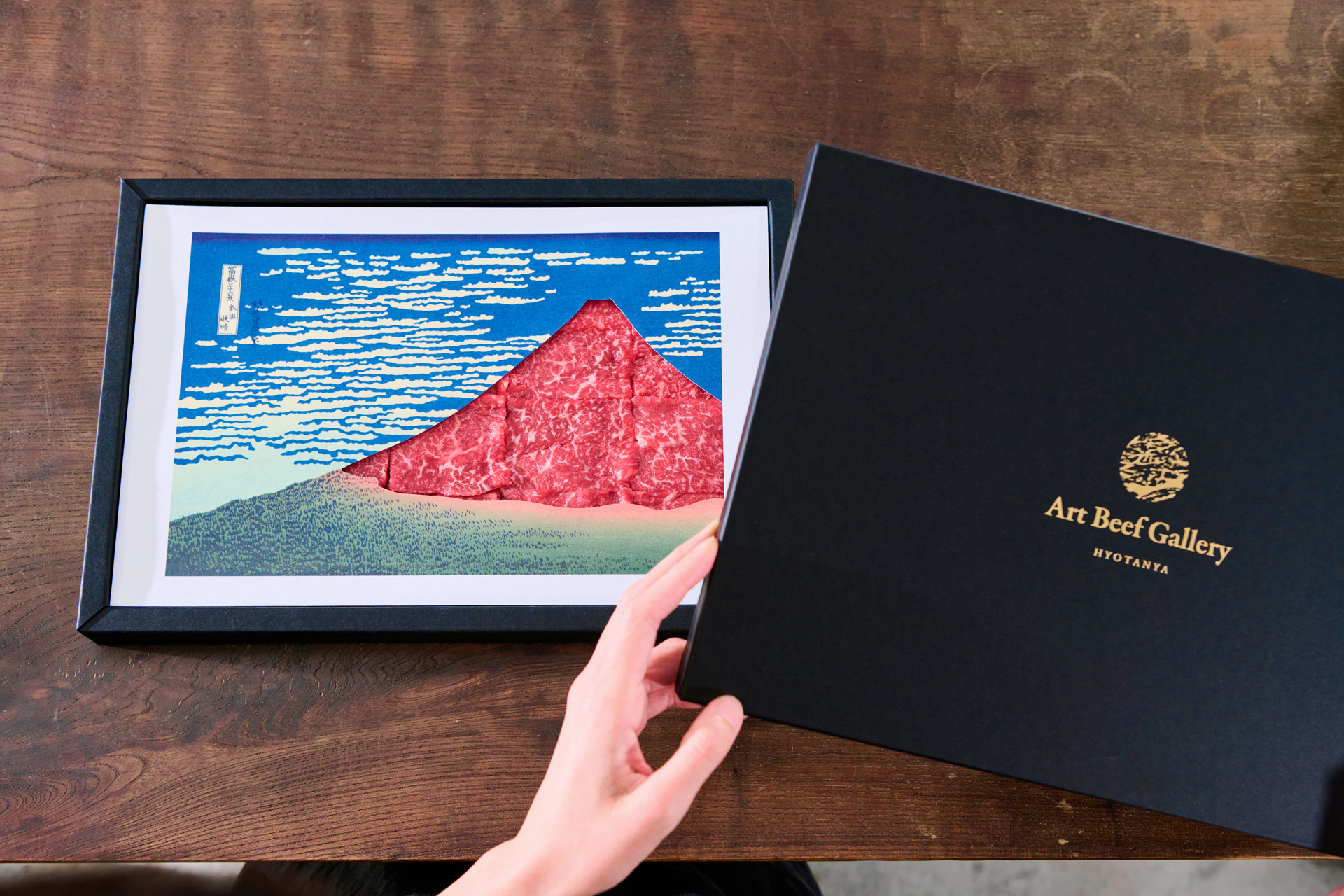 Hyotanya, the company behind several shabu shabu and sukiyaki restaurants nationwide, now offers a gift set of its premium A5 grade wagyu beef in the form of ukiyo-e woodblock prints. The Art Beef Gallery set comes with a whopping 700g of premium Omi beef from Shiga prefecture.
Each thin slice is neatly stacked in a rectangular box, with a print of Hokusai's iconic 'Fine Wind, Clear Morning' (aka Red Fuji from the Thirty-six Views of Mount Fuji series) placed on top. The red part of the mountain is cut out, allowing the beef below to become part of the artwork. The beautiful marbling on the beef translates very well into art.
Each set feeds three to four people and costs ¥13,000. Set to ship nationwide from July 10, the sets are limited to 1,000 boxes, so we'd recommend buying yours via the website before they're gone forever.
The company expects to add more artworks to the Art Beef Gallery series in the near future, too, including 'Kinryusan Temple at Asakusa' by Hiroshige and 'Sumida River' by Kiyochika Kobayashi. So keep an eye out if you miss out on the Hokusai version.
More news
Superman has a new manga about him enjoying Japanese food
Starbucks Japan is releasing 47 new Frappuccinos for its 25th anniversary
Tamagotchi is making a comeback – it's now a virtual pet smartwatch
This buffet at Keio Plaza Hotel offers 70 dishes and desserts made with Cup Noodles
Odaiba hot spring theme park Oedo Onsen Monogatari is closing down

Want to be the first to know what's cool in Tokyo? Sign up to our newsletter for the latest updates from Tokyo and Japan.