Today, it's overshadowed by the massive Tokyo Skytree, but Tokyo Tower was once the tallest building in the big city. They're both good choices if you're looking for the best views of Tokyo, but the red and white Eiffel Tower lookalike has plenty more to offer, even if you're not willing to march up the 600 steps to the top.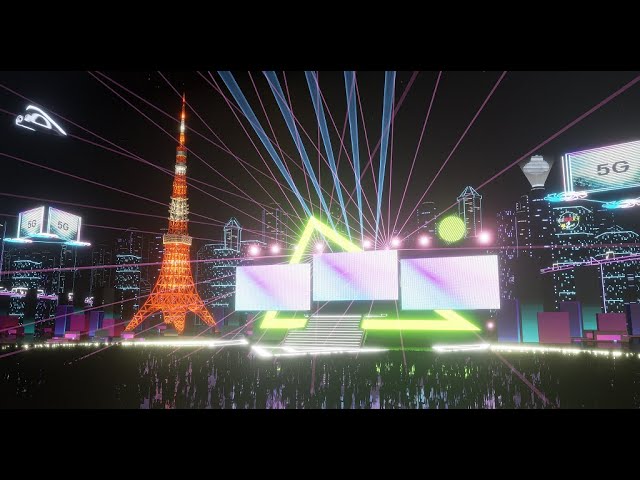 The landmark has launched Virtual Tokyo Tower, a VR tour that will let people visit the tower from the comfort of their own homes. However, this isn't your regular online view of a Tokyo landmark. The virtual tower is set 100 years in the future, so you'll be surrounded by a sci-fi world filled with rave lights and blinking skyscrapers.

Once you're inside Virtual Tokyo Tower, take the stairs or elevator to the main deck where you'll find a brand-new aquarium filled with glowing fish swimming through the air. You'll also get your first 360-degree view of a future Tokyo.

Of course, the best view is from the top deck. And just like the real Tokyo Tower, you'll have to pay extra (¥800) to go up there. You'll be treated to a panoramic view of Tokyo, complete with a Daft Punk-style light show that will take you forward and backward in time.
Virtual Tokyo Tower is also an ideal socially distanced hangout spot. You can enjoy a night out with friends – in avatar form – at the virtual tower as you participate in special events including food festivals, fashion shows and concerts. There's also an online store where you can purchase Virtual Tokyo Tower merch.
To visit, you'll need to download the free Cluster app on your computer or smartphone and create an account. If you own an Oculus or Vive VR headset, you can even hook it up for a more immersive experience.
Creating an account for Virtual Tokyo Tower is free, however you'll have to cough up ¥800 to access the top deck. Virtual Tokyo Tower went live on November 1. Check out the official website for more details.


More news
Look out for these new artworks at five subway stations along the Ginza line
Residents returning to Japan will be exempted from 14-day quarantine
The 5 best Japanese shows coming to Netflix in November 2020
Five films to catch at the 2020 Tokyo International Film Festival
This Osaka hotel has a train-themed suite with actual rail car seats and a driving simulator