We've all stood at the nose of a subway train and observed the driver at work as we travel through Tokyo's underground tunnels. However, the intermediary time of a metro driver's work day has largely remained a mystery. How do they get home after the last trains have stopped? What time do they have to wake up to manage the first run? What exactly does it take to operate the world's most punctual transport system? In this surprising video published on Tokyo Metro's Youtube channel, the train company reveals what it's like to work as a Tokyo Metro driver.
Filmed in August, the six-minute video was released in commemoration of the Namboku Line's 20th anniversary. It breaks down the full shift of a Namboku Line driver from the moment they arrive at the station to when they finally go home the next day.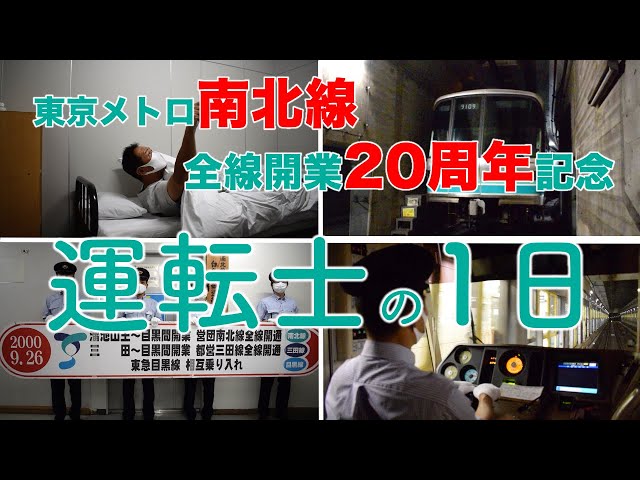 Tokyo Metro trains largely rely on an ATO (automatic train operation) system, but each train is still occupied by at least one driver to help ensure passenger safety and minimise risks. Though the system may be automated, the train company is uncompromisingly strict, demanding its drivers to stay alert and vigilant on the job.
For one, train drivers are forbidden from having a phone or cigarettes in their possession when they report for duty. They must also check information boards for weather updates and passenger feedback before boarding the driver's compartment for each run. In addition, they're also required to take an assessment at least once a month to ensure that their job skills and knowledge are at a consistent standard.
Think you work long hours? Here's what a typical day might look like if you were a metro driver:
1.40pm Arrive at work and get into uniform.

1.55pm Check the latest updates and jot down necessary information in your notebook.

2.01pm Re-calibrate your wrist watch so it's synchronised to the exact second.

2.05pm Take a sobriety test.

2.08pm Report your health status and the day's itinerary to your supervisor. Practice making announcements to passengers in English.

2.20pm Take inventory of the items in your crew bag: manuals, emergency lights, rope, a signal light, a portable toilet and first aid supplies.

2.31pm Have a quick break before your shift.

3.03pm Report to your supervisor to confirm the first train you'll be operating for your shift.

3.12pm Ride the train to its final destination before returning to the first station.

5.24pm Report the completion of your first run to your supervisor.

5.58pm Report the beginning of your next run to your supervisor.

7.44pm Report the completion of your second run to your supervisor

7.40pm Have dinner.

8.53pm Report to your supervisor for the third run.

10.59pm Report the completion of your third run to your supervisor.

11.10pm Take a shower in the facility reserved for station employees.

11.31pm Set two alarms and take a nap at the station.

4.26am Wake up.

4.43am Report for the operation of the day's first train after taking another sobriety test.

4.50am Power up the train for its first run of the day.

4.57am Check the train's engine and report the condition of the train to the control centre.

6.31am Report the completion of your first run to your supervisor.

6.35am Have breakfast.

7.04am Report to your supervisor for the last run of your shift.

9.21am Get changed and go home.
Phew.
We presume the drivers don't repeat this routine five straight days a week, though the video doesn't specify how often one might observe this shift. One thing's for sure: we've got a newfound appreciation for Tokyo's finest.
More from Time Out
Take our Time Out Index survey and tell us what life is like in Tokyo
Watch this relaxing 8K aerial video on YouTube if you miss Japan
This free virtual 3D model lets you explore Tokyo's 23 central wards

The new Toggle Hotel in Suidobashi is all about colour blocking
Kyoto Station could be getting its very own teamLab venue
Want to be the first to know what's cool in Tokyo? Sign up to our newsletter for the latest updates from Tokyo and Japan.