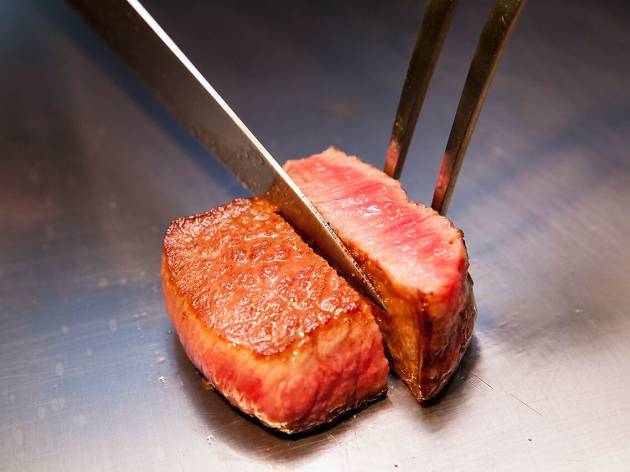 Where to eat wagyu in Tokyo
Brush up on your wagyu knowledge, then take a taste tour around Tokyo
So you think wagyu cows are relaxing in the field, getting massages, drinking beer and listening to classical music? This is just one of the myths of wagyu. Although the cows are treated a little like family, there's more to the beef's superior quality than just the cattles' lifestyle. To find out exactly why the meat is so revered, read our interview below with Park Hyatt Tokyo chef Federico Heinzmann and 'wagyu master' Hisato Hamada. Then scroll down for our roundup of some of the best Tokyo restaurants for tasting the beef – whether you want to try it in the form of shabu shabu, yakiniku, steak, hamburger, sushi or even small intestines. Because, yes, you can eat every single part of a wagyu cow. Bon appetit!
'Wagyu is not just meat. It's all the things that Japan is famous for... Tradition and quality and conviction,' says chef Federico Heinzmann. Originally from Argentina, he runs the show at Park Hyatt Tokyo's New York Grill, where he creates mouth-watering wagyu dishes for guests. We met up with him at the restaurant, where we were also joined by 'wagyu master' Hisato Hamada, founder of Viva Japan, a company that's working to assist Japanese farmers to export wagyu around the world.
Shabu shabu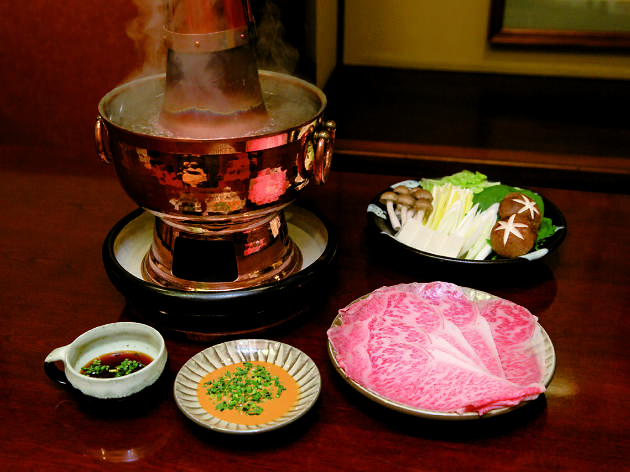 Every visitor to Japan should try shabu shabu, and what better way to experience this DIY dinner than with the finest quality wagyu beef. The attention to detail and fine service at Zakuro make it the perfect spot to gather some friends and enjoy a night of high quality dining in a traditional setting. With exquisite wooden-clad private dining rooms available, you can really settle in for the night. But what really sets Zakuro apart from other shabu shabu restaurants is the ornate copper nabe (cooking pots), which have been especially handcrafted for the restaurant and in use for over 60 years.
Sukiyaki
Sukiyaki is often eaten at home in Japan, but tasting this simmered cuisine at a specialty restaurant is another experience altogether. Established 120 years ago, Ningyocho Imahan is a butchery and restaurant in one, so you know you'll be getting only the finest quality meat here. As you take up your seat in the elegant space, your waitron will pour a small amount of a sweet soy-based soup into the heated iron pot on your table, before simmering the beautifully marbled beef in the sauce. When the beef is medium rare, it's taken out of the pot and dipped into a beaten egg. Trust us, you won't have any qualms about eating raw eg after you've tasted it like this.
Teppanyaki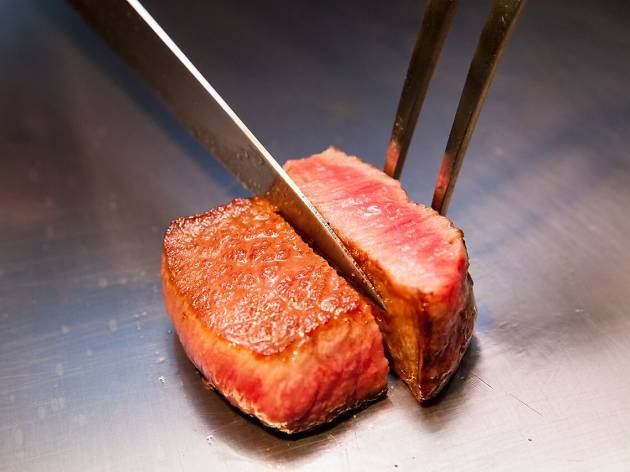 Superior quality wagyu is a priority at Teppanyaki Grow. You will only be served the highest grade A5 beef here and you can guarantee it will be cooked to perfection. Every dish is prepared on the teppanyaki iron hot plate and the best seat in the house is at the bar in front of the action. To appreciate the full wagyu experience you can choose from five set course menus.
Steak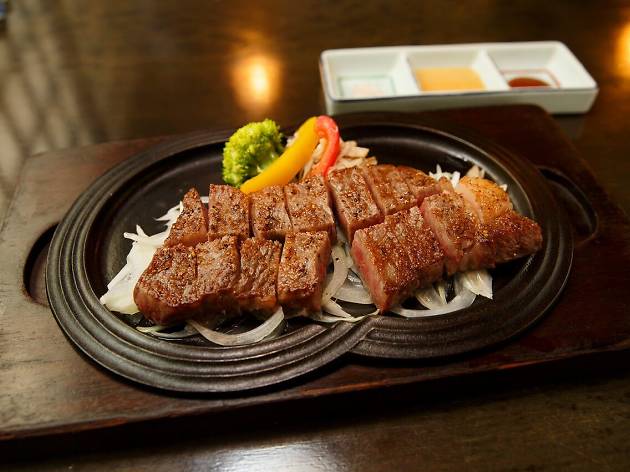 Even though it's located in expensive Ginza, this Kobe beef speciality restaurant is reasonably priced. The interior features wood that's been recycled from an old house that once belonged to a village headman, and has a sunken hearth to create an authentic local setting. Order the delicious marbled sirloin steak for its juicy flavour, with slithers of fat that melt away as you take a bite. The beef is tasty enough on its own, but you can add a dash of Japanese aioli sauce or soy sauce paste for a twist – they won't overwhelm the meat's flavour.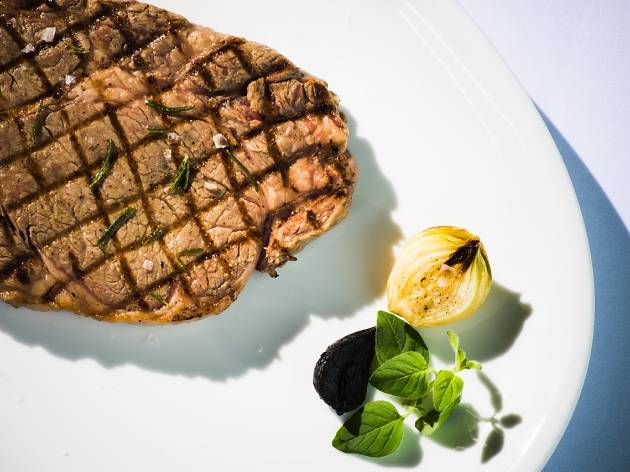 There's far more to Park Hyatt Tokyo than just being the famous setting from 'Lost in Translation'. Their New York Grill restaurant, for one. Head chef Federico Heinzmann serves up some of the best wagyu steaks in the city. The open kitchen is always bustling and stocked with Hokkaido, Saga or Sendai beef, as well as 'Kobe Beef of the Day'. The prices are slightly inflated, but you'll be treated to some of the highest class of food and service that Tokyo has to offer.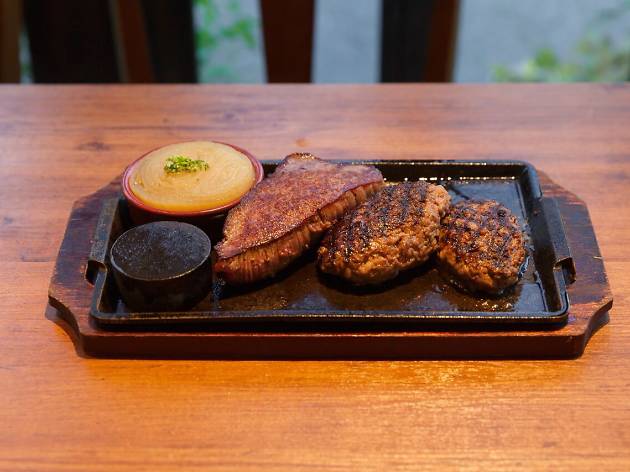 Wagyu beef is expensive, but if you want to get more for your money then Pound-Ya in Roppongi is your best bet. They serve A3-A5 grade Japanese Black beef akami (lean meat) from ¥10 per gram, and shimofuri (marbled meat) from ¥18 per gram. One of their most popular dishes is the Combo Steak that lets you devour both an akami steak and a hamburg (bun-free burger) for maximum wagyu intake.
Burger & hamburgs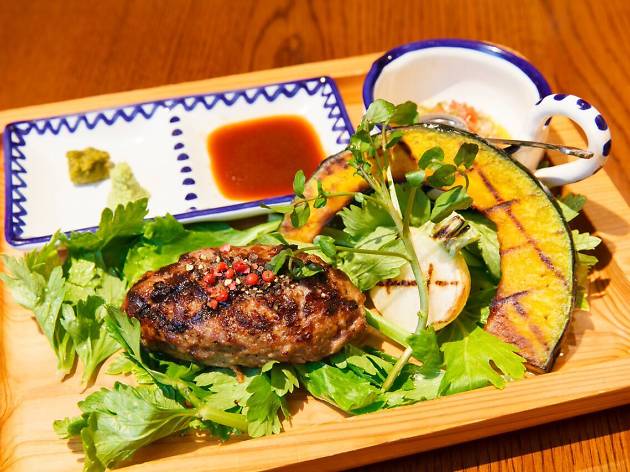 Run by the folks behind Tsubame Grill, one of Ginza's classic meat eateries, Tsubameya offers superb wagyu beef at surprisingly reasonable prices. Their 100% Kumamoto Akaushi (red beef) wagyu hamburg (¥2,200 or ¥1,580 with rice, salad and soup) is blended with plenty of spices and finished with rock salt and pink and black pepper. By coarse grinding the meat, they allow the excess fat to fall away, leaving you with just the purest umami flavour. Try it with wasabi or yuzu kosho (a citrus chilli pepper paste), or simply with a bit of salsa on top.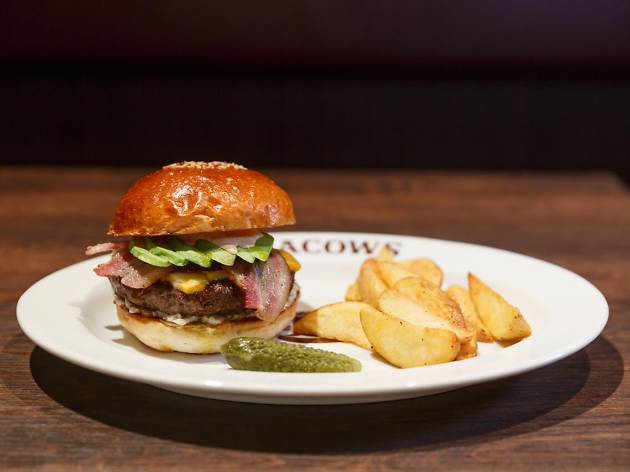 This speciality hamburger restaurant is run by renowned supplier Yazawa Meat. Go for gold with the star of the show, the kuroge wagyu (Japanese black) beef patty which combines a rough ground texture with an impeccably juicy bite. Bread masters Maison Kaiser collaborate with Blacows on the buns, which sandwich square-cut onions and a healthy portion of tomato-based BBQ sauce for a burger that gets better with each bite.
Taco rice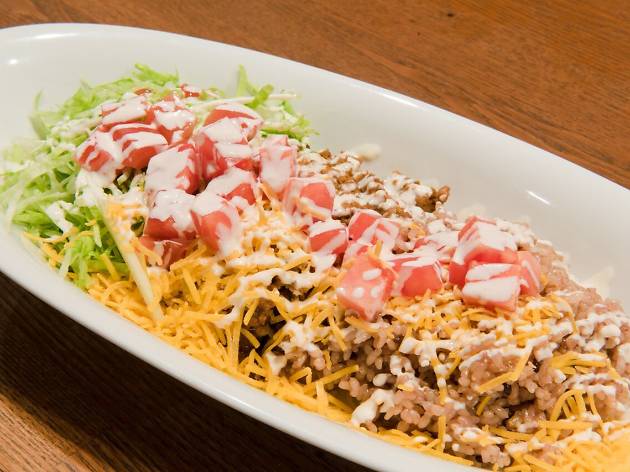 This restaurant serves Okinawan and Chinese food but the taco rice they offer features Ozaki wagyu beef. Remarkably, even though Ozaki beef is rare, the restaurant has managed to keep the price down to below ¥1,000. Wine aficionados will appreciate the bottle-lined wall – the prices are written on the bottles so it's easy to choose and order one that fits your budget. The restaurant stays open until 3am, so it's ideal for ending off a night on the town.
Wagyu sushi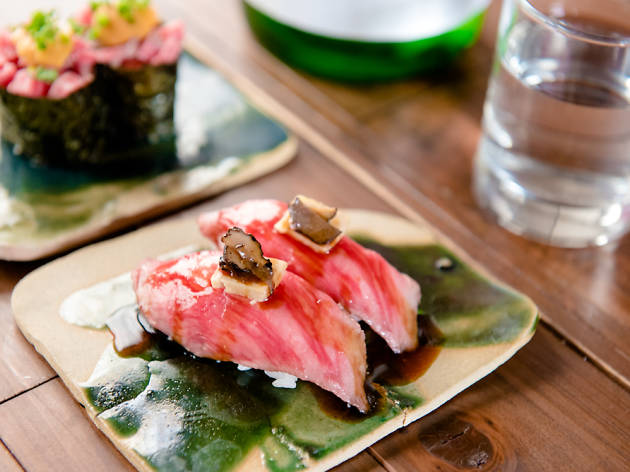 A perfect partner for some fine wine or quality nihonshu, the fusion delicacy of meat sushi has been rising up the popularity charts of many a Tokyo gourmand in recent years. Here, we've picked out five representative restaurants specialising in sushi made with wagyu, from an upscale joint serving nigiri topped with luxurious Yonezawa beef to a casual izakaya where kuroge wagyu nigiri can be had for as low as ¥300. At a time when friends of uncooked meat have been hit with regulations prohibiting the serving of raw beef liver (in 2012) and raw pork liver (2015), these meat sushi joints offer the chance to sample raw, or almost raw, wagyu in safe, clean and comfortable surroundings.
Gyu-nabe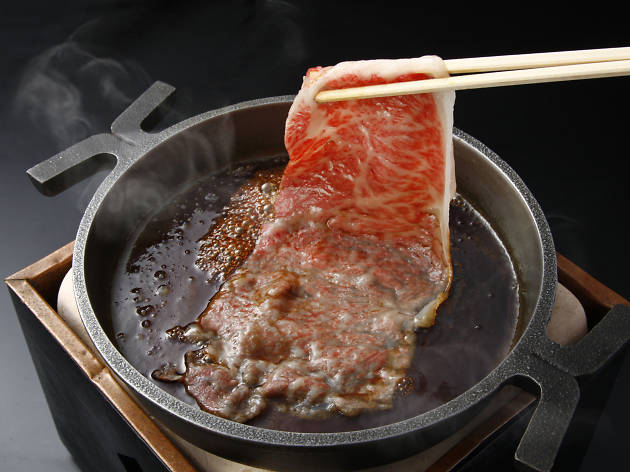 Yokohama was the first area in Japan to begin experimenting with beef after the Meiji Restoration in 1868. One of the most popular dishes that emerged was gyu-nabe (literally 'beef hot pot'). It features beef slices cooked with several other ingredients such as negi (Japanese leeks) and shiitake mushrooms in a soy sauce-based soup. Today in Yokohama, you'll find several restaurants that have been serving gyu-nabe since the Meiji era, with one of the most popular being Janomeya. Established in 1893, this restaurant offers gyu-nabe and shabu-shabu (thinly sliced beef boiled in a broth), both featuring authentic A5 ranked domestic black-haired wagyu.