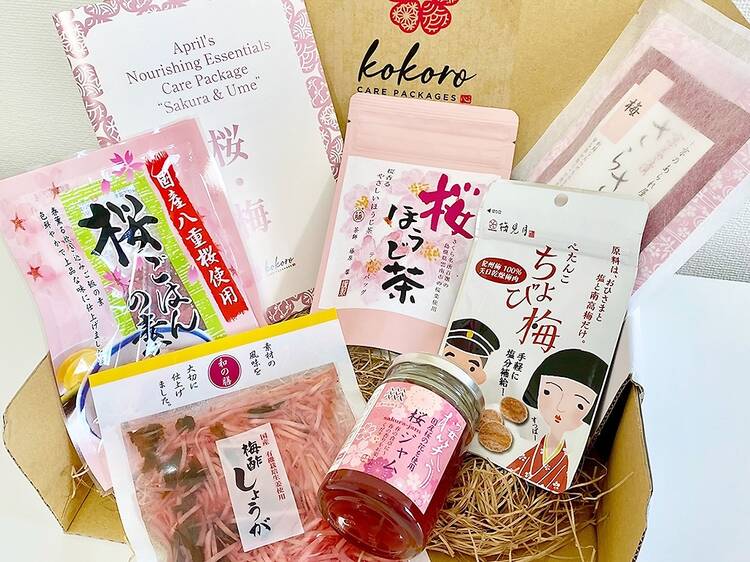 Photo: Tabea Greuner
Food: Kokoro Care Packages
What is it: Kokoro Care Packages is a subscription box service that brings you a variety of Japanese food from local producers across Japan, such as snacks, seasonings, teas, sauces, soups, noodles and more. Each month there's a different theme, focusing on the traditions of Japanese cuisine.
What you'll get: Each Kokoro Care Package contains about five Japanese food items. The box pictured above, for example, is themed around cherry blossoms and ume (plum) and includes three sakura-flavoured items – jam, hojicha (roasted green tea) and rice seasoning – as well as dried plums, seasoning for ochazuke (rice with tea poured on it) with pickled plum, and pickled ginger made with ume vinegar.
The box comes with an English brochure that describes each food and the story behind its producers, plus you'll find tips and recipes on how to use the items. On top of that, the leaflet features a map of Japan showing where each product is made.
How much: You can pick from four different plans:
- Month-to-month subscription: USD$55 per month (within Japan USD$50)
- Three-month subscription: USD$160 (USD$145)
- Six-month subscription: USD$310 (USD$280)
- 12-month subscription: USD$600 (USD$545)
Your subscription will automatically renew, so make sure to cancel promptly if you want to stop receiving boxes. Each plan is also available as a gift option, which doesn't automatically renew after your last package has arrived.
Frequency: monthly (There's also a seasonal subscription box delivered once every three months from USD$85.)
Shipping: Tracked shipping for customers in the US, Canada, Australia and Europe is USD$5 per box. FREE shipping within Japan and other parts of Asia. For more details, see here.