Heads up! We're working hard to be accurate – but these are unusual times, so please always check before heading out.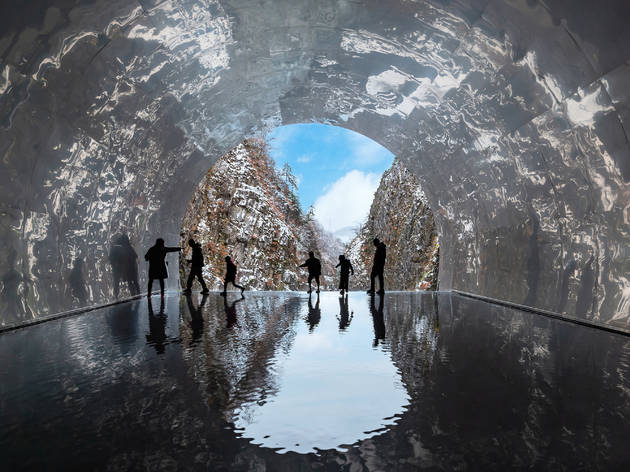 1/8
Photo: ikeda_a / PIXTA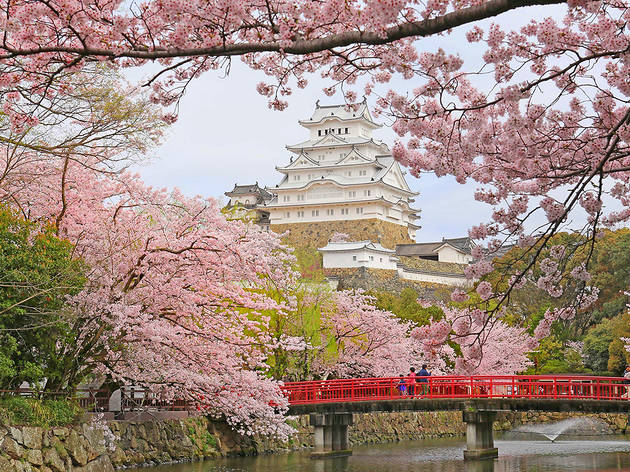 2/8
Photo: Himeji City
Himeji Castle during cherry blossom season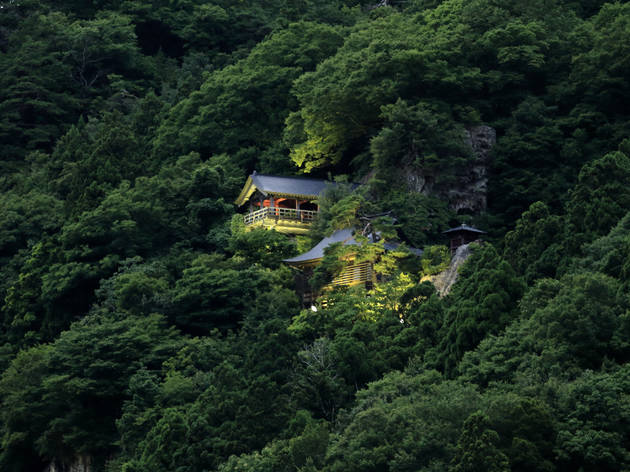 3/8
Photo: Ziggy Mars/Shutterstock
Yamadera Temple, Yamagata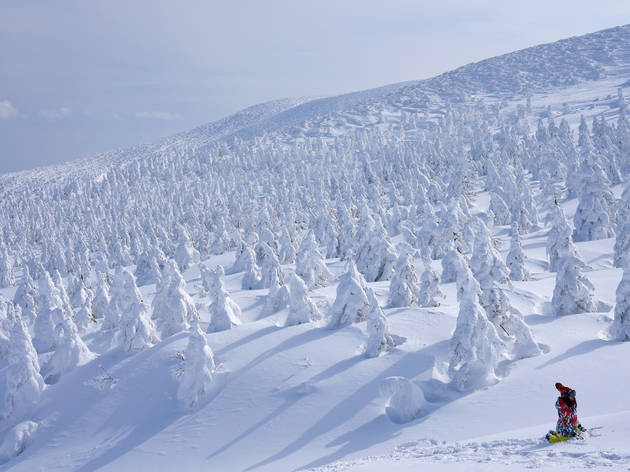 4/8
Photo: Kaedeenari/Dreamstime
Zao snow monsters in Yamagata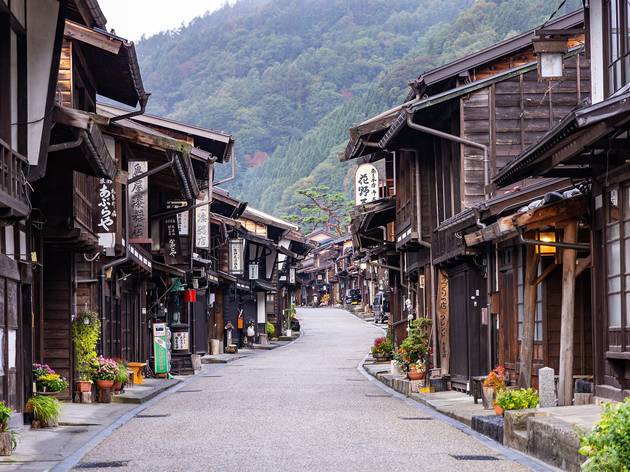 5/8
Photo: Varaporn Chaisin/Dreamstime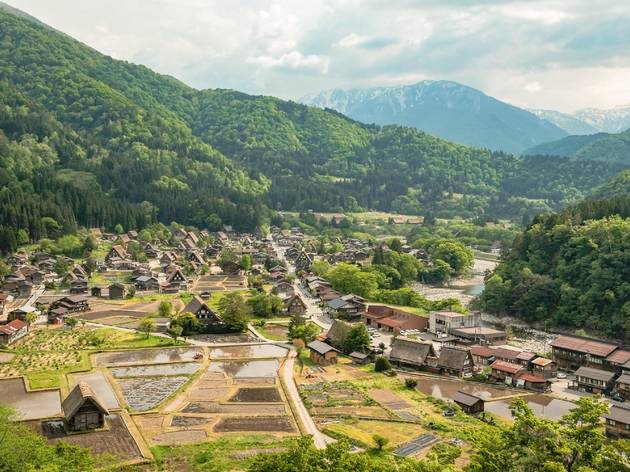 6/8
Photo: Rap Dela Rea/Unsplash
Shirakawa-go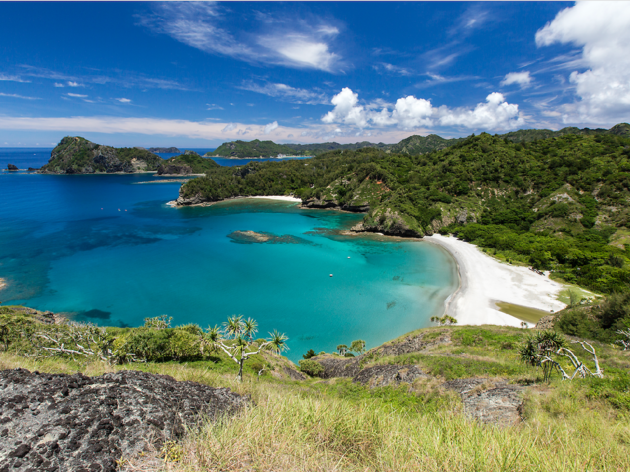 7/8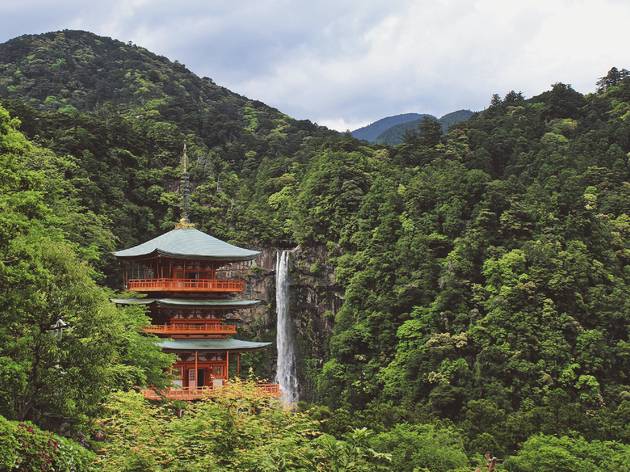 8/8
Photo: Tom Vining/Unsplash
20 of the most beautiful places in Japan
Aside from culture and tradition, Japan also offers some of the world's most spectacular landscapes. Here's your Japan bucket list
It's no secret that Japan has a stunning amount of beauty. From the lavender fields of Furano in Hokkaido down to the crystal clear beaches of Okinawa, this small country is filled with gorgeous nature, contemporary museums, mountainside temples and of course, those pretty cherry blossoms in spring.
Although there are currently travel restrictions on non-citizens entering Japan, the country is working towards opening up its borders. More recently, it's been reported that Japan could reopen to all international tourists sometime in spring this year. In the meantime, here are some travel inspo for you to add to your next Japan adventure.
Recommended: The most beautiful festivals in Japan
Away we go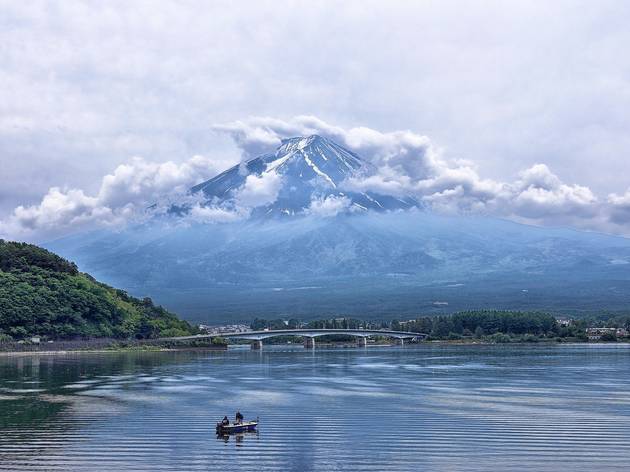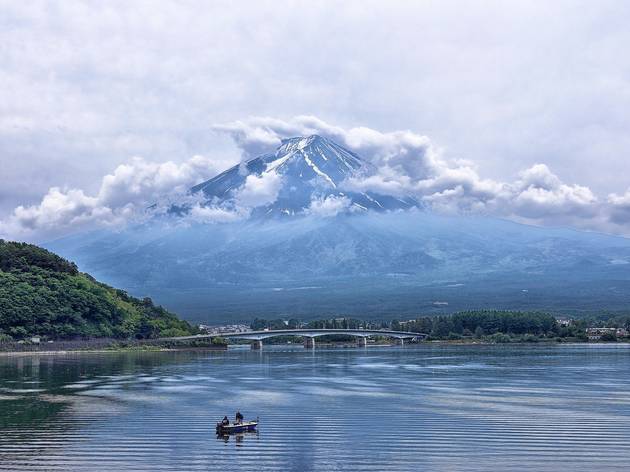 Photo: Armin Forster/Pixabay
Japan's crown jewel and arguably the most beautiful place in the country, Mt Fuji is a must for any visitor. There are plenty of places to see the grand mountain, but the views from Arakurayama Sengen Park, which boasts the majestic Chureito Pagoda, and from Lake Kawaguchi best capture its beauty.
Lake Kawaguchi, one of the Fuji Five Lakes, has glorious views of Mt Fuji, especially in winter when the sky is mostly clear and you can see the volcano's reflection in the water. Having said that, the near-perfect symmetry of Mt Fuji is a spectacular sight year-round, regardless of where you see it from.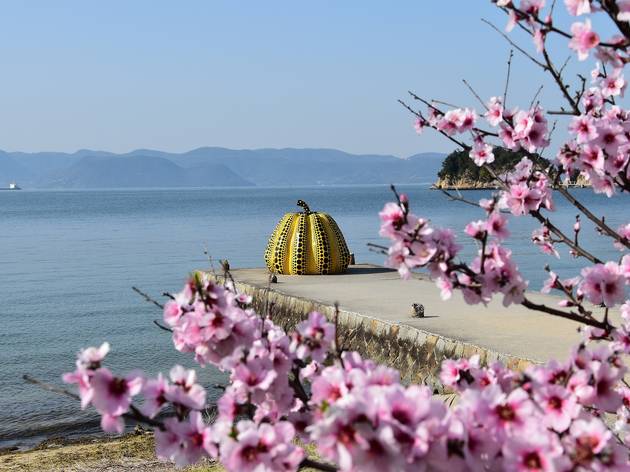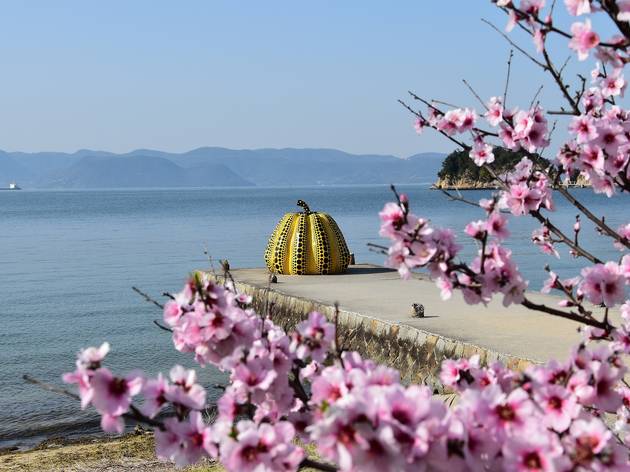 Photo: T Thomas/Pixabay
Off the coast of Kanagawa prefecture, in between Okayama and Shikoku Island, the Seto Inland Sea is home to a row of small islands dedicated to contemporary art. The six 'art islands' are Teshima, Naoshima, Inujima, Megijima, Ogijima and Shodoshima – but if you're short of time, Naoshima is the pick of the bunch.
A trio of Tadao Ando-designed museums on Naoshima – Chichu Art Museum, Benesse House Museum and Lee Ufan Museum – were built in an industrial style, making them surreal sights in the midst of nature. Meanwhile, the Art House Project, which showcases Japanese and international artworks in refurbished traditional homes, preserves the charmingly rural and old-school vibe of the island.
No trip to Naoshima is complete without a photo in front of Yayoi Kusama's 'Pumpkin', which sits against the backdrop of a clear blue sky and sea. This beautifully framed sight has become an endearing image of the 'art islands'.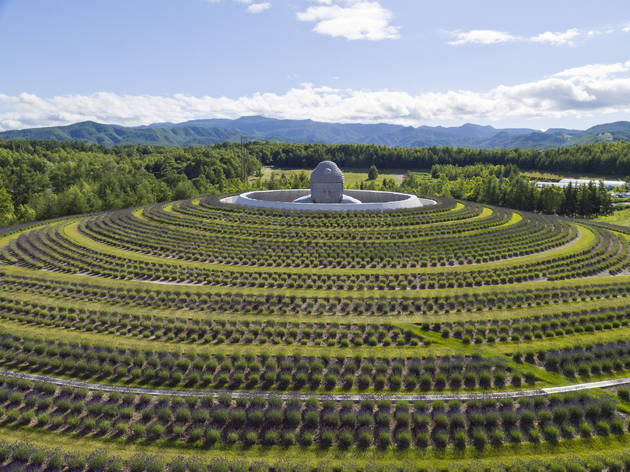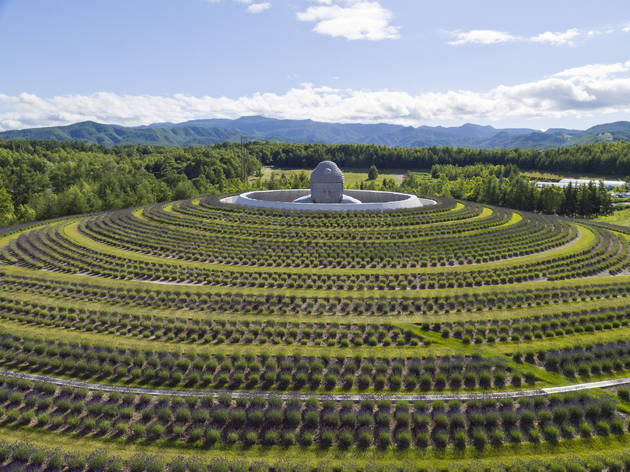 Photo: Makomanai Takino Cemetery
Hill of the Buddha at Makomanai Takino Cemetery, Hokkaido
Leave it to starchitect Tadao Ando to create beauty out of loss and grieving. Ando designed Sapporo's circular Makomanai Takino Cemetery around a giant 13.5m-tall statue of the Buddha, letting his head peak out from the top of an artificial hill. The industrial concrete, Ando's signature material, contrasts with lavender surrounding the cemetery, and covers the Buddha's body. The only way to see the full sculpture is by entering the hollow 40 metre 'hill' through a dark tunnel. When you reach the (natural) light at the end of the tunnel, you'll see the ever graceful Buddha sitting before you. Jaw, dropped.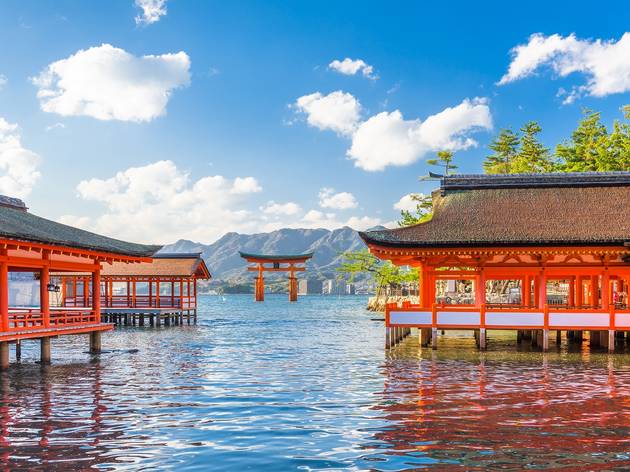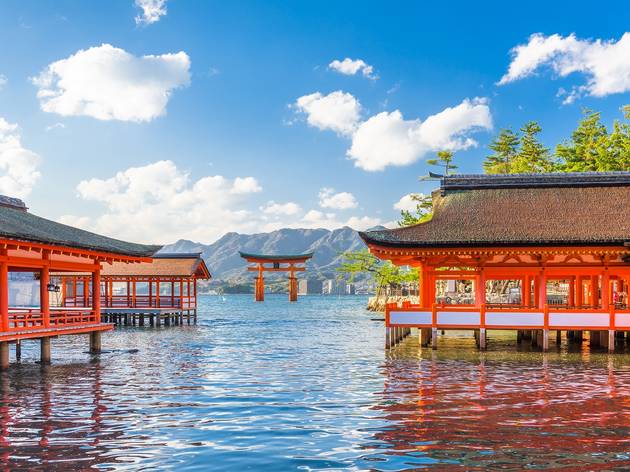 Photo: Sean Pavone/Dreamstime
Itsukushima Shrine on Miyajima Island, Hiroshima
This small island off the coast of Hiroshima is known for its deer, bright autumn leaves and Itsukushima Shrine, a large Shinto structure with a grand vermillion torii gate standing in the ocean. Spend the whole day on the island to see the torii gate in both high and low tides: at high tide, the entire shrine seems to magically float in the blue water, while at low tide, you can walk all the way up to the gate.
Long established as a place of Buddhist and Shinto worship, Itsukushima Shrine was founded in the year 593, and it is believed Miyajima is where the gods live. The island feels like a slice of paradise; you can spend the day frolicking with deer, hiking through maple leaves in the mountains or just sitting on the shore and watching the sun set behind the torii gate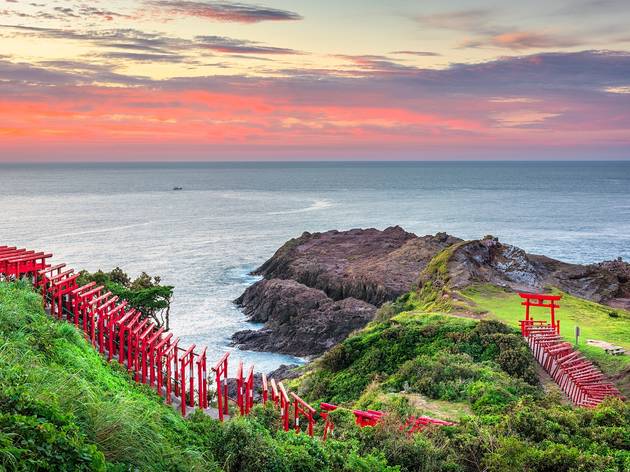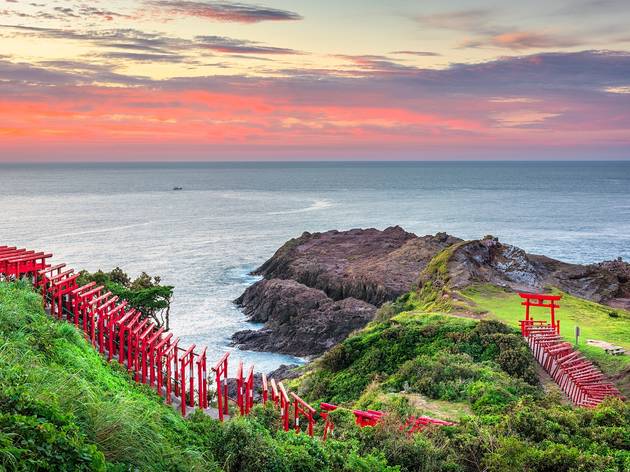 Photo: Sean Pavone/Dreamstime
Motonosumi Shrine, Yamaguchi
Tunnels of vermilion torii gates are a common sight in Japan. There's Fushimi Inari in Kyoto and Nezu Shrine in Tokyo, but Motonosumi Shrine in the seaside town of Nagato is the most picturesque. A relatively new shrine, built in 1955, it consists of 123 torii gates that lead down dramatic cliffs, with spectacular ocean views to boot. Unlike most shrines where you just toss a coin into an offering box, here you'll have to shoot your donation into a box at the top of the final torii gate, which stands six metres tall. If you make it, your wish might just come true.
Note: the coin box has been temporarily removed due to Covid-19.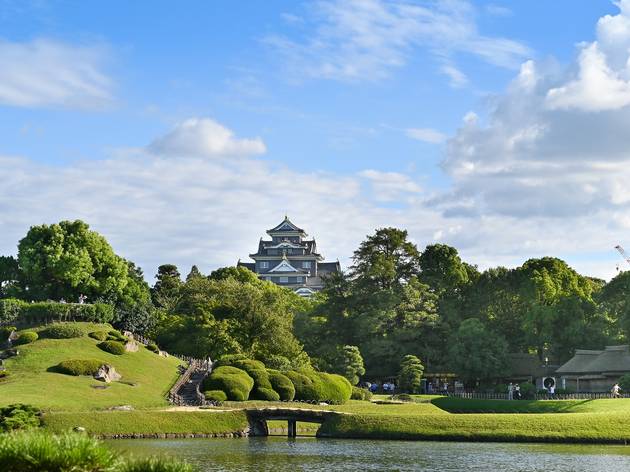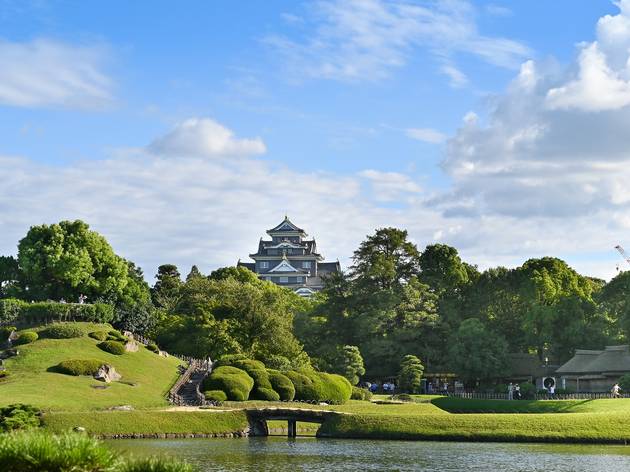 Photo: Niradj/Dreamstime
Korakuen in Okayama, along with Kenrokuen in Kanazawa and Kairakuen in Mito, is one of the Three Great Gardens of Japan, a traditional honour it has held since the 19th century. The rolling landscape, covering approximately 144,000 square metres, is a fine example of traditional Edo-period (1603-1868) beauty. While the garden was damaged by war and natural distasters in the past, it has consistently been restored based on historcal illustrated maps. As one of the larger landscape gardens in Japan, Korakuen is sprawling enough to boast large lawns, ponds, plum and cherry trees and Japanese cranes. The garden is incredibly picturesque in all four seasons, thanks to a well-curated selection of plants to make sure there are always flowers year-round. And that grand view of Okayama Castle in the background is the icing on the cake.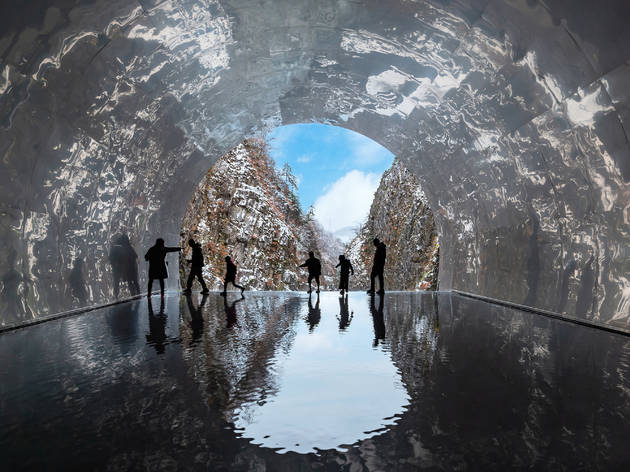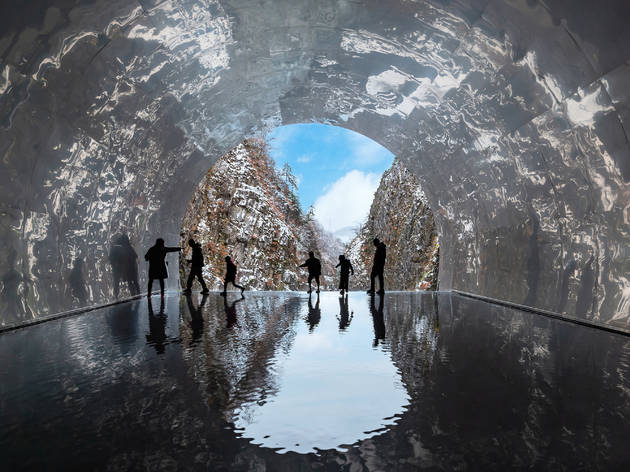 Photo: ikeda_a / PIXTA
Kiyotsu Gorge and the Tunnel of Light, Niigata prefecture
Niigata prefecture's Kiyotsu Gorge is a massive natural marvel with volcanic columns, called columnar jointing, overlooking a dramatic river view. After the walking trails were deemed unsafe and closed to the public in 1988, Ma Yansong and the MAD Architects team built the Tunnel of Light, a 750m-long tunnel leading out to the gorge, so visitors can safely view its panoramic beauty.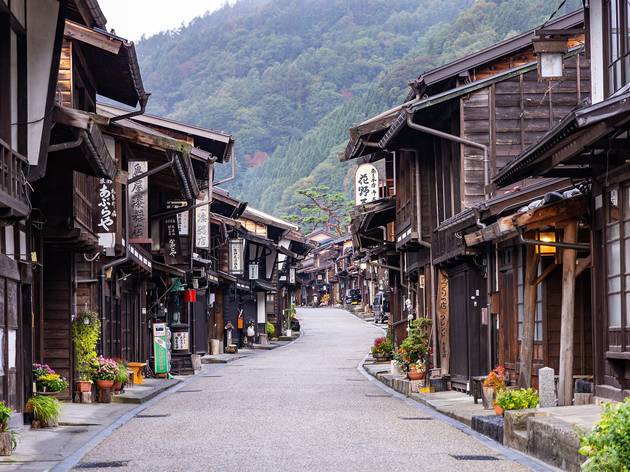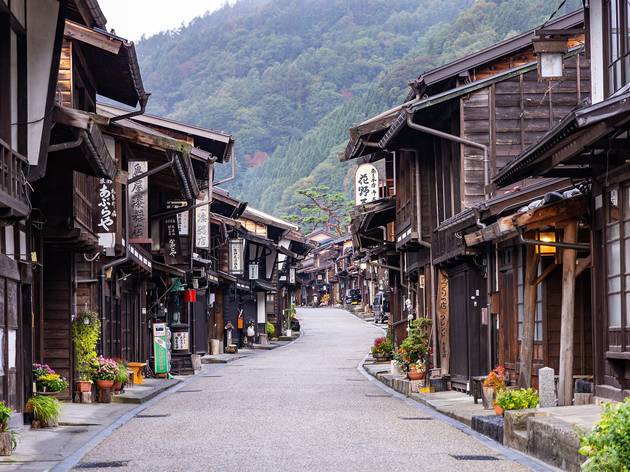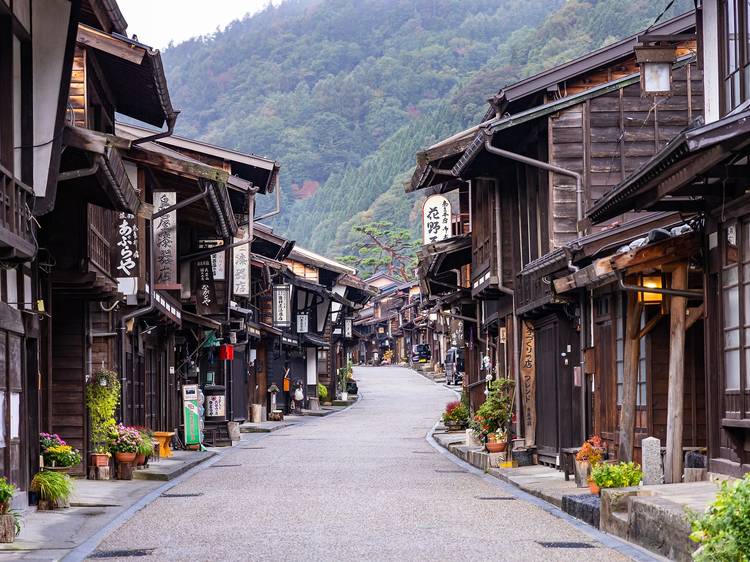 Photo: Varaporn Chaisin/Dreamstime
Along the historic Nakasendo, the mountainous route which connected old Edo (present-day Tokyo) with Kyoto, is Narai, a post town in the picturesque Kiso Valley. This is one of the best places to catch a glimpse of Edo-period (1603-1868) life, as most of this then-prosperous town is so well-preserved that its wooden buildings stretch for a 1km block. Many of the heritage houses have been adapted into restaurants, minshuku (Japanese bed and breakfast) and stores while two former residences – Nakamura Residence and Kamidonya Shiryokan – are preserved as they were back in the day. Narai is incredibly photogenic in autumn, when bright foliage lights up the surrounding Kiso mountain range.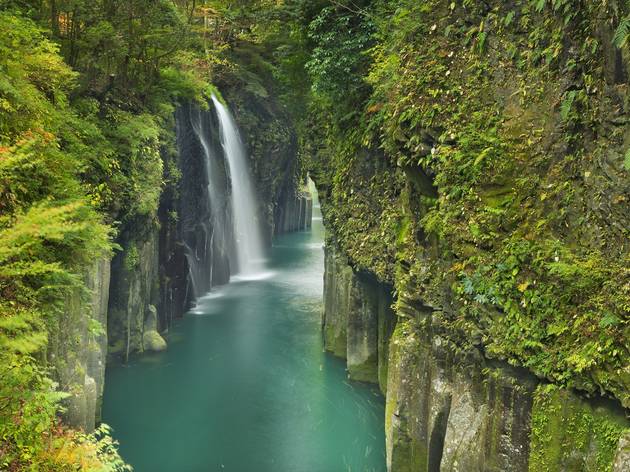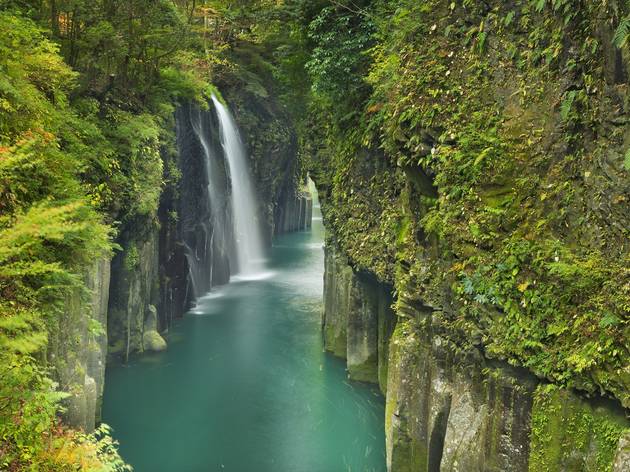 Photo: Sara Winter/Dreamstime
Takachiho Gorge, Miyazaki
The breathtaking Takachiho Gorge in Miyazaki is best seen from the water – you can rent a small rowing boat and take a romantic cruise down the calm Gokase River. This is no paddle in the park, though: the gorge is filled with natural wonder and you'll be surrounded by lush maple trees and the dramatic 17m-tall Minai-no-taki waterfall. Prefer to stay on dry land? The gorge is still beautiful from above – hikers can walk along the 1km Takachiho Promenade for a landscape view, best enjoyed during the summer illumination or the vermillion autumn foliage.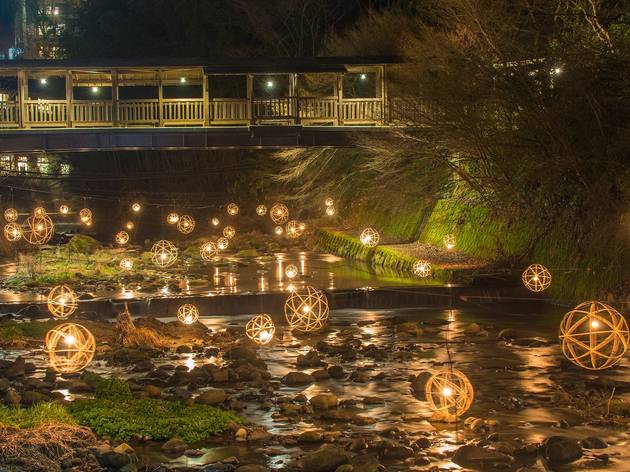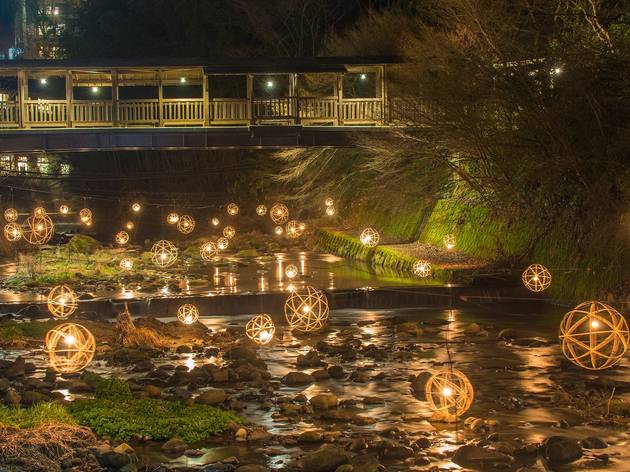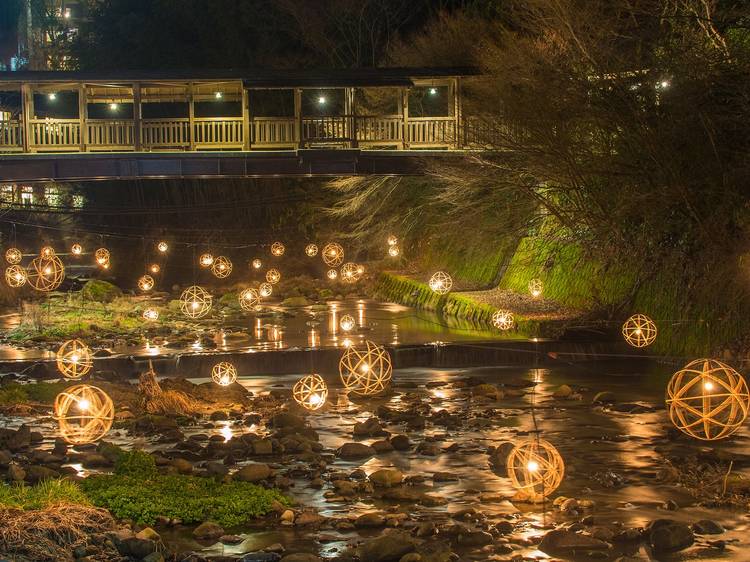 Photo: Takafumi Himeno/Dreamstime
There are many hot spring towns in Kyushu but only Kurokawa Onsen makes you feel like you've stepped back in time. You won't find large hotels or tacky advertising hoardings here; the town has retained its original atmosphere with wooden ryokan in the valley around Mt Aso.
Unlike flashy onsen towns filled with tour buses and visitor attractions, the focus at Kurokawa Onsen is simply the baths. You can enjoy nature while soaking in the steaming water at the outdoor baths, called rotenburo. Or hop through three different public and private onsen with the wooden 'Rotemburo Meguri' pass for ¥1,300. The town is best explored in a yukata after sunset, once all the day bathers have left, especially during the winter bamboo illumination from December to April.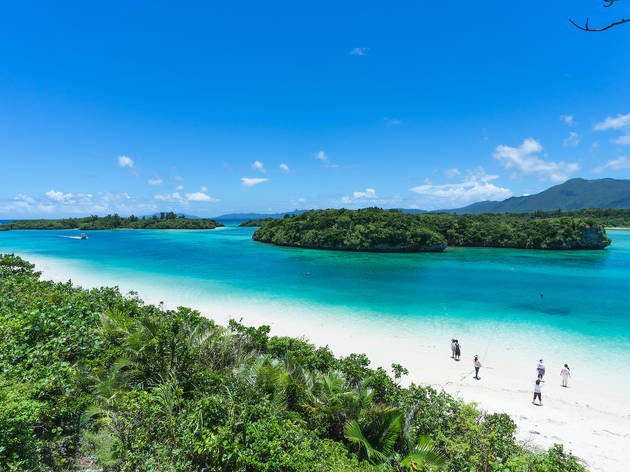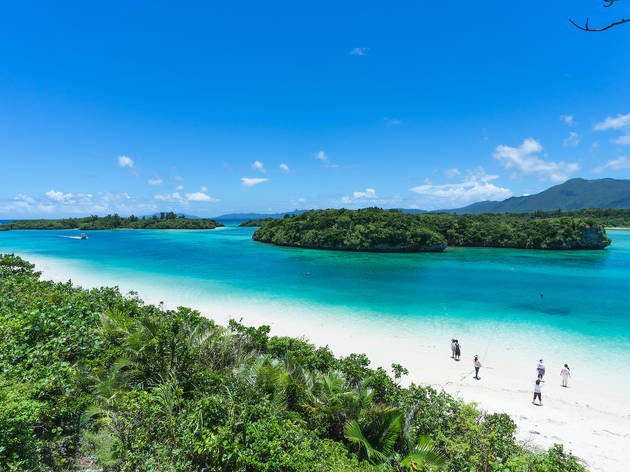 Photo: Ippeito/Dreamstime
The beaches of Ishigaki, Okinawa
Imagine a white sand beach with water so crystal clear you don't even need snorkelling gear to see the fish. There's no need to use your imagination in the tropical paradise of Okinawa, a string of islands between Japan and Taiwan. Of the 49 inhabited islands, Ishigaki is easily one of the most scenic, with a mix of mountains, jungles and sandy beaches to satisfy both the active and adventurous, and those who prefer lounging on the beach. Spend the day tanning and swimming at Yonehara Beach or have a look at sea critters in azure waters on Kabira Bay, where you can take a glass-bottom boat tour.
Photo: Wirestock/Dreamstime
Off the coast of Kagoshima prefecture is Yakushima, a nature lover's paradise. The best way to see the small island, which inspired the setting of the Ghibli film 'Princess Mononoke', is through multi-day treks: you'll forget about the absurdities of modern life as you hike the moss-covered dirt tracks and admire yakusugi, the oldest surviving trees in Japan, more than 1,000 years old. There are multiple trails catering to different experience levels, from an easy-peasy one-hour hike to an exhilarating 20-hour overnight journey. Highlights include the overnight trek to see the ancient Jomonsugi cedar tree, estimated to be between 2,000 and 7,200 years old.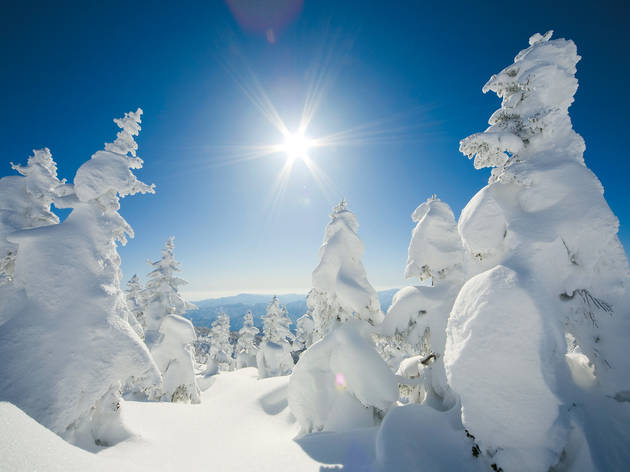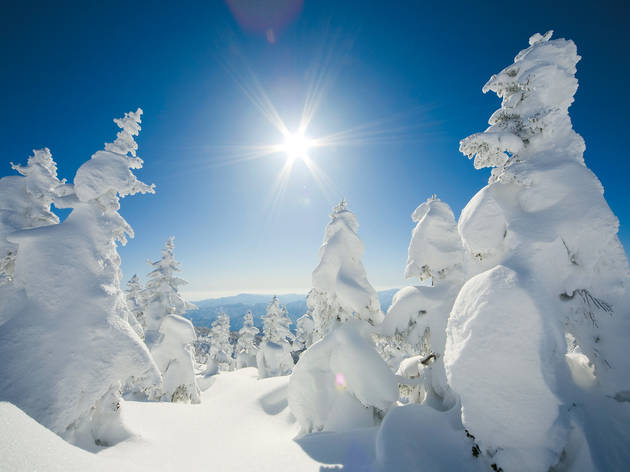 Zao Snow Monsters, Yamagata
Zao is not only one of the best ski resorts for those hitting the slopes, it's also home to picturesque scenery straight out of a winter fairy tale – or a horror film. The slopes are lined with trees covered in snow and warped from the wind, so they look like gigantic, mutated snowmen. The monsters are even celebrated with their own festival in January, complete with illuminations and fireworks.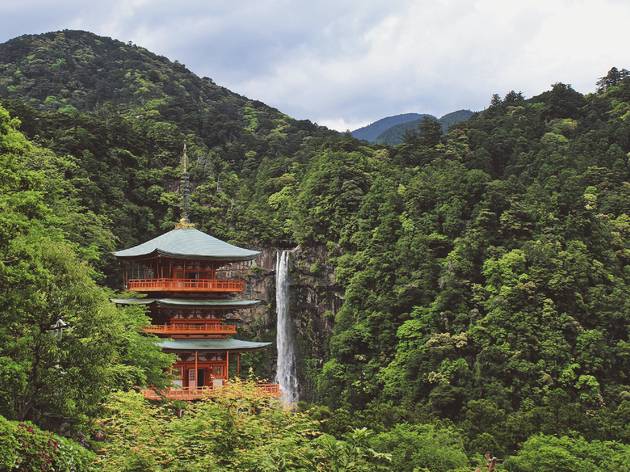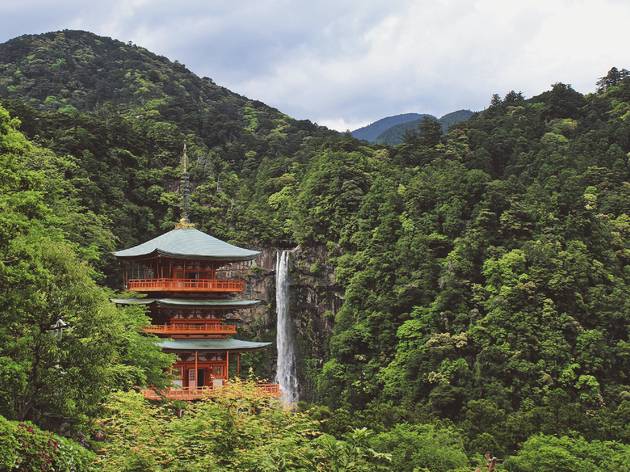 Photo: Tom Vining/Unsplash
Kumano Kodo, Wakayama prefecture
Unesco-designated pilgrimage trails make up the Kumano Kodo on the Kii Peninsula in Wakayama prefecture. The 70km route leads through dense, lush forest and stops by plenty of ancient shrines and temples. One of the most famous destinations is the Kumano Nachi Taisha, which boasts a three-storey vermillion pagoda and Nachi no Taki, which, at 133m, is the tallest waterfall in Japan.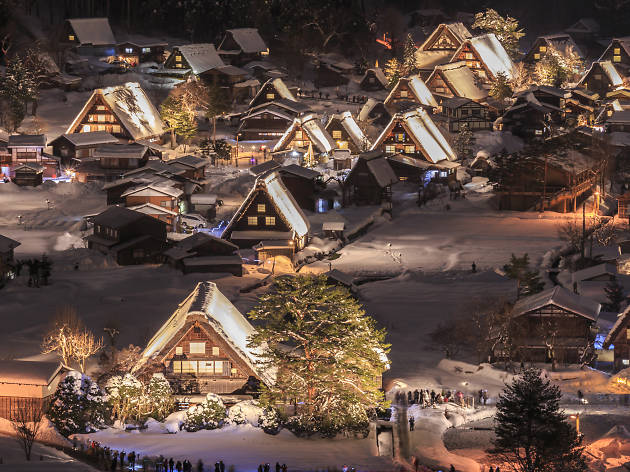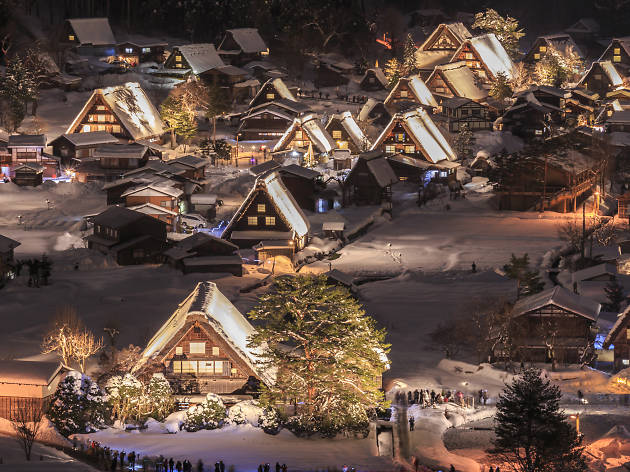 Photo: Supparuj Taechatanont/Dreamstime
Shirakawa-go, Gifu prefecture
Deep in Gifu prefecture lies Shirakawa-go, a perfectly preserved Japanese village and Unesco World Heritage Site, filled with traditional gassho-zukuri style farmhouses known for their thatched, triangular roofs that resemble praying hands. Now, most of the farmhouses have been converted into museums, restaurants and even hotels, but visitors can still explore the inside of the houses to admire the idiosyncratic architecture, held together by wooden beams. The houses are especially picturesque in winter – all covered in snow, they look like gingerbread houses.
Just a hop, skip and 24-hour ferry ride away from Tokyo, you'll find the Ogasawara Islands, a group of islands sporting some of the best snorkelling, hiking and sandy beaches in Japan. Chichijima, one of the main islands, is a popular spot for dolphin and whale watching. The islands are truly remote, so you'll get to relax, disconnect and enjoy the subtropical climate far from the bustling city. Minamijima, off the coast of Chichijima, is only accessible by tour guide, but the eccentric rock formations and white sand beach are definitely worth the extra effort.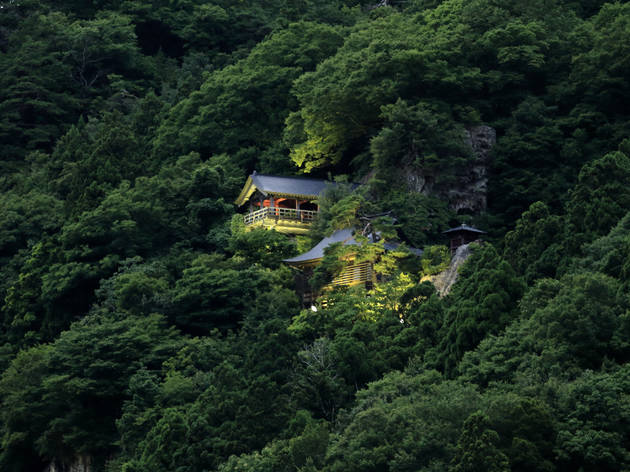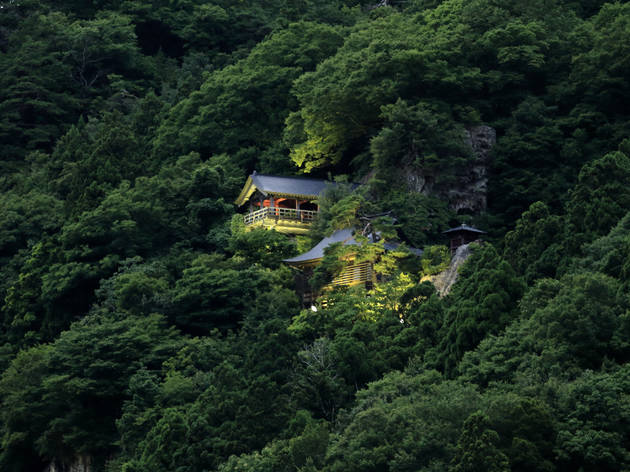 Photo: Ziggy Mars/Shutterstock
Yamadera Temple, Yamagata prefecture
A 30-minute, 1000-step uphill hike will lead you into the Yamadera Temple complex, a small collection of Buddhist halls on the side of a mountain. Climb a few storeys higher and you'll find Godaido Hall, a small vantage point that looks out into the countryside of Yamagata. Especially picturesque in summer and autumn, you'll see fog rolling through the hills as you gaze at one of the best hiking views in Tohoku.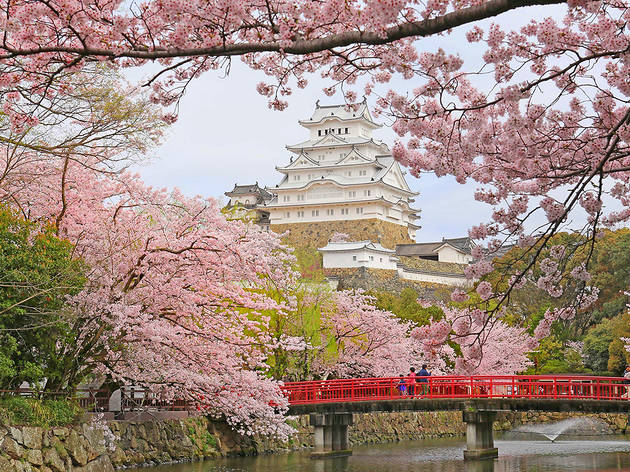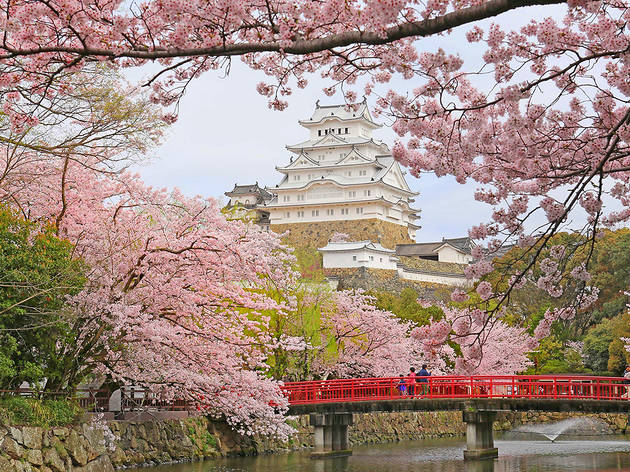 Photo: Himeji City
Himeji Castle, Hyogo prefecture
Himeji is perhaps Japan's most famous castle. It even served as the basis for this emoji: 🏯. Also known as the White Heron, Himeji Castle is a giant, stark white structure that has miraculously survived wars and natural disasters. The castle dates back to the 17th century but was restored in 2015, allowing visitors inside to admire the refurbished architecture. If you're planning on visiting, bookmark the official website for live queuing times.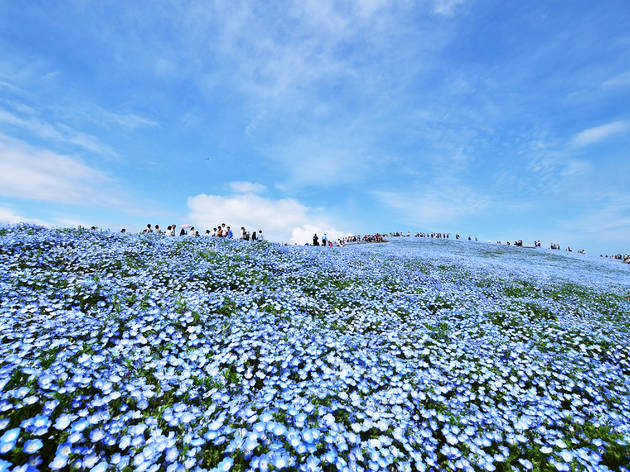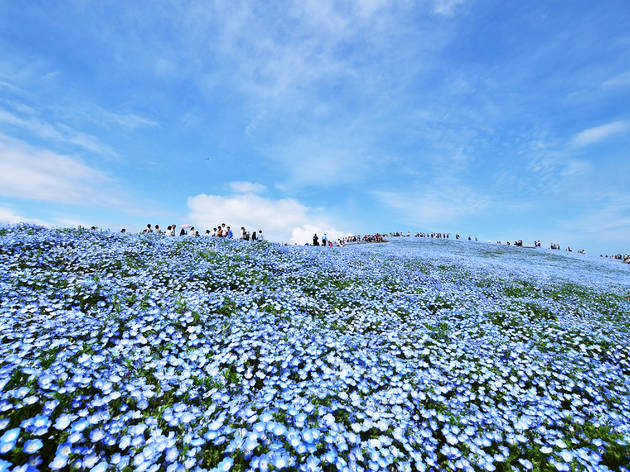 Photo: Hitachi Seaside Park
Hitachi Seaside Park, Ibaraki
All flower lovers should add Ibaraki's Hitachi Seaside Park to their bucket list. Best known for its blue sea of approximately 5.3 million nemophila in spring, Hitachi Seaside Park also grows California poppies, roses, daffodils and even sports a Holland-inspired tulip garden. The fun doesn't stop with the flowers, there's also an amusement park, a children's adventure zone and 11km of cycling paths in the 350-hectare park. Can't wait? You can virtually tour the nemophila and tulip garden.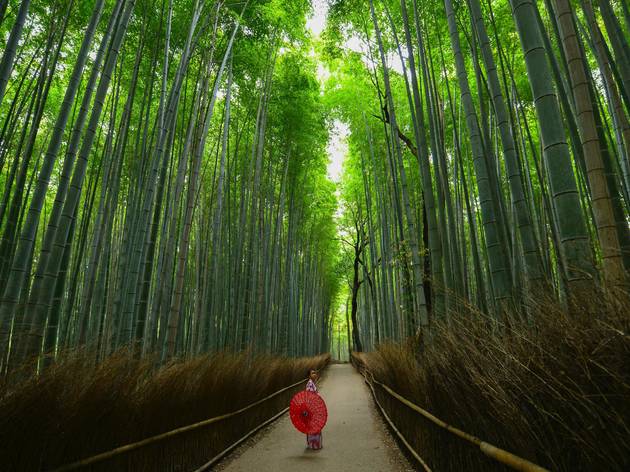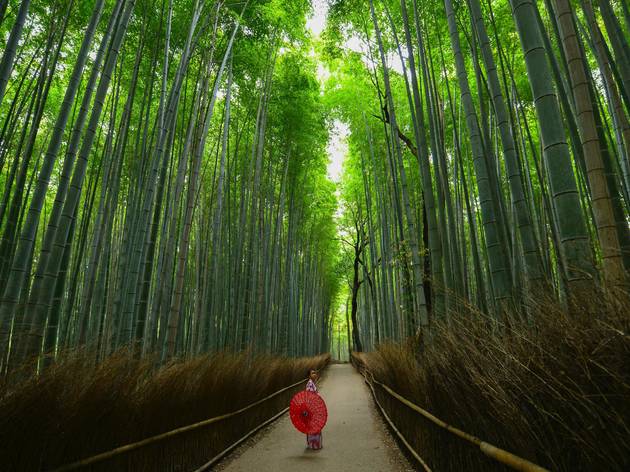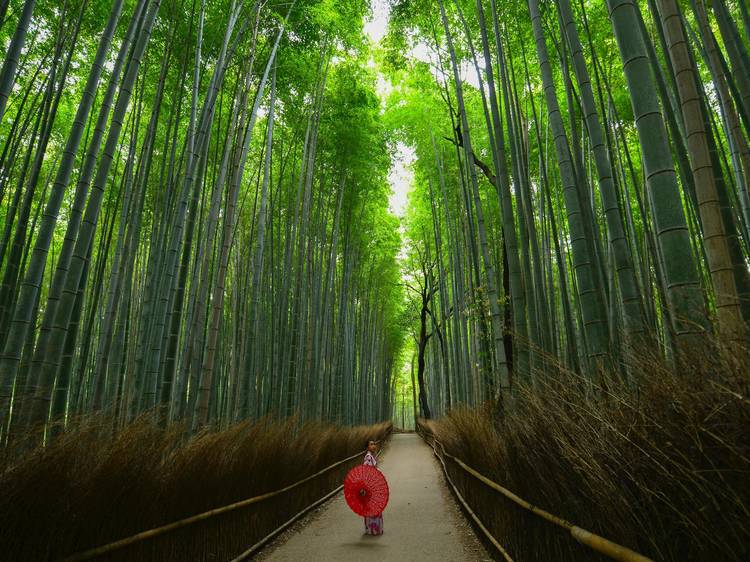 Photo: Walter Mario Stein/Unsplash
Arashiyama Bamboo Grove, Kyoto
Sure, Arashiyama can be touristy, but there's nothing more soothing than the sound of bamboo slowly swaying in the wind. Head to the bamboo grove early in the morning (it's open 24 hours) to avoid the crowds. Don't miss out on Tenryuji Temple, a Zen temple with a relaxing landscape garden, and Nonomiya Shrine, which appeared in 'The Tale of Genji' – both are inside the grove.
More about Japan
Japan National Tourism Organisation's latest campaign uses stunning Japanese scenery to remind us that 'hope lights the way'
Japanese cuisine may have conquered the world, but you should experience it at its homeland in these food cities in Japan
Looking for a relaxed yet socially distanced way to travel? Hop in a car and take these scenic road trips through Japan