Heads up! We're working hard to be accurate – but these are unusual times, so please always check before heading out.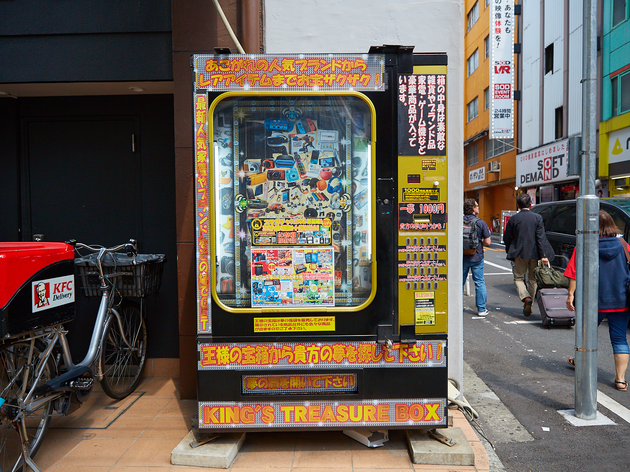 1/5
Photo: Kisa Toyoshima
2/5
Photo: Kisa Toyoshima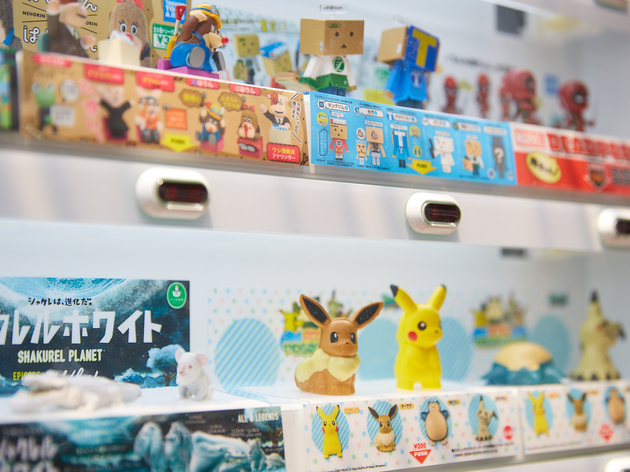 3/5
Photo: Kisa Toyoshima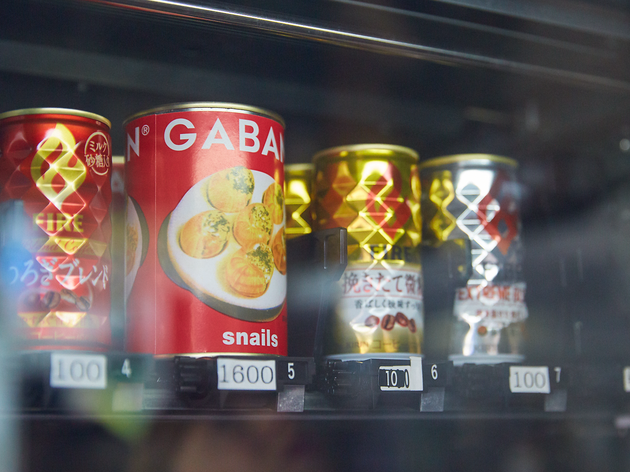 4/5
Photo: Kisa Toyoshima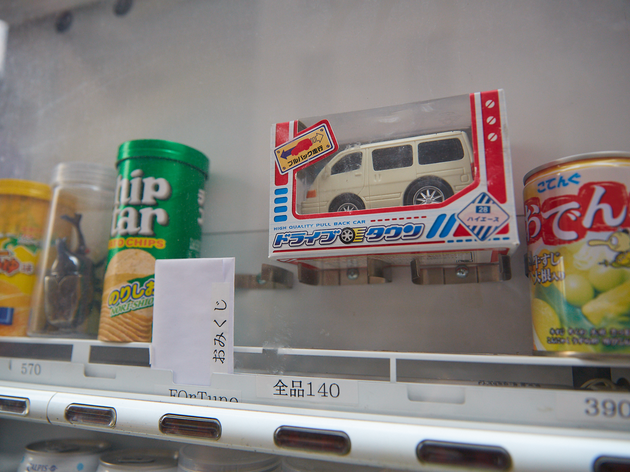 5/5
Photo: Kisa Toyoshima
Weird but wonderful vending machines in Tokyo
From fish broth and umbrellas to fruit and action figures, Tokyo has the wackiest vending machines in the world
Japan is the vending machine capital of the world. In fact, there are so many of these dispensers in the country that the ratio is estimated to be one vending machine per 23 people. While drinks are the most common item you can purchase at the press of a button, Tokyo's vending machines have gone above and beyond to offer everything from cut fresh fruit and cooking condiments to idol photographs as well as anime and manga merchandise. Here are some of the most outlandish vending machines in the city, including one selling mystery items, which you won't know what the content is until you've torn open the nondescript wrapping.
RECOMMENDED: Looking for a more personal shopping experience? Head to Tokyo's 100 best shops
Tokyo's bizarre vending machines
Photo: Kisa Toyoshima
To the Japanese, the slimy fermented soybeans known as natto make a power-packed, nutrient-rich breakfast. Foreigners, on the other hand, tend to avoid its acquired taste and texture. But if you're craving this Japanese superfood while on the move, head over to Ikejiri-Ohashi Station (west exit) and grab a pack at this vending machine located in front of natto speciality shop Natto Kobo Sendaiya. ¥180 for three boxes
Photo: Kisa Toyoshima
Japanese cuisine is defined by dashi: this umami-rich stock made from dried kelp and bonito is the foundation of the country's comfort food. So if you're running out of this staple ingredient for your nikujaga (meat and potato stew) or chawanmushi (savoury steamed egg custard), look out for this dashi vending machine run by manufacturer Dashidouraku.
There's the regular dashi made with grilled ago (flying fish) from Nagasaki prefecture – yes, that's a whole fish steeping in the bottle – as well as the premium Hiroshima version which features ago, sodabushi (dried bullet mackerel) and kelp. Even if you're not keen on cooking, these dashi make great condiments: simply pour it over your tamago kake gohan (raw egg over rice), or dilute it with water and use it as a broth for noodles. ¥700/500ml bottle
Find it at: 6-17-2 Roppongi, Minato.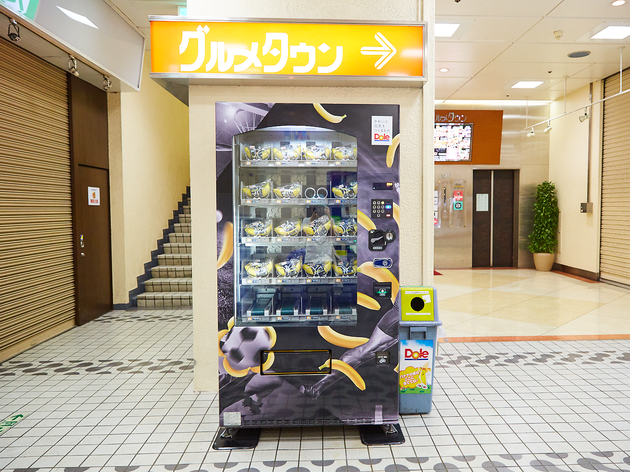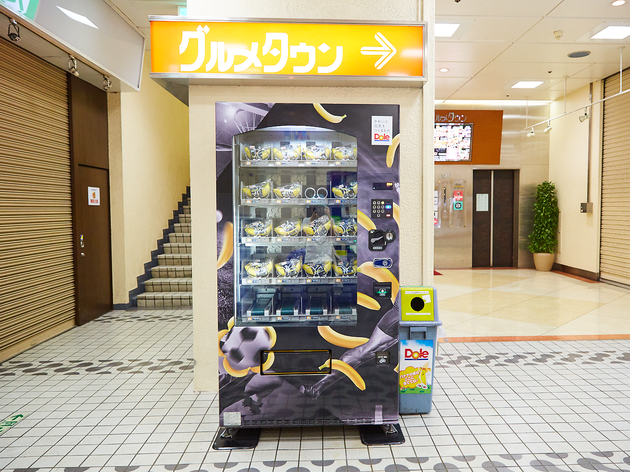 Photo: Kisa Toyoshima
Looking for a quick boost of energy on the go? How about a fresh Dole banana out of this vending machine in Shibuya? Walk towards exit 3 at Shibuya Station (near the Den-en-toshi/Hanzomon line ticket gates) and you'll find this fruity dispenser in front of the miscellaneous goods shop Village Vanguard.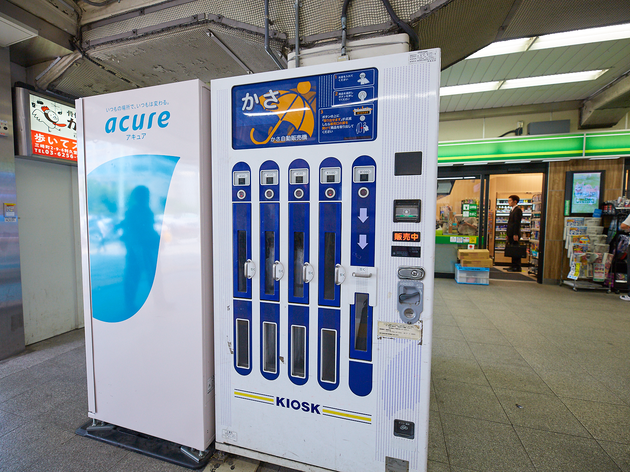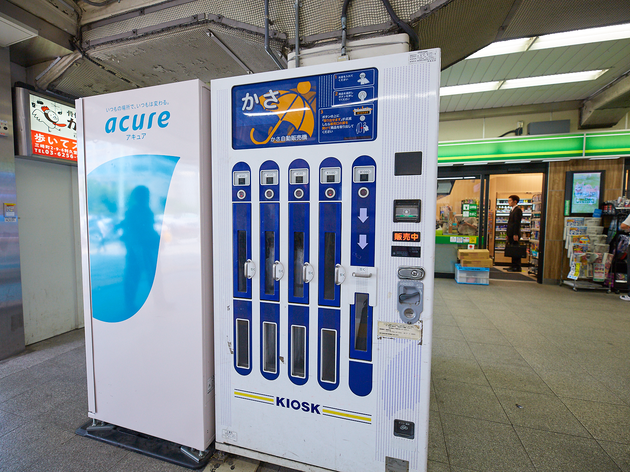 Photo: Kisa Toyoshima
It's pouring outside and you're in need of an umbrella. If you're at JR Suidobashi Station, this useful vending machine in front of the east exit ticket gates will seem like a godsend as you can get a large vinyl umbrella for only ¥590.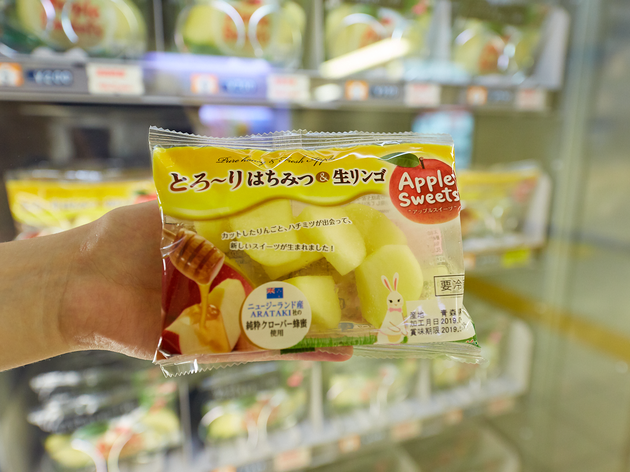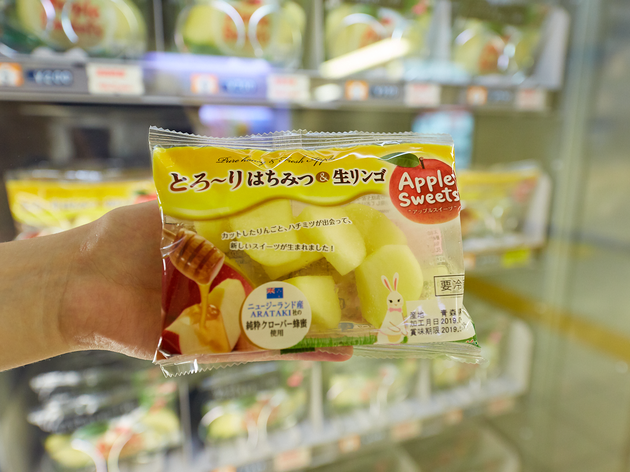 Photo: Kisa Toyoshima
We're not sure if the salarymen at Kasumigaseki are huge fans of apple but the station features two vending machines selling ready-to-eat slices of the crunchy, juicy fruit. You can choose among three options: cut apples with or without skin (¥200), and peeled slices with honey (¥240; you'll find the packet of honey underneath the apples).
Find it at: Kasumigaseki Station (Marunouchi line, in front of the Hibiya Koen ticket gate; Hibiya line, next to the elevators behind the ticket gate).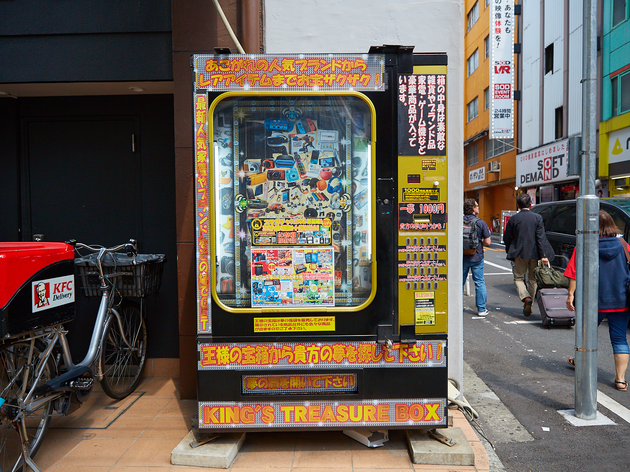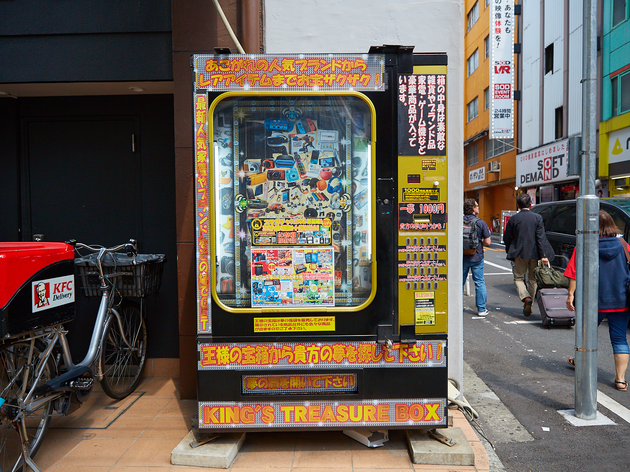 Photo: Kisa Toyoshima
Akihabara in particular is full of bizarre vending machines and one of them is this dispenser next to KFC, plastered with attractive photos of expensive items such as a Nintendo DS or smartphone. The caveat is, you'll only know what you're getting after inserting a ¥1,000 note.
You could try your luck, but don't be disappointed if you ended up with a small flashlight or a mushroom-shaped coin case. Nevertheless, we think it's a great vending machine to 'shop' for birthday or Christmas presents: it's cheap and if your friend doesn't like the items, you can just blame the vending machine.
Location: 1-4-11 Soto-Kanda, Chiyoda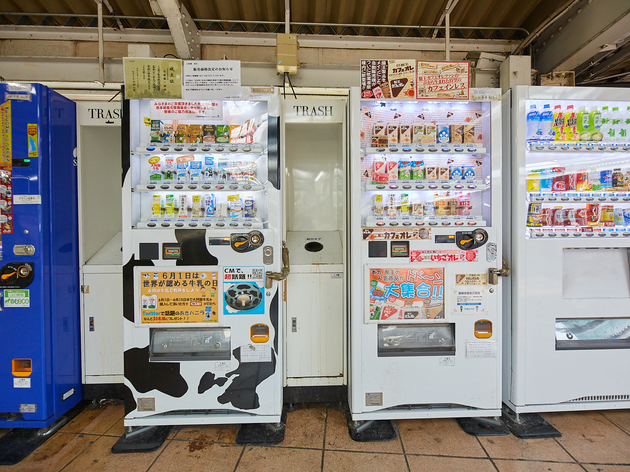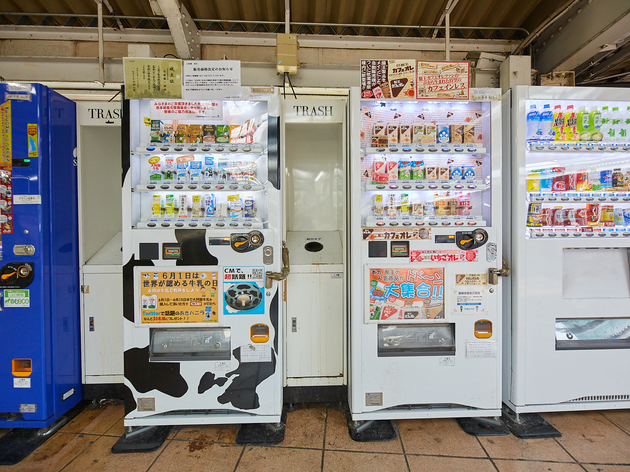 Photo: Kisa Toyoshima
Need milk? Grab a carton at one of these two vending machines located on platform 5 at JR Akihabara Station. Shop for Kumamoto dairy from the machine on the left, where parts of the revenue will go to the city of Kumamoto, which is still recovering from the massive earthquake in 2016. The machine on the right, however, offers milk and milk coffee from Fukushima prefecture. Don't miss the exclusive café au lait; it's not available outside of Fukushima, except through this machine.
Photo: Kisa Toyoshima
Craving popcorn but no cinema is near? No problem. This retro device serves the addictive snack made fresh upon purchase for a mere ¥220 – but do note that the only flavour on offer is salt. This popcorn machine actually belongs to Akihabara's corner of wacky vending machines, where you'll find even more unusual dispensers selling canned yakitori (chicken skewers), snails, oden (ingredients such as fish cakes simmered in broth), tiny jars of jam, model trains and more.
Location: 2-19-7 Kanda-Sudacho, Chiyoda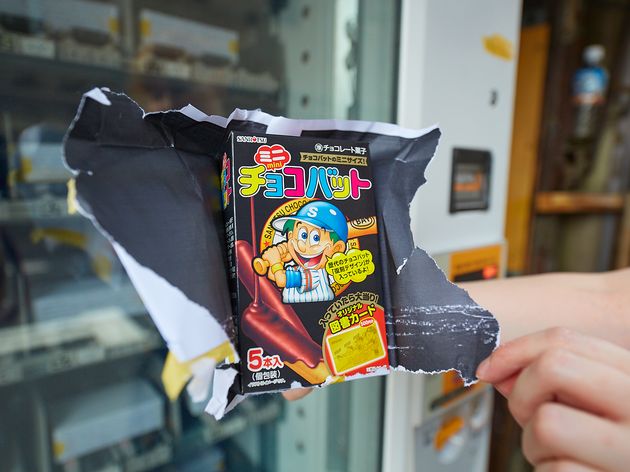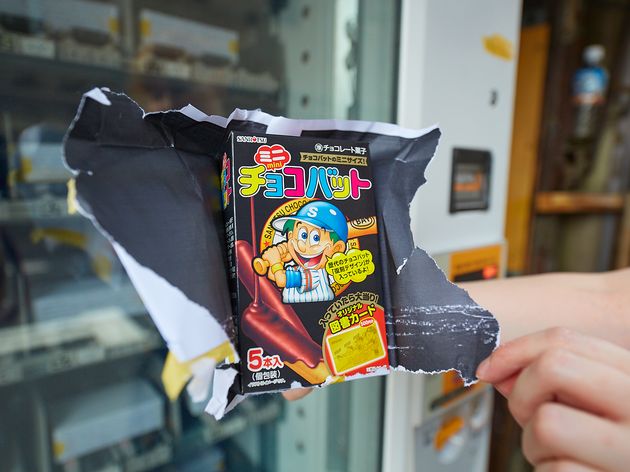 Photo: Kisa Toyoshima
You'll find this mystery vending machine at the aforementioned wacky corner in Akihabara. It sells plain-looking boxes (¥490) wrapped in white paper, on which are Japanese prose of the risque kind. But rest assured, only chocolate snacks are wrapped inside. Anticlimactic or a relief – you decide.
Location: 2-19-7 Kanda-Sudacho, Chiyoda
Photo: Kisa Toyoshima
Idol photograph vending machines
Another Akihabara gem is this spot dedicated to Japan's popular idol bands Nogizaka46 and Keyakizaka46, both rival groups to the ultra famous girl band AKB48. Purchase the photo sets of your favourite idol members and trade any duplicates with your friends, since you won't know which photos are inside each pack (from ¥1,000).
Location: On a side street next to Animate Akihabara Honkan, 4-3-2 Sotokanda, Chiyoda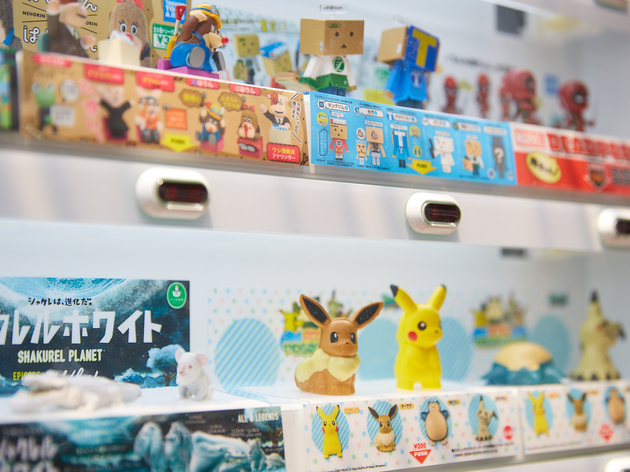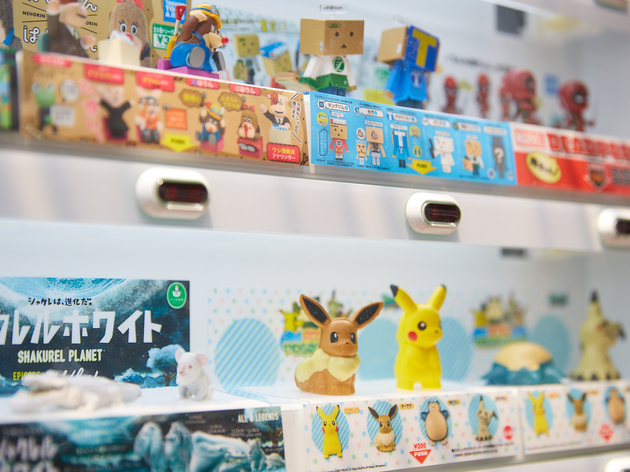 Photo: Kisa Toyoshima
Action figure vending machines
Vending machines selling action figures and character keychains are the most sought after in Akihabara. You'll find them upon arrival on platform 5 and 6 of JR Akihabara Station, or at the famous anime chain stores Animate. Small figurines and keychains are available from ¥200.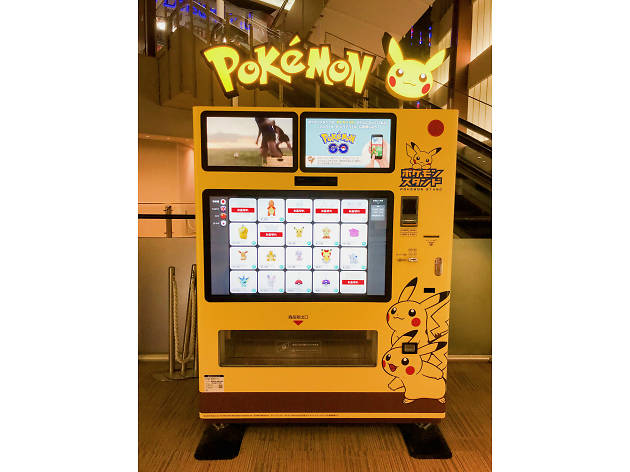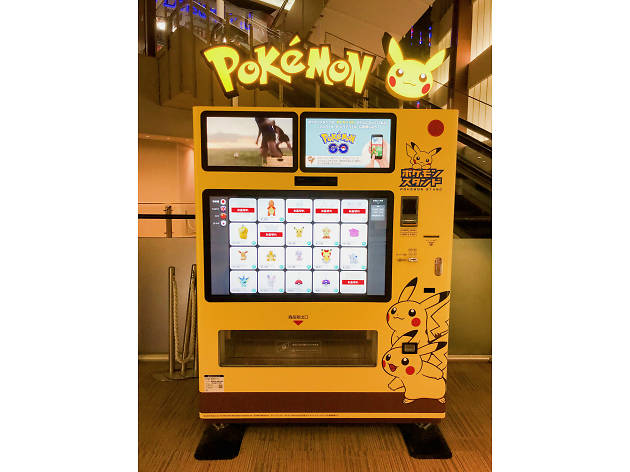 Photo: Tabea Greuner
Pokémon fans rejoice! Even though Odaiba doesn't have its own official Pokémon Store, it's still home to this adorable vending machine offering plush toys and keychains. Prices range between ¥540 and ¥1,620, and a Pikachu hologram will guide you through the menu.
Location: Aqua City Odaiba 1F, 1-7-1 Daiba, Minato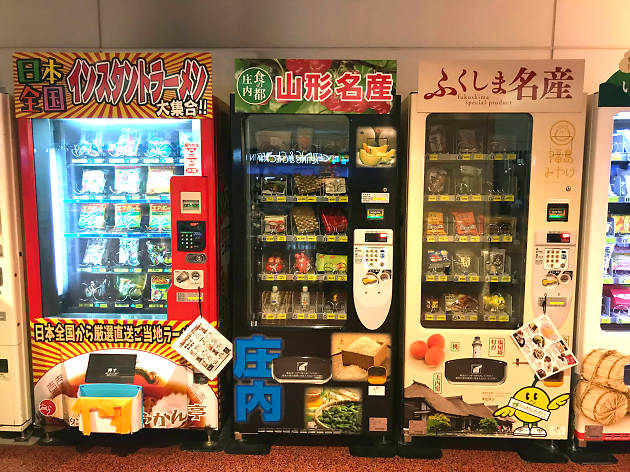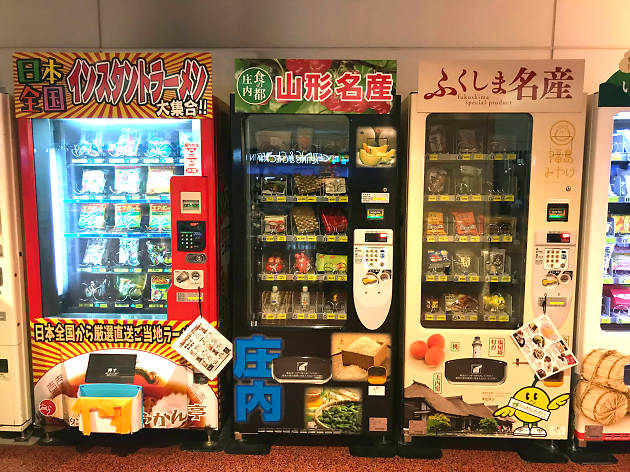 Photo: Tabea Greuner
Vending machines with regional specialities
These vending machines in Haneda Airport's domestic terminal 2 sell a large variety of regional specialities from Japan's other prefectures outside of Tokyo. Shop for rare items not commonly found in the capital, such as instant ramen/curry with region-exclusive flavours, yurukyara (regional mascots) merchandise, and more.
More things to do in Tokyo